While the Spaniard's Babolat was sent into outer space for a Spanish TV channel, Paris-SG was busy recruiting the two best players in the world, Roger Federer was posing for photographers and Paul-Henri Mathieu was...
While the Spaniard's Babolat was sent into outer space for a Spanish TV channel, Paris-SG was busy recruiting the two best players in the world, Roger Federer was posing for photographers and Paul-Henri Mathieu was having some fun on Twitter. A typical week, in fact…
Novak, the lover
As it was St. Valentines' day, Novak Djokovic unsheathed his pen, popped on the Titanic soundtrack and posted a message full of love to his Facebook page:
« Happy Valentines Day, my friends! It is always nice to celebrate love and friendship :) I remember when I was 12, I used this day as an excuse to give a flower and chocolates to my "secret" boo, did you do the same? Nowadays, I don't wait for that one day in the year to celebrate love, I celebrate it every day :) In my country, on this day, we have one more reason to celebrate because it is the day of Saint Trifun, the saint protector of vintners, vineyards and wines. So cheers to all!»
P.S. Alcohol abuse is dangerous for your health. Drink in moderation.
Djokovic speaks Chinese
After spreading the love on Facebook, the Djoker took time to cuddle his Chinese fans. For your viewing pleasure, here is very special message he recorded for the Chinese New Year. Commercially too, the Serb is a machine. [youtube] http://youtu.be/hmQvEOdwtTs[/youtube]
Novak will go to Dubai
Roger Federer has already announced his presence, and Novak has just announced he will join him; "
Dubai is always a great tournament. A lot of the players have the same opinion as me. We feel very comfortable in this tournament. The site is great and the weather of course is fantastic and the organisers make us feel really good. I really look forward to coming back. You always have very good and intensive matches here and the attendance is great"
Murray and Nadal have still not pencilled the event into their calendars, but the final draw is already known. And it looks quite nice…
A man with a big heart
What does a world number one do apart from giving the other tour players the run-around? He makes charitable donations. After his victory in Australia, Nole went for a little vacation and took the opportunity to take care of his foundation with his wife and mother. He could go sip drinks in the sun, but no, the Serbian prefers to take care of his own.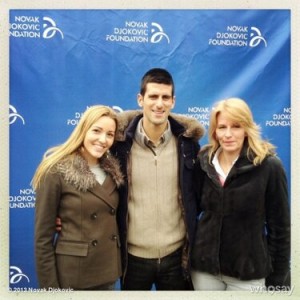 Meanwhile, in the rest of the world…
Paris-SG is recruiting on the ladies' tour
At the WTA tournament in Doha, Paris-SG, owned by the Qatar Investment Authority, set up a stand in the VIP village of the tournament replete with an official store where the two finalists, Victoria Azarenka and Serena Williams, were awarded named replica shirts. A devastating attacking duo who, so as not to offend anyone, were both sporting jerseys numbered "1" on the back. It would be a shame to cause a cat-fight…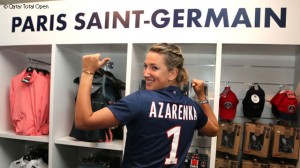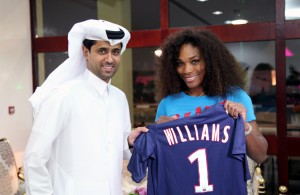 Video: Azarenka on the dance floor
Unfolding between the world number one, Victoria Azarenka, and Redfoo, the leader of LMFAO, is a love story with kisses, a lot of hair and a touch of madness. In-between tournaments, the Belarusian made ​​a detour through Las Vegas, where her boyfriend was performing, and went behind the decks to help her boyfriend tear up the dance-floor. [youtube]http://www.youtube.com/watch?v=GZ-2Hno76YA&feature=youtu.be[/youtube]
Tweet of the week
Paul-Henri Mathieu is slowly but surely making his comeback to the tour after we thought him lost to tennis after many knee problems. Unfortunately, the Frenchman can't buy a win at the moment - all quite normal after a prolonged absence. Except for some frantic punters who don't hesitate to niggle the player on his own Twitter account. Not one to stand idly by, PHM decided to answer his "fans": https://twitter.com/Paulomathieu/status/300989236008583170
His best shot for the last two years.
The video: Federer on tour
Roger Federer is a business and media beast. Engaged in the Rotterdam tournament, the Swiss didn't come just to see the container port. Roger did the whole media run: interviews, weird pictures, TV shows… In short, a monster program for an accelerated promotion. This, also, is the price of fame. [youtube]http://youtu.be/ghLhUGg5EF8[/youtube]
McEnroe's revelation
In an ESPN documentary about American tennis players, John McEnroe agreed to reveal his homemade service secret. Very enlightening:
"We're living in a country where there are more throws than in most countries in Europe, for example. We play baseball, American football. While in other countries in Europe and South America, it's mostly football. This is something (the power of the service, Editor's note) which is part of our culture and that we try to get into our players' heads. If you grow up on a pretty slow clay court, it is not a weapon that you need to have. At the beginning, you learn to run and to slide more."
Nadal's lovely management
Here's the tweet that you could have read recently on the Twitter account of satirical journalist Felipe Andreoli. In TennisWorldItalia, he discusses his recent meeting with Rafael Nadal, comparing the manager of the latter with Roger Federer's one. Such a great atmosphere...
"I arrived to interview Nadal with a tennis ball and some leopard underwear to give him - like I did with Federer. I also asked him to wear glasses, and then Barbadillo (Rafa's Agent, editor's note) told me that Rafa already had sponsors. There was no brand on it, no logo. Nadal was very friendly and answered my questions cheerily, except that after five minutes Barbadillo stopped the interview and ordered me to leave. The problem wasn't about doing interview or not, but the way in which things were done. Federer and his team have always treated us as if we were normal people, while Barbadillo treated us as if we were less than nothing. Rafael is the star, not him."
The cinema moment
The Italian Flavia Pennetta was at the San Remo music festival to present an award. So far, nothing strange… Except that the brunette was wearing an evening dress worthy of the Cannes red carpet. Certainly, women's tennis has changed. Has someone heard from Arantxa Sanchez?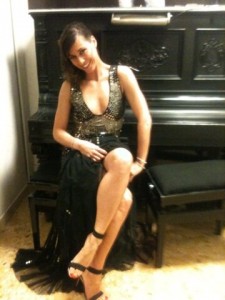 Stephens, baby-steps into endorsements
Ranked 17th in the world and still a minor, the young American Sloane Stephens has become the new media darling of women's tennis. Moreover, according to the magazine TennisWorldUSA, the brand "Under Armour" has chose the young lady to star in their next campaign. Not really the sexiest contract, as it is to promote the Armour39, a belt technology that allows an athlete to follow their heart rate, calories burned and training intensity for example, but a good start…
Happy Valentines Day
Tennis players are, above all, great lovers. For Valentine's Day, some of them were keen to show their little face to the camera to promote love with a capital L. How cute. [youtube]http://youtu.be/yWSc1Wxx200[/youtube]
Nadal in orbit
Spain was so eager for the return of its prodigal son, Rafael Nadal, that the whole country went mad. Thus, in late January, the channel RTVE sent Rafa's Babolat in space. And filmed it. Random. Coming Soon: Serena Williams goes to Mars with Curiosity? [youtube]http://youtu.be/DoAq9qYddCE[/youtube]
Isner is economical with space
How do you squeeze into an economy class seat on a plane when you over 6ft 8ins tall? John Isner has the answer: "
I was supposed to fly first class, but the plane from Newark was late, and I had to give up my seat. I took a window seat because the cart is always bumping me on the aisle. It was a 6 a.m. flight, and I must have slept in an awkward position."
The vintage look
Ronald Agenor. A man half way between Whoopi Goldberg and Yannick Noah. Anyway, this Haitian player brought some fun to the tour.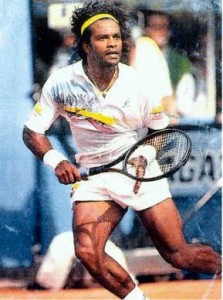 Wozniacki is mad
Exhibition tournament in Brazil: Sharapova against Wozniacki. All good before the Danish went absolutely crazy. LOL [youtube]http://youtu.be/0uTTWnoW5Mk[/youtube]
By Mathieu Faure