While Roger Federer is collecting advertisements, the tennis world turns as well as it can. Verdasco took his girlfriend to an NBA game, Maria Sharapova trained hard and Andy Murray hung out with David Beckham....
While Roger Federer is collecting advertisements, the tennis world turns as well as it can. Verdasco took his girlfriend to an NBA game, Maria Sharapova trained hard and Andy Murray hung out with David Beckham. Definitely, it's a wild world...
Myskina votes Roger
Do you remember Anastasia Myskina? Come on, she won Roland Garros in 2004… Well, anyway, the former tennis player hasn't left the tennis world. Recently, the Russian spoke to TennisWorldItalia about the Men's tour, arguing that Federer was perhaps the only one who could stop Djokovic: "
Novak loves to play in Australia. You can feel him comfortable in all aspects. But on his way to the title, he didn't play against Roger Federer, while this match could have made a difference. I think Roger is the only player able to beat Djokovic at the moment. He knows how to shake the world number one.
" We'll talk about it after Roland Garros.
Roger the perfect man
Nike likes to show off its tennis icon. And as expected, the American brand spoils its dear Roger Federer. As a proof, the Swiss player is entitled to all available favours: custom outfits, unlimited choice of shoes, XXL advertisements... And to encourage him, Nike has decided to market a very special poster of the player. A perfect man.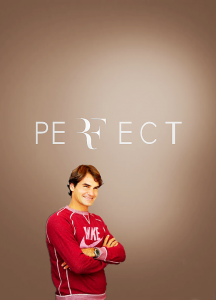 Roger and his understudy
This ad is all over Swiss television. It shows the native son, Roger Federer, arriving in slow motion at a car salesman and signing an autograph on his shirt on behalf of one of his sponsors. So far, so good. Unless that in the fifteenth second of the commercial, it is clear that this it's no longer Federer's back, but an understudy. Oh well… he does have a grueling schedule... [youtube]http://youtu.be/dhr5ELU8cvQ" \t "_blank" http://youtu.be/dhr5ELU8cvQ[/youtube]
Successful career change
What will Roger Federer do after his career? Conductor. He has a natural gift... [dailymotion]http://www.dailymotion.com/video/xw6ec2_federer-chef-d-orchestre_sport#.URd7kVqUHd8[/dailymotion]
Meanwhile, in the rest of the world…
Radek Stepanek, the 2.0 hero
In a country where the Petr Korda's kangaroo's hops are a secret weapon, the Czech Republic treated itself in the Davis Cup by BNP Paribas by getting the scalp of Switzerland. To celebrate it in the absence of their best player - Radek Stepanek - injured, the Czech players organized a very special video conference with the convalescent. Impeccable soundtrack anyway.
http://www.facebook.com/photo.php?v=4736792495453&set=vb.253559905522&type=2&theater
Verdasco entertains his lady
Spain got crushed by Canada (2-3) in the Davis Cup by BNP Paribas. Okay, but Fernando Verdasco had better things to do. Like taking his girlfriend to the Madison Square Garden for a New York Knicks game. And obviously, Jarah Mariano loves the jacket found by her sweetheart for the occasion.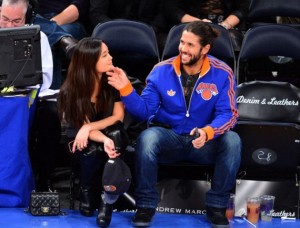 The old school video: Sharapova at 14 years old
Before winning the four Grand Slams, Maria Sharapova was once a 14 years old child. Like everyone else it was not always easy. Except that the Russian had - already - filmed everything. Yes, even before the end of puberty, the Russian was already 5.10. [youtube]http://youtu.be/WCu3WpN1xHM" \t "_blank" http://youtu.be/WCu3WpN1xHM[/youtube]
David Ferrer's ginger love
Apparently, the Spaniard David Ferrer has a soft spot for the colour orange. On his personal Twitter account, the player posted a picture of his massage table. You can see a ginger intruder. His cat. Clearly, the cohabitation is going well. Another player addicted to his cat.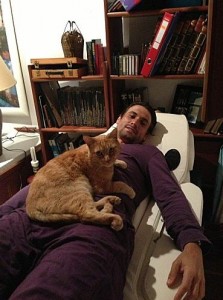 The tweet of the week by Maria Kirilenko
«I woke up today from loud purr, meows and wet nose, my kitten decided it's enough of relaxing, and it's time to go to the practice» 
Can we take the cat's place?
Milos, the benefactor
Milos Raonic loves his fellow man. We know that. Recently, TennisWorldUSA found out that the Canadian donated a check for $ 70,000 (44 300 pounds) to a Toronto hospital to help amputated children to start over: "
At the moment, I'm often on the tour. The best way for me to help Canada and help my foundation is to win matches. It will change at some point and I want to be ready to have something solid here where I could continue to make a difference.
" Respect.
Radwanska in prom mode
Agnieszka Radwanska surely has one of the most difficult names to write on the tour (a tip: Google - Ctrl + V Ctrl C). That being said, we forgive her since the Polish is quite open, both on Twitter and in the press. Recently, the player posed for the magazine Gala, in a rather classy evening gown. It proved us that, actually, you can dress in a careless way on the tour and have a real dress sense outside.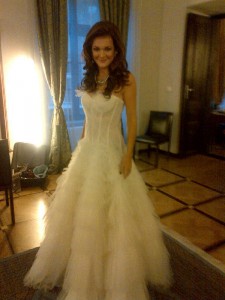 Ridicule never killed anyone
Ivan Ljubicic is what we call a player with an unusual look. Anyway, the Croatian player is never the last to have a laugh. In Zagreb, the great bald man indulged in a Gangnam style choreography with some local kids. Yeah, it's not really spectacular...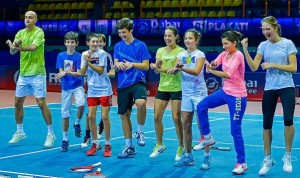 Scotland Vs England
When the most famous Scot of the moment meets the most bankable Brit in history, it gives a picture with several zeros. Andy Murray and David Beckham then met at the National Tennis Centre of Roehampton in London, where the 37 years old football player is perfecting his physical condition. And, obvioulsy, the world number 3 became a fan of Paris-SG, the new club of the Spice Boy "
David will be a big help to the team thanks to his big match experience in the Champions League and in the English national team. I'm convinced he'll do well at Paris Saint-Germain."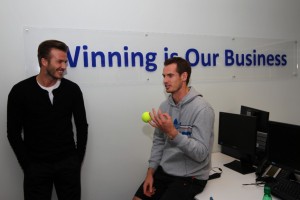 Maria on a lead
Maria Sharapova posts from time to time pictures of her training on her official Facebook account. This week, the Russian discovered a new exercise: to be on a lead. Cool.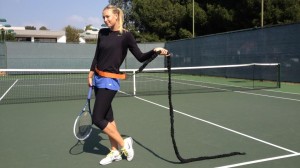 Azarenka, point break
Victoria celebrates with dignity her victory on Australian soil. This week, she went surfing. Taking it easy you know.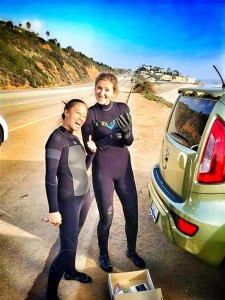 The look of the best female players in the world
Or how the female world number one of the tennis tour have evolved over time. A very informative slideshow. Particularly in terms of looks. Increasingly sexy. An emotional thought for
Steffi Graf's haircut
.
the Slovak clowns
When two Slovak players embark on the Fed Cup by BNP Paribas, we switch to the fun mode. Don't you think Daniela Hantuchová and Dominika Cibulková? https://twitter.com/WTA/status/299927114726121472
The vintage ad
Andre Agassi in 1996. A guy comfortable with his cathodic addiction. We always wondered what was the secret of the Kid. [youtube]http://youtu.be/1VS0uDSj7Hw" \t "_blank" http://youtu.be/1VS0uDSj7Hw[/youtube]
By Mathieu Faure