During this post-Grand Slam week, Rafael Nadal prepared his comeback while still having doubts, Novak Djokovic didn't like the Belgian clay and Stanislas Wawrinka proved very generous…   Nadal in...
During this post-Grand Slam week, Rafael Nadal prepared his comeback while still having doubts, Novak Djokovic didn't like the Belgian clay and Stanislas Wawrinka proved very generous…
Nadal in Chile
Finally, more than seven months after his last match and his sad defeat in the second round of Wimbledon against the Czech Lukas Rosol on the 28th of June 2012, Rafael Nadal will be allowed to wear his bandana again and get his hands on the little yellow ball in tournament play in Chile. "
I'm eager to resume high-level tennis
," he said happily. If he talks of the highest level, it's actually a gentle recovery at an ATP 250, at Vina del Mar, in the suburbs of Santiago to find some fitness and timing.
Nadal's knee
The only problem is that the Majorcan suggests that his knee is still a source of concern. Difficult to take for a player who hasn't played competitively since July and bad news for the one whose game relies heavily on brute strength: "
I hope that my knee will respond well and accept the requirements of professional competition. There are still days when it bothers me, and it is obvious that I need time before it can get used to high level tennis.
" Fans of the Spaniard, time to light a votive candle!
Nadal = Solidarity
So, Rafael Nadal will play in Chile and he took advantage of this to send his support to the victims of the earthquake of Atacama last week. https://twitter.com/RafaelNadal/status/297319884067594241 But as he will also play in Brazil in mid-February, in Sao Paulo, for another minor tournament, the Iberian killed two birds with one stone and reassured his Brazilian fans after the fire that killed 231 people in Santa Maria: he's with them too. https://twitter.com/RafaelNadal/status/295945245261180928
Nadal's new weapon
Fresh start, new racquet… Still at Babolat, the Majorcan has a new weapon: the Babolat Aeropro Drive. Why the change? It was Toni Nadal's decision: "
Uncle Toni has put pressure on Rafa to change his racquet. If you want to be better, you have to take risks
" says Eric Babolat, director of Babolat France. Ready to take that risk, Rafa is said to have told his uncle: "I
disagree with you, but I'll try it
." This new device should enable him to... get even more topspin on his shots. Yeah, without knees, it can be useful to have more time to move.
Nadal meets his friends
While Rafael Nadal is gently easing himself back in, his friends, on the other hand, had a first round of Davis Cup by BNP Paribas to play against Canada (a 3-2 defeat). As luck would have it, they met at the airport on the day of their departure for their respective countries. Rafa, Marc Lopez and Marcel Granollers thus struck the pose "
I met two great friends at the airport! Good luck in Vancouver!
" Rafael tweeted.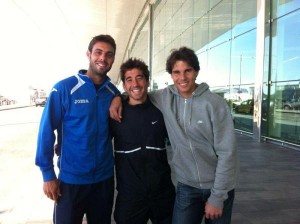 Nadal the statesman
Upon his arrival in Chile, Rafael Nadal was received by the President Sebastian Piñera, in person, no less. As former head of the football club Colo-Colo, the Chilean president is passionate about sport. He then went to Vina Del Mar to meet the mayor, Virginia Reginato, who made him an honorary citizen of the city. The prerogative of the greats…
Meanwhile, in the rest of the world…
Stanislas chills out
After his (superb) defeat against Novak Djokovic at the Australian Open, Stanislas Wawrinka went home to chill a little, waiting for the Davis Cup by BNP Paribas tie between Switzerland and Czech Republic (a 2-3 defeat for Switzerland). He took the opportunity to take in the hockey game between GE Serviette and Biel with his teammates. The picture showed him relaxed, beer in hand, alongside his captain Severin Lüthi.
Wawrinka the benevolent
"
My sponsor has decided to buy 200 tickets that will be sold at half-price to the first arrivals each morning
." Yes, Stanislas is a man with a big heart and at the Davis Cup by BNP Paribas, he filled out the Geneva Palexpo arena by himself.
Roger's shopping
After his defeat in Melbourne, Roger Federer went shopping with the three women in his life. One of them believes they can fly, if this paparazzi shot of Pure People is real.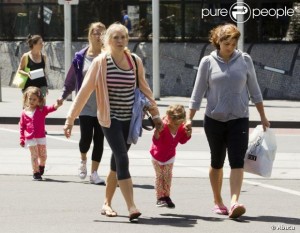 The clay of discord
"
This is the worst court on which I've ever played.
" Novak Djokovic opened the hostilities on Twitter. "
The court is not Roland Garros, it can be improved, but then to say that it's unplayable, I find a touch excessive
" responded the Belgian captain Johan Van Herk, and Olivier Rochus also struck back: "
Obviously, Djokovic, he only plays on the main courts of the major tournaments
." Yes, the clay courts of Charleroi made the headlines the week before Belgium-Serbia.
LA confidential
Week after week, the rumor gets more certain. After watching the men's singles final in Melbourne together, Victoria Azarenka was seen with her new BFF Redfoo of LMFAO in the stands of the Staples Center for a Lakers' match. Meanwhile, still in Los Angeles, Serena was also having a good time, with Kim Kardashian. Preparing a reality show starring the Williams family, perhaps?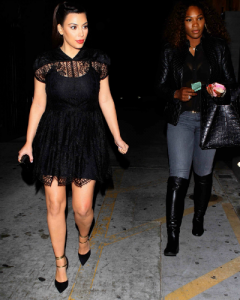 Wozniacki's new look
Caroline Wozniacki is trying some new things, with a little vintage touch, and talking about the results on her social networks.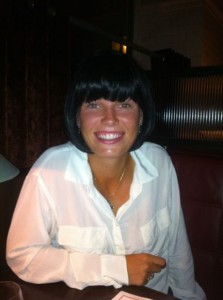 by Antoine Mestres