If Djokovic is the only tennis player followed by Maria on Twitter, Azarenka is busy recording with LMFO and Murray won a bet against a journalist. As for Na Li, she got a crazy service. Apparently, the Australian...
If Djokovic is the only tennis player followed by Maria on Twitter, Azarenka is busy recording with LMFO and Murray won a bet against a journalist. As for Na Li, she got a crazy service. Apparently, the Australian heat makes everyone's heads turn.
Agassi and the strong method
André Agassi can't stop. After having predicted Federer's defeat and rallying against Armstrong and doping, the former world number world indulged some thoughts on the current level in tennis in an interview with a local daily. The "Las Vegas Kid" is quite direct: "
I would have probably gotten in a fight with him in the locker room before the match. I might have had a chance there….It's just a different standard of tennis. It's different rules of engagement when guys can do what these guys can do. I don't recognise it from a standpoint of strategy, because I counted on getting somebody behind in a point and then slowly smothering them. But nobody's behind in a point. You never know when they're behind in a point. I see what history will say is the golden age of tennis
." Such a compliment from him, we'll take it.
Sharapova chose Novak
Maria Sharapova landed on Twitter a few days ago, but the Russian has not yet settled. With more than 100 000 fans already, she's started well. But the player only follows thirty others or so. Mostly news and fashion magazines. In the middle of this, we only found one tennis player, Novak Djokovic… quite an honour for the Serb. Some kind of hidden declaration of love?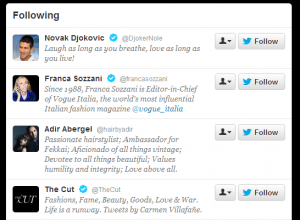 Novak and his foal
While he's ruling without peer in the tennis world, the Serb has nonetheless the time to prepare for his succession. Indeed, Nole follows closely his young protégé, Nikola Milojevic, who just made a great performance amongst the juniors. And Novak doesn't hide it: "
I'm so proud: Nikola Milojevic has just qualified for the quarter-finals of the Junior Australian Open. Another reason to be proud for the players of country.
"
Just chilling
It takes more than five hours for the Serb to beat Stanislas Wawrinka? Not a problem, when he gets back to the hotel, exhausted, he takes the time to post a picture, with a Colgate smile and a message for his fans:
"3am on Monday morning. Another working day is starting! Thanks to all of you for your support."
That guy obviously understood how the world was working. A few hours later, he has already posted a picture of him on a massage table, surrounded by his team.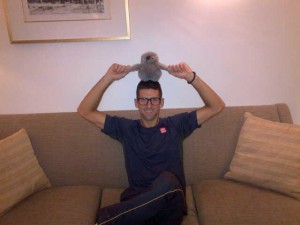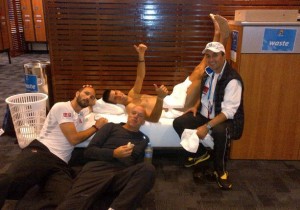 Novak the caretaker
The Serb beats David Ferrer in Semi-finals of the Australian Open and then what? He goes to the press conference logically. Yes but no, he decided to bring a pair of crutches to Henri Leconte and help to take care of the French man, competing in a "Legends Doubles". Associated to Guy Forget, Riton had just lost the first game on a tie-break against to other former glories, Goran Ivanisevic and Pat Cash, when Djokovic arrived, dressed as a nurse, stethoscope around his neck. Much at ease in Actors Studio, the Djoker then asked Leconte to lie down, in order to perform a cardiac massage. Then the Serb decided to go to his press conference where he was late. Interrogated on Leconte's health, he replied:
"He's definitely crazy!"
[youtube]http://www.youtube.com/watch?feature=player_embedded&v=FlMHy9mS9XA[/youtube]
Meanwhile, in the rest of the world…
Nadal is chilling with his family
When will he be back? Will he ever be back? For more than six months, we've been worried about the much anticipated comeback of Rafael Nadal. While we're waiting, the former world number one is taking care of himself and enjoying the company of his family. Lately, he was with his sister. The Majorca-born player shared this moment of love with his fans on Facebook:
"Last week, I've spent some time with my sister. My family is a great support to me at the moment."
However, don't try to look for a family resemblance, there isn't one.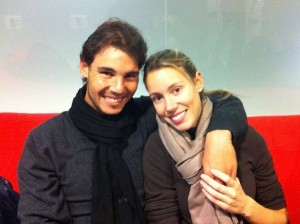 Azarenka future singer?
Victoria Azarenka has just won another Australian Open. But she's mostly mates with RedFoo, LMFAO singer. Actually, we've heard a locker-room rumour talking of a love story between those two. Better yet, the Belarusian will even lend her voice to one of the upcoming songs on the band's new album. Well, she's not actually singing, LMFAO will use her "scream" for a song… With no sexual connotation of course.
Video: Kirilenko's confessions on the road
We all love Maria Kirilenko. All of us, even the Australian organizers and their partner Kia, who asked to a few tour pros to talk about their personal life during a little road-trip. That's how the beautiful Russian played her part by talking about the sensitive subjects like the death of her grandfather when she was 13. We also learned that the lady loves to imitate cats and can easily start a Macarena out of the blue. Otherwise, she seems to be a good driver. [youtube]http://youtu.be/XIQCj9-EmFk[/youtube]
The fashion prize of the week
Agnieszka Radwanska is on the cover of the Polish magazine JOY. We discover a very sexy lady when she dares getting dressed. Even better, the Polish girl admits her irrational love for Louboutin. Classic. As for the photo, we forgive her for the socks.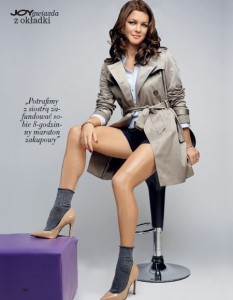 Andy Murray football manager
Andy Murray took part in a very interesting game on the ATP website. They asked him to create a five-a-side team with tennis players. And with the Scot being a big football fan, he seemed to have already prepared the answer in his head…
 "Rafa in the midfield. Jo-Wilfried up front. Kei Nishikori flying down the right wing. David Ferrer getting up and down the pitch. And Serena as the ultimate substitute. That'd be my five-a-side dream football team! Rafa is an obvious choice; he's a big Real Madrid fan. One of his uncles was a famous player in Spain and it is pretty clear Rafa would have been good as well had he chosen football instead of tennis, it might have made it a bit easier for a few of us to win a few more Grand Slams too! Jo-Wilfried Tsonga is not bad either. You can imagine he would be pretty hard to man up on, he's so tall and powerful. Nishikori is a surprisingly good player and unsurprisingly Ferrer has a really good engine and that is important in five-a-side football. He would definitely work hard for the team."
Though naturally, it should be understood that Murray is the team captain, even if he doesn't explicitly detail it. Scottish reserve, probably….
The figure: 46 000
That's Sloane Stephens' number of followers after her crazy victory against Serena Williams in the quarter finals in Melbourne. Before her feat, the young American "only" had 25 000. A nice little bump.
The tweet: Maria Kirilenko looks like her cat
"We look alike don't we?"
 That's how Maria Kirilenko introduced her cat on the famous social network. A profile picture of the beauty and the beast. We say the resemblance isn't that striking…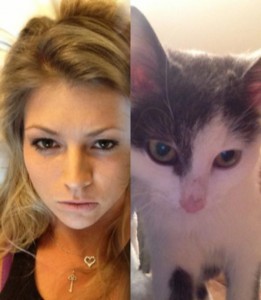 The quote of the week
Interrogated in a press conference on the wonders of the women's rankings, the Frenchman Jo-Wilfried Tsonga didn't make many girlfriends by saying: "The girls are less emotionally stable. I'm sure everybody will agree with that, even them. I think it's because of the hormones and everything it implies. Us guys, we don't have these kinds of problems. We're always in a good place mentally and not bothered by these kinds of things. That's the real difference." We can't wait to hear what Maria Sharapova will say about it. Very politely.
Mummy Murray on top
Andy Murray is rising in popularity. And so is his mother apparently, if we believe the Aussie fans who mostly wanted to see her rather than her son. Their attentions didn't leave Judy un-moved, as she posted the picture on Twitter herself with the little comment: "I saw that in the stands today…. I love you too, whoever you are! J" Another stepdad soon for Andy?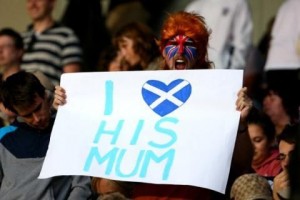 Ana Ivanovic is no longer single
According to the
telegraf.rs.rs
, the Serb Ana Ivanovic has found a new lover after her break up with Adam Scott! The lucky man is a former tennis player and friend of Novak Djokovic, Mark Stillitano. The couple has been spotted kissing on an Australian beach.
The women's final: Even the commentators wear skirts…
Between victories, Andy Murray likes a flutter and he shared the details of his latest in a photo-set on his official Facebook page showing the Australian ex-player, Darren Cahill, now a coach and consultant for ESPN, in a kilt, having obviously lost a bet with the Scot. "Darren Cahill said that if I made it to the Aussie Open final this year, he'd wear a kilt whilst commentating on the women's final this evening. Darren Cahill, take a bow." The poor guy….
Na Li likes to share
Originally, Na Li wanted to send a service into Agnieszka Radwanska's teeth. Except that the Chinese missed. Big time. The ball going out of shot even before reaching the net… So much so that she laughed about it after the game: "I did that because I want to have a good communication with the crowd!" [youtube]http://youtu.be/InxBl6Bvgbs[/youtube]
The vintage video
It's 1993 and Stefan Edberg is challenging Pete Sampras in the Australian Open semi-finals in a legendary match pitting the two best attacking players on the tour against each other. Edberg is not yet finished and Sampras is not yet the great Pete, but the match is intense and with an exceptional effort from both parties. In the end, the Swede took the match. Different days. [youtube]http://youtu.be/dvdOCSVg0nU[/youtube] The '80s look Pat Cash, the Australian lion. Black-and-white bandana and Sergio Tacchini trainers. The Aussie was already making some fashion noise even before his success on Wimbledon grass in 1987. In Melbourne, at his home, he would unsuccessfully contest two consecutive finals in 1987 and 1988.
By Mathieu Faure