So... We found out that Federer was on the verge of becoming Australian at 13 years old, then Maria Sharapova entered the Twitter-sphere and finally a kid humiliated Novak Djokovic. Here's to a great start to...
So... We found out that Federer was on the verge of becoming Australian at 13 years old, then Maria Sharapova entered the Twitter-sphere and finally a kid humiliated Novak Djokovic. Here's to a great start to 2013…
Roger has fathered a little genius
While he's starting a new season on the tour, the greatest player in the history of tennis has let slip about the linguistic capabilities of his two 3 year-old daughters, Charlene and Myla: "
They speak Swiss-German and understand English and Slovakian
(their mother's mother tongue, editor's note)". Little geniuses then...
Roger Federer, or The Pink Panther
You may remember that the Swiss asked his fans to choose the pair of shoes he would use during the Australian Open. Obviously, girls came out strongly on Nike's Facebook page because, against Nikolay Davydenko, Roger plumped for a pink and black creation, which is causing quite a stir on the social networks. The worst thing in the story is that he still manages to keep his legendary class.
Roger's twin towers
He made his mind up, Roger will now only travel with his family. It's why his wife and his two daughters were attending Roger's debut in Australia. A precious support...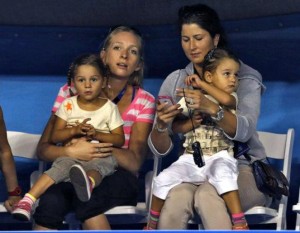 The quote: Federer, the Aussie.
And what if Roger had not been Swiss? Well, then he would have been Australian. That's what he revealed upon his arrival in the Antipodes, referring to his teenage years. A confession that could have changed the face of Australian tennis, not-to-mention Swiss tennis... "
I was 13 years old and I remember these days very well. If we had gone, my life would have taken another turn. It was really something serious. My parents really were serious about going. My dad had already made several business trips to Australia for periods of three months at a time. He had a good job offer. I remember that there were many discussions at home about leaving or not. I was motivated by the idea of leaving, I was telling them "Come on let's go, I'm ready to move to Australia". One day, my dad told me we weren't going. "We have too many relatives here, we're too settled in Switzerland, and I don't think we should go." I remember that I started crying when he said that. At the end of the day, I'm really happy that we stayed. But I must admit that it would have been fun to play the Davis Cup by BNP Paribas with Lleyton Hewitt. However, Switzerland is an amazing country. I'm extremely grateful of everything that the Swiss Federation has done for me. So I'm really happy to have stayed, but it would probably have been very nice in Australia too
." Don't cry for him, Australia...
Meanwhile, in the rest of the world…
Maria Sharapova lands on Twitter
Six month ago, the Russian indulged in a rather strident outburst regarding the 140-character social network: "
There are always moments in a day where I'm bored. And I think that if I'm bored eating a bowl of pasta for example, I don't have to let the whole world know about it. Plus, I write a lot of texts every day, and I think it really would be too much to text on top of that. I can't even imagine what it would be to tweet all the time
." Obviously, the wind has changed since, as Maria Sharapova has just started her official account @MariaSharapova. And success is already there with 80 000 followers. We can't wait to see her holiday pictures.
Mrs Berdych sets Melbourne on fire
Ester Satorova is a Czech model. Seasoned WAG-spotters have already recognized her, as Ester is the new missus of Tomas Berdych. The beautiful girl was in the Melbourne stands to watch her beautiful stallion stroll through against Michael Russell (6-3 7-5 6-3). And the least we can say is that Satorova didn't go unnoticed…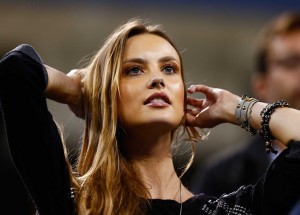 The figure: 501
The amount of money – in Australian dollars - won by Olga Puchkova for each minute spent on the court against Maria Sharapova where she was served two helpings of doughnut (6-0, 6-0) in 55 minutes. The reason? For the first time this year, the players leaving the tournament in the first round pocket $27 600. There could be worse ways to earn a living...
Djokovic's new protégé
Novak Djokovic is an entertainer on the highest order. He's having a laugh with everybody, and mostly with the kids. At the start of this Grand Slam, the Serbian played a few shots with a little boy during an exhibition. It all went fine until the little lad decided to try a killer passing shot against Nole… who's left speechless. [youtube]http://youtu.be/w4_ZDlWMf1E[/youtube]
Gaël Monfils pinned down by ESPN
Monfils is making a comeback to the Grand Slam table. A good occasion for the American commentators to catch up with their little French darling... ESPN commentator Darren Cahill then indulged himself with a little comment which says a lot about the Frenchman's reputation: "
I would pay a lot of money to watch Gael Monfils. But I would also pay a lot of money not to coach him!"
Kuznetzova and Fila, is it over?
Svetlana Kuznetsova is known for her headband and very 90's FILA look (her official sponsor). Except that from Australia, the Russian posted a picture of herself to Twitter wearing a Qiaodan-branded shirt, a Chinese brand making a lot of noise since people found out that the word "Qiaodan" means "Jordan" in Chinese. Anyway, people are already talking of a sponsorship deal between the player and the brand.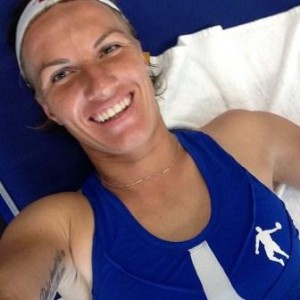 The twist of the week
The
Daily Mail
took the prize for the funniest picture of the week with its remake of Crocodile Dundee with Andy Murray replacing Paul Hogan…
The video: Serena's self-mutilation
Serena Williams is without a doubt the most powerful player in history. Against Garbine Muguruza, the American split her lip with her own racquet with a shot as ridiculous as it was violent. The younger Williams came close to an even-greater calamity: "
As long as I didn't break a tooth, which would be horrible...' I don't know why my racquet came in my face ... I've been playing tennis for too long for this kind of thing to happen to me
." [youtube]http://youtu.be/ABCNyhV-Wsk[/youtube]
Sam Querrey, this spicy man
What is the secret of the American, Sam Querrey, to stay Zen when he's not playing? It's simple. "
I've been doing acupuncture for the last six months. I don't do it every day, just a couple of times a week. I go there for specific zones, if my elbow or my shoulder is painful. I can have up to 30 or 40 needles in my body."
Ouch.
Bernard Tomic and the Tomic Girls
With his incredible courage against Roger Federer, Bernard Tomic has seduced the whole tennis world. And everybody in Australia wants his body. Check out the groupies who didn't hesitate to be caught on video proclaiming their love for their compatriot. Yeah, they're pretty ridiculous but the attention is lovely. Bernard is a lucky man... [youtube]http://www.youtube.com/watch?v=7gjR1Up2RA8&feature=share&list=PL2RR--XMozwWC-wypSROB74gJ8v2MLmTI[/youtube]
By Mathieu Faure