"If you run, you die." So warns Juan Martin Del Potro regarding the Australian Open, certainly the most suffocating tournament of the world tour. Sweat, sunscreen, Legionnaire hats, nausea, cravings, sunstrokes and...
"If you run, you die." So warns Juan Martin Del Potro regarding the Australian Open, certainly the most suffocating tournament of the world tour. Sweat, sunscreen, Legionnaire hats, nausea, cravings, sunstrokes and unlikely looks: We take a quick look at the top 10 stories of tennis in heat.
1/ Ivan Lendl the legionnaire
"
The champion that no one cares about."
"
The man who empties stadiums faster than a bomb scare
." The journey of Ivan Lendl at the Australian Open in 1989 was fodder for the American newspapers. So concentrated were they on mocking his big-hitting style, his stingy game, his ice mask, his gangly movement and his assorted tics (he tore his eyelashes after losing a point, note), they almost overlooked a disturbing detail: the Czechoslovak was wearing a legionnaire hat as a protection against the sun "
The heat was overwhelming
, says Lendl. "
Because of the high temperature, swarms of flies even formed around the court. Don't worry, there's more where they came from. It's going to be a hit in Manhattan!"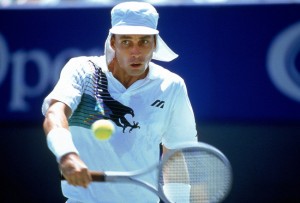 2/ Serena Williams' fan-racket
If around Wimbledon or Roland Garros, rain can cause matches to be delayed, in Melbourne, it's the heat that organizers fear the most. In 1998, they established a regulation in case of extreme weather,
The Extreme Heat Policy,
which includes the suspension of matches if it is considered too risky for the players' health. But somehow, in some cases, the measure is ineffective: Last week, Serena Williams almost knocked her tooth out with her racket during a match against the Spaniard Muguruza. "
I ruined my lip; it opened up as never before. I thought 'As long as I didn't break a tooth, as this would have been horrible..." I don't know why my racquet came in my face... I've been playing tennis for too long for this kind of thing to happen to me
".
3/ A hometown referee for Rod Laver
January 1969, semi-finals of the Australian Open. Rod Laver beat fellow Australian Tony Roche by the preposterous score-line of 7/5 22/20 9/11 1/6 6/3 Cool isn't it - that bygone era of an almost migraine-inducing tennis that was played to exhaustion, without a tiebreak? More frightening still, the 45° C recorded in Melbourne that day. But while Tony Roche was serving to get back to four games all in the fifth set, Laver's return clearly went out. But the linesmen didn't notice: the "local lads", as it's customary to call them, amateurs and without any real skill at this level of competition. Harassed, Roche didn't even have the strength to fight, and conceded the match five minutes later. Lendl concluded: "
With this heat, nobody can blame the referees for making mistakes."
[youtube]http://www.youtube.com/watch?v=wHaN2h21ANs[/youtube]
4/ Justin Gimelstob says "No!" to sweat!
The prototype of the "frigid" player, Justin Gimelstob, recently retired and winner of the mixed doubles with Venus Williams at the  Australian Open and Roland Garros in 1998. Plagued by serious sweating problems throughout his career, this specimen was never able to stand the heat: "
In fact, when I was playing in the U.S. Open or in Australia, I could use up to 15 shirts, 12 bracelets, three pairs of socks for as many pairs of shoes. It was like packing your bag for the summer.
" Now working as a blogger for Sports Illustrated, Justin remembers a hot day in Paris where he was conducting an interview with Svetlana Kuznetsova... "
Streams of sweat were running down my face, it was ridiculous. She could not help but have a giggle
," he remembers. "
I'm easy to find at a tournament. I am the only commentator who's wearing three different shirts per day
. "
5/ "Give him the girls' locker room"
The 5th of September 2005 marked a turning point in the life of Dominik Hrbaty. For his third round match in the U.S. Open against David Ferrer, the Slovak found nothing better to do than cutting his own shirt off at the shoulders to make a handmade air-conditioned system. "
I quite like this shirt
," says Hrbaty. "
The guys in the locker room told me that from now on I would have more gay fans. Even Andre Agassi said: "Give him the girls 'locker room
.'" Tough.
6/ And Pete Sampras got sick...
"There are a lot of people tonight who have seen things that will never see again in their lives." Like Paul Annacone, coach of Pete Sampras, tennis lovers all remember this summer 1996, on the central court at the U.S. Open.
http://wearetennis.bnpparibas/fr/magazine/
A suffocating afternoon during which Sampras, broken by the vapors of burgers, heat and ferocious top-spin shots of his opponent, Alex Corretja, started feeling sick "
I remember playing a disputed point and suddenly having this thought: 'Shit, I'm going to vomit. I'm going to puke, in front of the entire world
" remembers Pistol Pete, the heroic winner of the meeting, who has just unwittingly brought his health problems to light: a blood disorder, thalassemia, which he had since his childhood: "
It makes me feel a bit lethargic and out of it. My hangdog look is partly due to this".
[youtube]http://www.youtube.com/watch?v=6MINEr61bfU[/youtube] [youtube]http://www.youtube.com/watch?v=sua__p9kVtA[/youtube]
7/ "I never give up without a reason"
January 27
th
, 2009. The Australian weather forecast announced the hottest day for 90 years, with the mercury hovering at around 40° C in the shade. Too hot for the reigning champ, who would be badly weakened: Novak Djokovic. Suffering from sunstroke, the player lost his crown in the quarter-finals of the Australian Open against Andy Roddick. It marked his fourth abandonment in the latter stages of a Grand Slam tournament. More than a heat stroke, the "Djoker", always ready to amuse the gallery, is maybe not able to take the pressure? "
This is huge bullshit. I never give up without a reason!
" Sorry. [youtube]http://www.youtube.com/watch?v=1Uto9WckV4U[/youtube]
8 / Patrick Rafter's sunscreen
"
Ten Grand Slams and sunscreen."
In 1997, this was Pete Sampras' response when asked what the differences were, according to him, between him and Pat Rafter. It is true that this tennis sex-symbol of the 1990s would, during hot weather, slather his cheekbones with a coarse layer of sunblock. More than just an affectation, this protection was indispensable for him, just as for many people in the Southern Hemisphere who saw the thickness of the ozone layer nearly halve, leaving their skin less "protected" than others, and more exposed to the risk of cancer.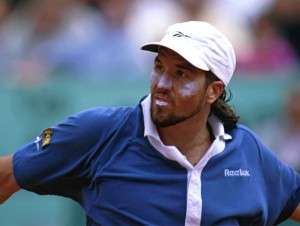 9/ Convulsion, sunshine and hospitalization
January 1994. It's been almost two hours that Henry Leconte has being fighting against the Czech Martin Damm in the second round of the Australian Open. It was 24 degrees in Melbourne, a pleasant temperature for the audience, but still too hot for the Frenchman: "
It came gradually as I was playing well, I won 6/1 in the first set, I broke his serve in the second and I then started to feel strange sensations, chills, I was a little slow, just a bit shattered like a boxer. And when I realized that I should I've been wearing a hat, well, it was too late."
"Riton" literally collapsed on the court. Verdict: convulsions, sunstroke, abandonment and a day spent in the hospital. "
It's spectacular, it hurts, but it was nothing serious."
Phew! [youtube]http://www.youtube.com/watch?v=5ylmquRgl3I[/youtube]
10/ Love at first sight in Wimbledon
The interloper of this list. More used to heavy rains, the United Kingdom was the victim of the most severe heat wave in its history in 1976. As Abba were climbing to the top of the charts, a hundred spectators of the All England Lawn Tennis and Croquet Club were transported to the hospital, balls were exploding in the heat and the courts were as hard as concrete due the hosepipe ban in effect. The then sex-symbol of British tennis-groupies, Björn Borg, won his first tournament in London, on the 90th anniversary of its creation. The first of many...
By Victor Le Grand