Still no official date for Rafael Nadal's return to competition, and the Spaniard has withdrawn from the Australian Open. As for Roger Federer, he still doesn't know which pair of shoes he should start the season...
Still no official date for Rafael Nadal's return to competition, and the Spaniard has withdrawn from the Australian Open. As for Roger Federer, he still doesn't know which pair of shoes he should start the season with. Apart from that, the tennis planet keeps on turning. Nice.
A Sunday at home
Rafa and his family were bored before the epiphany cake. What to do? Easy. A little horse-play in a dubiously-upholstered living room...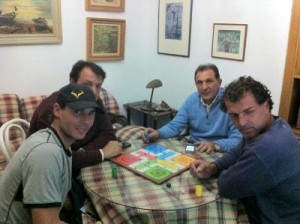 A return to school postponed once again
"I'm sorry and very sad to announce that I will not play in the Australian Open
." Here you go, it's official - Rafa won't be back on the tour before late January. Although previously expected to be back on the courts first in November, then pushed back to December, the return of the former world number one has once again been postponed:
"My knee is coming along okay, and the healing process is what was predicted by the doctors, but because of a stomach virus, I have been unable to train normally this week, and I won't be able to do it in the next few days." 
Meanwhile, the left-hander fell to the forth place in the world rankings.
Nadal's fans think about him
Eager for his return, the Spaniard's fans made him a lovely little video to help him live through this tough time. It's cute. And sweet. [youtube]http://youtu.be/WBA262J4D6k[/youtube]
Nadal in your pocket
Nadal might be away from the courts but he's still very visible on the Internet. Early January, the player announced that he was to launch a new iPhone app called "Rafael Nadal Tennis Academy". It will allow you to take a closer look the player's technique, as well as compare it with your own. "
It will help the user become a better player,
Nadal explained to USA Today.
"You will able to use it everywhere and compare your moves with those of a professional player. It's a good way to learn tennis and progress."
Meanwhile, in the rest of the world
The video: Benoît Paire (re)invent tennis
More at ease with Twitter than with a tennis racquet, the French player Benoit Paire made some good resolutions for 2013. It started in the first round of the Auckland tournament where he was playing against the Taiwan born player Yen-Hsun Lu. A little bit bored, the player had a stroke of genius while his opponent went up to the net. A shot between the legs, but facing the net... Like a boss. Of course, that was a point won, but in vain as Paire lost in 3sets (6-3, 2-6, 6-2). [youtube]http://youtu.be/m8e1thBvyrE[/youtube]
Sliding Hantuchova
Daniela Hantuchova has probably had her share of watching
Point Break
with Keanu Reeves. Since, she's been dreaming of surf. Therefore, she took advantage of the Brisbane WTA tournament to give it a try. The Russian had the chance to get a private lesson with the pro Julian Wilson. There's still quite a bit of work before she troubles the likes of Kelly Slater, but she's trying.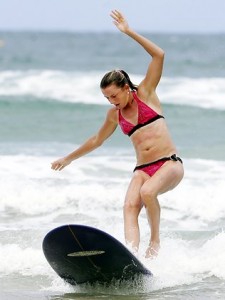 The tweet of this New Year
Maria Kirilenko, the most beautiful blonde on the WTA Tour, has been living the high life with the Washington NHL star Alex Ovechkin for a while now. As they're really in love, the toothless puck-wielder proposed to the Russian. And she said yes. He's the one who made it public on Twitter recently. Lucky guy…
In the shoes of Victoria Azarenka
She might be cool and world number one but Victoria Azarenka stays first and foremost a young lady enjoying her passion and her life. So, when she arrived in Australia, she picked up her little camera and filmed her life: New Year's Eve, shopping, training, press conferences. A life less ordinary... [youtube]http://youtu.be/2uAesgKvqqc[/youtube]
Roger Federer is looking for his shoes
For 2013, Roger Federer has already made good resolutions, most notably about his style and, as his American sponsor and manufacturer is quite nice, they already sent him the new collection. Except that the Swiss doesn't know with which shoes he should start the season. Tough choices…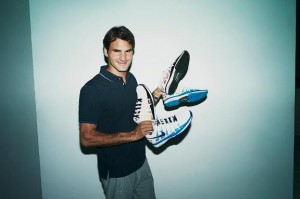 The outfit of the week
Serena Williams almost won it all in 2012, but one prize she missed out on was the best-dressed award. And it doesn't look like 2013 will be any different, judging from the look the youngest Williams sported at training. But what the h… are these pink trousers?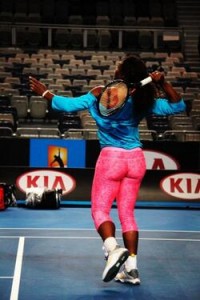 Martina Hingis at five against one
She might be retired, but Martina Hingis hasn't lost anything of her tennis ability. As she can sometimes get a little bit bored, the former world number one tried, on Japanese television, an experiment, playing five opponents at the same time. And didn't panic one bit, quite the opposite, actually… [youtube]http://youtu.be/G9zqzAH_F6k[/youtube]
The sweet Maria Sharapova
Just like cats, Maria Sharapova has several lives. One as a tennis player, another one as a
femme fatale,
and yet another as a businesswoman, making the Australian launch of her already famous sweet brand: "Sugarpova". To celebrate, the Russian was wearing her loveliest school skirt.
 The quote
"I believe one of them had an invitation the big table. Against him, I won a match after saving 8 set points. I won't tell you who it is – it would be too embarrassing – but I don't think he slept very well after this match! I also played against Luke Saville (an up-and-coming Australian junior) but we didn't have the chance to finish because the set was too long."
Maria Sharapova is comfortable with the idea of putting the men in distress on a tennis court.
Federer Australian number one
Roger Federer is the most famous athlete in Australia, according to the
Gemba Asset Study
, the National Australian Institute of statistics, which published the 2013 rankings and marks the third consecutive year that the Swiss player tops the list. 1. Roger Federer (tennis) 2. Glenn McGrath (cricket) 3. Rafael Nadal (tennis) 4. Ricky Ponting (cricket) 5. Cadel Evans (cycling) 6. Michael Clarke (cricket) 7. Samantha Stosur (tennis) 8. Mike Hussey (cricket) 9. Mark Webber (motor racing) 10. Kim Clijsters (tennis)
By Mathieu Faure