Years go by and look alike for Roger Federer. On holiday for twelve days with his family, the Swiss took advantage of the last moments of the 2012 tour to discuss the tournament calendar, surfaces and doping. The...
Years go by and look alike for Roger Federer. On holiday for twelve days with his family, the Swiss took advantage of the last moments of the 2012 tour to discuss the tournament calendar, surfaces and doping. The others - those who didn't participate to the Masters, actually – well, they had a good time too.
For Roger, 2013 will be lighter
At 31-year-old, Roger Federer is starting to feel the weight of years of tennis court on his back. Used to playing full seasons, the Helvetian has decided to innovate and lighten his schedule for 2013. Five times winner of the tournament in Basel, RF, beaten by Juan Martin Del Potro this year, will not travel to Switzerland next season to try to reclaim his throne. Federer will also skip the Monte Carlo tournament, which he has never won, and the Miami Masters 1000. Nevertheless, the former world number 1 will play, all-in-all, 14 tournaments next season. Not too shabby for an old-timer.
Sadness shared with Francesco Totti
Football fan and especially FC Basel fan, the team of his heart, Roger Federer is often led to come across the protagonists of the football world. Last week, he took advantage of the arrival of Francesco Totti, the Italian midfielder of the AS Roma at the Masters in London to talk a little bit about football. "
My team Basel isn't doing so well
," said the master to the Roman. Totti's response, full of self-deprecation, came swiftly: "Oh, you know, at Roma, it's even worse." Good luck, Francesco...
Federer, defender of a more offensive tennis
It's a fact: courts are slower than they were before. And that annoys Roger, the only truly offensive player of the big four because "
going up to the net is a good thing, not a bad thing
.", as he explained to ESPN this week and urged the tournament organizers to make real fast courts: "
An attacking style should be valued. It's because courts are what they are today that we defend as we all do. I think having faster courts would help tennis. We would see more players succeed with faster surfaces. A little variety wouldn't hurt
. "A message approved by Mardy Fish and Michael Llodra, in particular.
The number: 71
Defeated by Novak Djokovic in the final of the Masters, Roger Federer nevertheless had his best season since 2006. With 71 victories for 12 defeats, the Swiss did better than in 2011 (64-12) 2010 (65-13) 2009 (61-12) 2008 (66-15) and 2007 (68-9). However, to do better in 2006, he will have to go some... That year, the Swiss won 92 games and only lost five times.
Federer, not always classy, but always efficient
Apostle of a sharp, elegant and aggressive tennis, Roger Federer must sometimes put his natural class aside. This was the case during the group match against Juan Martin Del Potro on the courts of London, when the Swiss pulled off a very unorthodox, but nevertheless very effective, return of serve. The Argentine was left speechless and we understand why… [youtube]http://www.youtube.com/watch?v=YQ7WpuGrfCw[/youtube]
Federer, Swiss ambassador?
Switzerland isn't the kind of country to honour individuals. "
In Switzerland, we have a problem of self-congratulation. The queen received Bradley Wiggins, Novak Djokovic is on a pedestal in his country and us, with Roger Federer we have one of the most loved men in the world and what is the political world doing? Nothing
," says the National Councillor Fathi Derder. Suddenly, Switzerland, which has no equivalent to British knighthood, may soon make of Roger Federer an honorary ambassador. Seems to be the least they could do...
Meanwhile, in the rest of the world…
Djokovic does the samba
Ever the showman, the Serbian Novak Djokovic wowed the crowds on Saturday in Brazil, during an exhibition match to inaugurate a public tennis court in the Rocinha favela alongside the former world number one Gustavo Kuerten. The next day, the recent winner of the Masters in London was even playing the ball with local football heroes: Zico, Romario and Bebeto. All with the aim of improving the country's image for the 2016 Olympics... [youtube]http://www.youtube.com/watch?v=vjgcczGvZb4[/youtube]
Roddick toasts his retirement
Young retiree Andy Roddick is rediscovering the joys of life away from tennis courts, while keeping good contacts. So the Texan was able to enjoy Daniel Nestor's wine - judged as excellent by experts - at a tasting event. And obviously, he brought some home…
Raonic, a history of violence
When he's not in Thailand taking courses in Muay Thai, the Canadian Milos Raonic is still a man of violence. When he uses it, obviously, but also when he's enjoying the fights of his compatriot George St. Pierre, who has carved out a record of 22 wins for 2 losses in the Ultimate Fighting Championship. "
Let's get ready to rumble,"
as Milos would say.
The tweet of the week:
If Roger Federer lightens his agenda, it's not the case of Ivo Karlovic. Disgusted to see that the schedule for next season would see him miss out on Christmas and New Year with his family, the big server posted a nice tweet: « 
Next tennis season is starting on New Yrs Eve. That means traveling on Christmas and no NYEve party.. I think Grinch made the calendar
». Nice. https://twitter.com/ivokarlovic/status/268428361926340608
Vesnina's apples
To get a break from the WTA and the stress of competition, Elena Vesnina, unlike Stanislas Wawrinka, doesn't need fine sand and coconut trees. The Russian likes nothing better than to come home to her family in Russia, near Sochi, and to help her parents picking up apples from the garden. See you next week for a picture of the pie.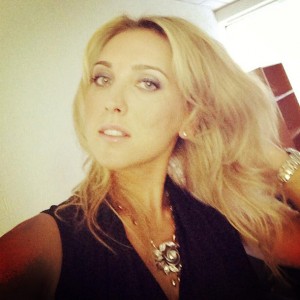 Magnus Norman, the baby-sitter
What's happening with Robin Soderling? Well, he's playing ball games again... but it's a ping-pong ball... and it's in his living room. Away from the courts after a bout of mononucleosis contracted in 2011, the Swede resumed training recently. And when he's not running in the cold or racquet in hand on a court, he hones his skills with a round of table-tennis. Problem: Robin is a new father, to little Olivia. So when he's busy, he asks his coach Magnus Norman to be the babysitter. How cute and cuddly...
Holidays concluded in style for Stanislas Wawrinka
It's already the end of the holidays for Stanislas Wawrinka. Back in training after a great time in Mauritius, the other Swiss player found a little consolation with a nice gift from Didier Drogba. Yes, "Stan" will be able to train wearing the Shanghai Shenhua jersey of the Ivorian. Classy.
By Swann Borsellino