Stop everything, Rafael Nadal should, finally, return to tennis. In late December, to be precise. Cause for celebration. Meanwhile, Djokovic's dog received lovely presents and Roger Federer said that he can't...
Stop everything, Rafael Nadal should, finally, return to tennis. In late December, to be precise. Cause for celebration. Meanwhile, Djokovic's dog received lovely presents and Roger Federer said that he can't cook…
SAVE THE DATE
December 28th is the date that Rafael Nadal is expected to return to the ATP tour. His uncle Toni let slip the news that Rafa will be back on court for an exhibition held in Abu Dhabi on December 28th. Hoping he doesn't break down by then…
The machine
As every week, Rafa has posted on his Facebook a little picture of him during his work out. This time, the Spaniard has been immortalized while working out his abs:
"Today, I'm working out at the gym! I train hard to get back to 100% on the courts"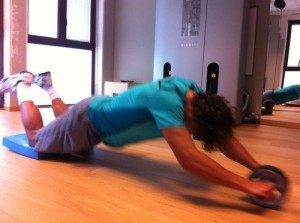 Rafa visiting Brittany
Rafa went to Rennes, in Brittany. He was even seen eating a pancake in the city centre. While in recovery, what was the Spaniard doing so far away from home? It's simple; he was visiting his friend Richard Mille. Who is he? He's the manufacturer of the most expensive watches in the world - the cheapest go for not less than £25 000 – and a sponsor of Rafa. Richard lives in the 18
th
century Monbouan Castle in Moulins, near Rennes. The two men then posed for pictures in front of one of the cars from Mille's collection.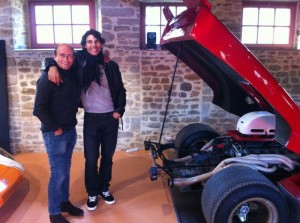 Rafa has already booked in to Acapulco
While he's slowly returning to competition, Nadal is starting to prepare his program for 2013. First certainty; the Spaniard will be at the Acapulco tournament in Mexico (on clay) in late February. This is the first time that the lefty has entered this tournament and demonstrates his intention to not push his body too much by focusing his favourite surface. The organizers are thrilled.
Cristiano Ronaldo to PSG, Nadal doesn't like it. At all.
"
I don't want to see that. At least not right away. But if it happens one day, we will have to accept it
". This was the terse response that the player gave to the Qatari channel Bein Sport when he was told of a possible transfer of the Real Madrid icon - his beloved club - to Paris-SG.
Meanwhile, in the rest of the world...
Video: Argentinian battle in London
Juan Martin Del Potro is 6ft 6in. Sergio Aguero, the Argentine footballer of Manchester City, is over a foot shorter. Yet both indulged in friendly exchanges during a time-out at the London Masters where the footballer had made a day-trip. Even in small pleated trousers and dandy shoes, "Kun" didn't lose any of his ball-skills… [youtube]http://youtu.be/NCr-nmiWuhw[/youtube]
The quote
"
I'm going to call it a day on the ATP tour. At 27, I want something else. I don't want to keep vegetating in the second or third division in the world. This isn't the life I dreamt of as a player.
" The words of Frenchman Charles-Antoine Brezac, 500th in the ATP rankings, and they are sincere. The guy is tired of sleeping in his car and struggling to get by. But the player isn't looking for excuses. He knows that his dream was too big. "
To break into the 100 best in the world, which is the ultimate goal, will be difficult, I know that. I feel limited on a few technical points and on the physical stamina throughout a tournament. I am often tired towards the end of the tournaments and this is when the points matter the most and when the results are the most important. My game is too uneven
" he wrote in his blog. Anyway, the player is not out on the street. He will now try to become a lawyer.
Men want to be more tested
"
I have the feeling to be less tested than six, seven or eight years ago.
" Roger Federer made this remark in the middle of the London Masters before adding: "
I don't know why. Andy Murray said, I think, that there were not enough blood tests and I agree with him. It is vital for our sport to be clean
. "A fight that relies on numbers too. According to statistics from the website of the International Tennis Federation (ITF), the anti-doping authorities dropped from 72 blood tests in men's competition in 2010 to - only during Grand Slam tournaments - 58 in 2011. For comparison, the International Cycling Union (UCI) has commissioned 3,314 blood tests outside competition in 2011.
Petkovic ate her fill in India
"
I love the food here in India. In Darmstadt, my hometown, where I live, my favourite restaurant is an Indian restaurant so I was very excited to see the difference between Indian food in Germany and Indian food in India. It's a little spicier here, but I love it anyway, I love spices. The food is absolutely delicious.
" This is how the German Andrea Petkovic prepares her $125,000 WTA tournament, the equivalent of a Challenger, in Pune. A priori, the lady will be quite heavy on the court.
Tsonga, not so good at math
"
The best players play 'percentage' tennis
.
The problem is that I was never really good at maths! My teacher at INSEP kept telling me: 'Mr Tsonga, do you really think you will succeed in tennis?'
" Ahead of his match against Berdych in London, the Frenchman admitted that he wasn't mastering Pythagoras' theory as well as the cross-court return.
In the Clijsters household, it's already time to prepare for tomorrow
Kim Clijsters will no longer rule the courts. But Jada, her daughter, might. While her mother decided to hang up her racquet at 29 during the U.S. Open, Jada, with 4 years on the clock has already started tennis, with Kim as coach. The Belgian site 7/7.be has published a few pictures of Jada's first steps on the court. One thing is certain; she's her mother's daughter.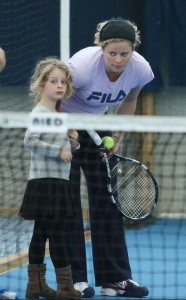 Federer, poor cook
The website of the Swiss Magazine
Le Matin
interviewed native-son Roger Federer. And, oh surprise, the greatest player of all time has weaknesses, and quite major ones at that... "
I can't cook. There are many things I would like to learn. For example, I don't know how to skate while I would love to. One day, in another life."
Wawrinka is chilling out
Stanislas Wawrinka isn't part of the eight best players in the world who are lucky enough to be slugging it out in London. It doesn't matter though; the Swiss player is currently somewhere where the sun is shining, where the sea is warm and where silence reigns. He took advantage of modern technologies to post a couple of holiday snaps.
Djokovic's dog rewarded
The ATP spoils its players, especially the best of them, with gifts during tournaments. And, as Novak Djokovic is rather well ranked, he gets the nicest gifts. So it's his poodle (because yes, Djokovic has a poodle) that receives the presents. The Serb posted a picture on Facebook with a lovely comment: "
I know one guy who is enjoying it here, it's my little dog. ATP and the tournament direction offered him a huge bag of presents and toys. It's already Christmas time for him!"
Weird…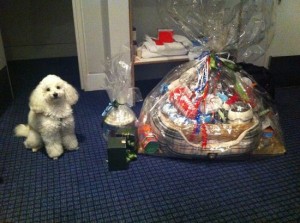 By Mathieu Faure