While the eight best women players in the world were on show in Istanbul for the Masters, Novak Djokovic was playing golf on the French Riviera before asking his fans for addresses of good restaurants in Paris....
While the eight best women players in the world were on show in Istanbul for the Masters, Novak Djokovic was playing golf on the French Riviera before asking his fans for addresses of good restaurants in Paris. Winter is approaching...
Nole the golfer
Before playing with the best players in the world at the BNP Paribas Masters, Novak Djokovic took off to the French Riviera to play golf. On the greens of Mandelieu, near Cannes, the Serb took a quick 18 holes without straining himself too much. He even posed with his friends between two holes. Best not to mention his shirt...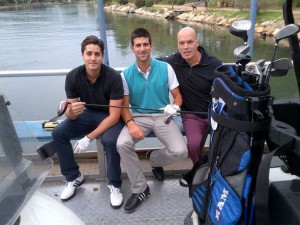 Nole talk about his life on Facebook
When he gets bored, meaning between two tournaments, Djokovic describes his life on his Facebook page. The Serbian talks bluntly to his fans, which make it a true gold mine.
"I finally got to be home for a little bit after few very busy but successful weeks. I will have just enough time to re-pack my bags as I'm heading to Paris on another quest :) I was in Belgrade last week, so I had a chance to meet up with all my family and friends. I miss them so much during my travels... It's always so good to catch up with them and see that they are all happy and healthy. Hope all of you are enjoying this unusually warm weather in October. It's so nice, it almost feels like spring!"
Here you go. Djoko has turned meteorologist.
Nole's Lonely Planet
Novak Djokovic arrived in Paris early last week because, yes, the Bercy Masters 1000 is nearly upon us. Meanwhile, he has to keep busy. And especially busy eating well. To do this, nothing is easier than asking his fans where the best places to fill his belly are. Djoko has again used his Facebook wall to go fishing for information.
"Bonsoir mes amis, ça va? Greetings from Paris! I arrived today safe and sound and already had my first practice. Each time I come to Paris, I always go to the same restaurants. I developed this habit to always go where I know the menu and where I already tried the food. It's been like this for years. This time I thought it would be nice to do something new for a change. Does anyone have some good restaurants to recommend? I'm open to suggestions! :)" 
There's still the Fouquet's on the Champs-Elysées. How Posh.
Nole, a man with a big heart
Outside of tournaments, Djoko is interested in others. Recently, he committed up to ten million dollars to the charity project "Clothes for Smiles" developed by his sponsor Uniqlo and UNICEF. The first five million will be donated to the United Nations Fund for Children. The other five will be used to develop ideas to improve the lives and futures of young people in Asia. To explain why he has gotten involved, he made a video… [youtube]http://www.youtube.com/watch?v=t64ivEZbhhs&feature=youtu.be[/youtube] Nole has a doppelganger... A Croatian doppelganger! Not content with having a little brother sitting in 617th place on the ATP rankings, Novak Djokovic also has a doppelganger... A Croatian doppelganger! Nenad Cokovan, a 27 year-old footballer, has been spotted by the Croatian website 24sata.hr. "
People come to me and ask for photos. They ask me how I felt at the last tournament.
"
However, Nenad has never met his double - "I hope it will happen to me one day because he's my favourite athlete. He is funny, nice and friendly as a man.
" Without a doubt.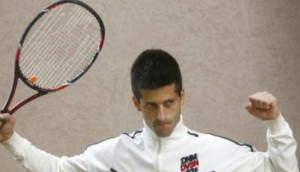 Meanwhile, in the rest of the world…
The video: Dimitrov, the genius
Basel tournament, first round, Grigor Dimitrov is playing against Viktor Troicki. The game is fast-paced and leads to the point of the year, won by the Bulgarian Dimitrov with a kind of behind-the-back, half-volley drop-shot. All executed with a certain nonchalance for maximum success. A jewel.
Enjoy
. [youtube]http://www.youtube.com/watch?v=ulLLAEfg4zg&feature=youtu.be[/youtube]
The sexy gallery
In Istanbul, the top eight female players in the world met for the TEB BNP Paribas WTA Championships. Before putting on their skirts and sneakers, these ladies posed for the great delight of photographers. Eight women. Eight styles. Eight bodies. It's a gift.
The quote
"Maybe I manage my negative emotions better, but I'm always intense. You see me on the practice court; I'm like a Duracell bunny all the time. So actually, Sam, my coach, tells me I have to slow down a little bit because I'm so energetic and I never stop and he's very slow. So I think we make a perfect match" 
So... Victoria Azarenka compares herself to the Duracell Bunny. Fine...
The insider's video
The photos of the players at the TEB BNP Paribas WTA Championships of Istanbul, above, is a delight, but the behind-the-scenes video of the shoot is even better. Makeup, personal photos, laughter, smiles, doe-eyes… Everything is there. Suddenly we would like to be there with them... [youtube]http://www.youtube.com/watch?v=Q8yzzV5vvTE&feature=youtu.be[/youtube]
Baby Shower: Baghdatis paterfamilias
After his marriage last month to the Croatian Karolina Sprem, the Cypriot Marcos Baghdatis became a father. Proud, the former finalist of the 2006 Australian Open posed with his offspring, a little girl named Zahara. With both parents being professional tennis players, the little one already has a career plan mapped out. Almost…
Twitter Photo
The Russians have brought to tennis some outstanding blondes: Kournikova, Sharapova and, of course, Tatiana Golovin. While the Franco-Russian had to prematurely hang up her racquet due to serious back problems, she sometimes still takes to the courts. Thus, during the Masters Istanbul, Golovin took advantage of a morning devoted to exhibitions to hit a few balls. And obviously, she hasn't lost her forehand. This photo posted on the social network proves it. Come on Tatiana, come back...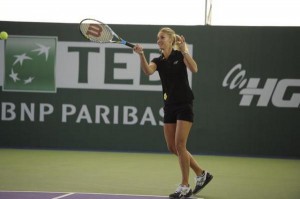 The dilemma of Davenport
Lindsay Davenport used to send down booming shots on the WTA Tour. Today, she is making a successful career conversion commentating on matches for Tennis Channel. However, the American admits to having trouble talking about her former classmates. On the site tennis.com, she talked about her difficulties when it comes to criticizing players:
"
I always thought I could explain the sport. I was a power player, and most people don't think of them as using tactics, but I always liked figuring out what my opponents were trying to do against me. (…) I really tried to keep in mind that it's not as easy as it looks out there. And I also didn't want to be too critical of people I knew on tour."
Lopez, mega service
Valencia, its sun, its 500 tournament and its atypical trophy: the "Longest Serve" sponsored by a famous brand of beer. The premise is simple: a pool, a tennis player, a service and a goal: to propel the ball as far as possible. And like last year, it's Feliciano Lopez who shot the farthest. After his jet-propelled 70 metre effort in 2011, he took a shot at 65 meters for the Spaniard to win the set before Ferrero, Simon and Ferrer. "
It was fun and very competitive
, said Feliciano.
Juan Carlos made it difficult for me, but in the end I managed to win. I did not have much strength; I have not managed to beat the record I set last year. It was very difficult.
" Next year, they should invite the real servers. To have a good laugh.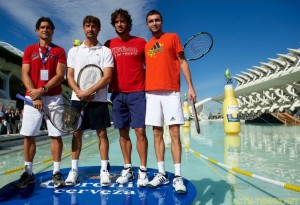 By Mathieu Faure