A record, a tribute, a victory in the Davis Cup by BNP Paribas and a bit of love... After the death threats, Roger Federer regained his routine. Meanwhile, Gael Monfils is depressed, Andy Murray dressed up his dogs...
A record, a tribute, a victory in the Davis Cup by BNP Paribas and a bit of love... After the death threats, Roger Federer regained his routine. Meanwhile, Gael Monfils is depressed, Andy Murray dressed up his dogs and Robin Haase too feared for his life.
The figure: 300
300 weeks atop the world rankings, 14 more than Sampras; the record is obliterated. Roger Federer doesn't do things by halves. By beating his friend Stanislas Wawrinka in the last sixteen in Shanghai, Roger made history again. By the end of the season, it is very likely that Djokovic will overtake him, but Roger couldn't care less, history has carried him to the very top. Where nobody will ever catch him.
Shanghai Express
It's called decompression. After entering the history books, Roger Federer was defeated in the semi-finals of the Chinese Masters 1000. With 33 errors, Roger was not too bothered in this game, gifted to Andy Murray without the Scotsman even asking. Yes, Roger is also generous.
Roger inspires
When an international letter-writing competition is organized by the Universal Postal Union, a specialized agency of the UN, it's obviously a tribute to Roger's triumphs. Marios, a 14 year-old Greek kid won by writing about the role of his native country in sports history and that of Roger as a contemporary hero. Roger and history, again.
Roger the patriot
Even in the rarefied air of the upper reaches of the ATP rankings, Roger Federer doesn't forget his country; a country struggling in the Davis Cup by BNP Paribas. So, when the nation is in danger, he charges in. And he wins. In the playoffs to remain in the World Group against the Netherlands in Amsterdam, beaten on Saturday with Stanislas Wawrinka in doubles, he applied himself in singles on Sunday to take a straight-sets victory for his country against the Dutch N°1 Robin Haase, who was swept away 6-1, 6-4, 6-4. In the end, he managed to help Switzerland win 3-1.
The text to Ottmar
A true patriot as a supporter this time, Roger sent a little text to Swiss football coach Ottmar Hitzfeld after Mario Gavranovic's goal in the Helvetian victory 2-0 against Iceland in their qualifying match for the 2014 World Cup in Brazil. Ottmar will answer him at the tournament in Basel. Legends understand each other.
The gift to Piqué
Gerard Piqué displayed, with pride, his friendship with Roger Federer on Twitter by showing off the shoes he had just received, complete with the message "
Dear Gerard, thank you for your support."
Yes, Roger shows his respect and his elegance everywhere.
https://twitter.com/3gerardpique/status/259316491009282048
Meanwhile, in the rest of the world...
Murray's Angry Dogs
Andy Murray is a free man. Since his victory at the U.S. Open, he knows he is no longer a "nearly man", a 2.0 version of Tim Henman. So he let loose. And his dogs pay the price.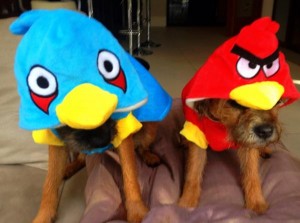 The Monfils Blues…
After reaching a high of number 7 in the world in July 2011 (67th today), and still troubled by his knee, Gael Monfils is going through a tough period. Back in competition after several months of absence, he lost in Stockholm against the 463rd player in the world, yes the 463rd player in the world, Patrick Rosenholm. A player who was playing his first match on the ATP tour. Enough to spark some soul-searching for the Frenchman: "
It's really hard to play against yourself in addition to the opponent. Here I feel a bit fed up with everything
." And so he put an end to a season to forget.
Rafael Nadal at the PSG stadium
The Parisian football club has changed status and so has revisited its pre-game rituals. The new PSG is reborn as an international club who can invite global figures for a Saturday afternoon PSG-Reims. Yes, PSG-Reims. Contacted by the president of PSG Nasser Al Khelaifi, Rafael Nadal gave the fictional kick-off of the match and was even allowed to go into the locker room to offer a racquet to Zlatan Ibrahimovic in exchange for a jersey.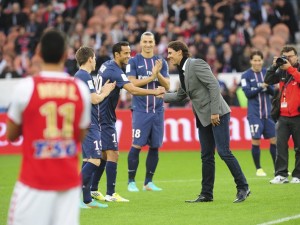 [dailymotion]http://www.dailymotion.com/video/xuimd2_paris-reims-nadal-dans-le-vestiaire-parisien_sport#from=embediframe[/dailymotion]
The performance
After a month of absence, Juan Martin Del Potro has decided ease himself back in competition. In Vienna, against the German Daniel Brands, if he needed three sets to win (6-7, 7-6, 7-6), he still sent down 59 aces. Which didn't unduly impress the Argentine: "
If I knew I would have to fight for three hours to get my first win, I would have stayed at home
," he said ironically, before qualifying his remarks "
I guess it was a good game to start." 
The death threats of Robin Haase
Roger Federer received death threats last week. May he rest assured, he is not alone. Robin Haase, ranked #50 in the world and recently beaten by the Swiss in the Davis Cup by BNP Paribas, has also received such kind words. Their way also seems more direct, as the Dutch player stated on his Twitter: "
Roger Federer gets threatend on a website. I just have to go to my own email to see that people want me dead.... #sad »
https://twitter.com/robin_haase/status/258316136276455425
Robin Söderling, oppressing dad
Robin Soderling has posted a picture on Twitter of his coach, Fredrik Rosengren, with his new-born daughter, along with a message for the mother: "
Trying to convince Fidde to make her a wta star :)".
The twisted father-daughter relations are everywhere in tennis. It shouldn't change anytime soon…
https://twitter.com/RSoderling/status/258589071440486400
By Antoine Mestres