While the Spaniard is watching WRC rallies on television, the tennis world keeps turning. The WTA Tour tries Chinese, Del Potro trains with a footballer and Linz's Player Party was quite something.   Rafael...
While the Spaniard is watching WRC rallies on television, the tennis world keeps turning. The WTA Tour tries Chinese, Del Potro trains with a footballer and Linz's Player Party was quite something.
Rafael Nadal number one... on Internet
Even without playing, Nadal remains number 1. On the Internet, at least… On Thursday, the web realized that Rafa was most-followed player on Twitter and Facebook. More than 3.21 million people follow the Spaniard on Twitter. In second place, not far behind, is Serena Williams with her 3.20 million followers while Novak Djokovic is third with 1.3 million fans. Catch him if you can…
Nadal is not ready yet
Back for the Davis Cup by BNP Paribas? The Masters? The rumours about the return date of the Majorcan have been swirling around for weeks. To calm it down, Rafa made a point on clarifying the situation earlier this week:
"I want to go day-by-day, I go every day to the gym and the swimming pool to continue with my recovery. I am trying not to think that far. It has been very, very tough for me because I feel that my knee didn't improve in the right way… but in the last couple of weeks the improvement in my knee is something that I can really feel. That helps me to keep working hard doing every day what I have to do. The most important thing is to continue with the treatment … when I don't feel anything, and hopefully that will happen soon, I will come back on the tennis court."
Might as well say it, Rafa will certainly be back in 2013. Not before.
Monaco visits Rafa
During the hours of rehab, Rafael Nadal begins to get bored, alone, with no friends to talk to. To cheer him up, his friend and tennis player Juan Monaco made ​​the trip to visit his friend and have a nice little party. Rafa was smiling again. You can see on the picture.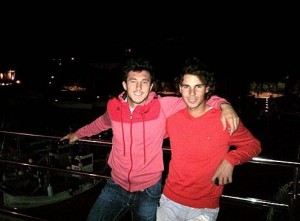 Nadal congratulates Loeb
On Sundays, Rafael Nadal has to find an occupation. On sick leave for months, the Spaniard has time to watch everything on TV. Proof, he slumped on his couch to watch the full Alsace WRC where Sebastien Loeb won his ninth world title. On Twitter, Nadal sent his congratulations:
"
Congratulations to Loeb for his ninth world title! Another one for the history books!
"
Rafael, the exhibitionist
Rafael Nadal has announced his participation in an exhibition tournament in Abu Dhabi, United Arab Emirates, from December 27 to 29. He will be in good company as Murray, Djokovic and Ferrer will also be taking part. The perfect way to get back on the court, and fill his bank account…
Nadal with mask and snorkel
Golf, gym, football. Nadal plays everything except tennis. Recently, Rafa put on a magnificent slinky swimsuit, mask and snorkel to explore the seabed. After trying every other sport, Nadal will eventually return to tennis. Especially since the snorkel doesn't suit him that well...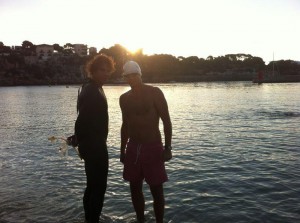 Meanwhile, in the rest of the world...
The craziest conversation of the week
By dint of living in hotels and traveling the world, tennis players are disconnected from reality. This is how Andrea Petkovic and Victoria Azarenka had a little chat on a famous social network during the WTA tournament in Linz. Between matches, the German and Belarusian posted some observations on the Austrian Player Party. We can open quietly the fantasies box:
Petkovic :
 « 
be aware the player's party dress-code here is leather and horsepower so you might bring your cat woman outfit
»
Azarenka :
 « 
hahaha i heard about that…i have a leather jacket and a leather boots…i hope i can fit in, can't wait to see u in it tho
»
Petkovic :
 « 
oh no, my dresscode is naked. haha
»
Azarenka :
« 
oh wow…huh i guess then there will be a lot more paparazzi for petkorazzzziiiiiiii»
The poisoned chalice
Kei Nishikori is the first Japanese to win the tournament 500 in Tokyo. Beautiful.  As such, Nishikori also took home the traditional tournament bonus: a year's supply of Corona beer, as a gift from the sponsor. A…difficult… present for the player. "
I don't know what I'm going to do with a year of Corona beer. I don't even like beer
" said the player on Reuters. It would be a shame to let it go to waste….
The WTF Video of the week
The buzz of the moment has a ridiculous name: the Gangnam Style from South Korea. Recently, Novak Djokovic has indulged in a public demonstration during his victory in Beijing. But there is more. Stars of the tour such as Sharapova, Tsonga, Stosur or Robson all played their part in a "propaganda" video for this new trend. INSANE. But funny. Very funny.
Laura and Genie's Gangnam Style
The controversy
Maria Sharapova has one defect: she screams. Serena Williams has a defect: she screams. Monica Seles had a defect: she screamed. In short, in women's tennis, the screamers aren't much appreciated. Recently, the WTA asked young players to learn how to manage their breathing and limit their screams. To address the issue, the Taiwanese studio Next Media Animation, decided to have some fun... It is quirky, goofy and funny. Yeah, it's not your run-of –the-mill informational video.
Tennis grunting ban supported by Maria Sharapova
Living language
When the WTA Tour arrives in Beijing, it tries the local language: Mandarin. And it is clear that all the girls don't master the phonetics quite as well as Li Na.
WTA Stars Learn Mandarin Part 2 | Azarenka, Radwanska, Kvitova and more
The picture of the week
Juan Martin Del Potro is a cold-hearted machine. Except when it comes to being a groupie, then his heart goes boom-boom. Thus, during his visit to Vienna, the Argentine invited a compatriot to exchange a few rallies. And the victim was none other than former footballer Martin Palermo. A man known for having missed three penalties in one game in 1999…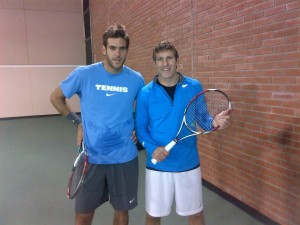 The quote
"
I don't read books. I mean, I go on the Internet a lot and read stuff online, but I don't read books. I haven't read a book since I was about 14 or 15. I got halfway through the third Harry Potter book. It was the first one that was really, really big. It was like 600 pages. I stopped around 200. I haven't read a book since then.
" Andy Murray, culture vulture.
The tweet
"Just arrived in Luxembourg.... What you think about my view from the room??? ;)"
The Austrian Tamira Paszek tweeted a picture of the view from her room. Yeah, it's ugly...