Busy weeks for Novak Djokovic. Even when supposed to be resting, the Serbian travels the world, living the dream and fulfilling various commitments. Meanwhile, Roger Federer received death threats and we lost Boris...
Busy weeks for Novak Djokovic. Even when supposed to be resting, the Serbian travels the world, living the dream and fulfilling various commitments. Meanwhile, Roger Federer received death threats and we lost Boris Becker to the Ryder Cup.
Novak the dancer
Against Jo-Wilfried Tsonga in the final of the Beijing tournament, it took Novak Djokovic almost a whole set to find his game, finally winning out 7-6/6-2. It was a bitter defeat for the Frenchman, this being his fifth against "Nole". Afterwards, Jo said suggested that perhaps the defeat was a "blessing in disguise". Indeed, but at least the Frenchman got to witness a funny show. Embarrassed but always accommodating, Djoko succumbed to the request of the tournament announcer when asked to dance with the tournament ball boys. He danced, but it was awkward.
Novak Djokovic dancing in Gangnam Style with ball kids China Open 2012
Novak the sweetheart
Novak is a man full of surprises. When he isn't hammering his opponent, racquet in hand or dancing with kids, the Serbian has a "nature" side. During his short break, "Nole" found a multi-coloured pal, who loves to eat from his hand. In a good way for once. Cute.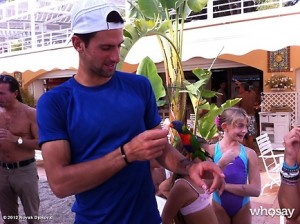 Novak future footballer
Whilst everybody is freezing in Europe in November, what would you say to a quick trip to Brazil? Novak Djokovic certainly didn't think twice. The Serbian doesn't do things by halves, next month he will challenge Gustavo Kuerten at his home in an exhibition match between two of the most frequently smiling players in recent years. Fun times for "Nole", who'll play not only with a small yellow ball, but will take advantage of his trip to the home of football with a little game. The only unknown factor in this trip being the position he will play: "
Anywhere but in goal!
" he said, laughing.
Novak and his big heart
So, Novak Djokovic never rests. Between his contractual obligations and his charitable commitments, the Serbian player is always busy. He took advantage of his visit to Taiwan to by saying hello to one of his sponsors, Audemars Piguet Taiwan. He also travelled to Lesnica, Serbia, to spend an afternoon with children for UNICEF. On the menu, painting, chatting, drawing and of course, a bit of tennis.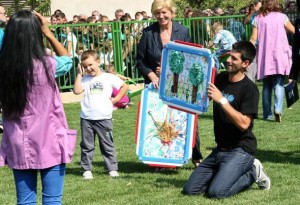 Novak actor
The image of a world tennis monster has to be well managed. Under contract with CAA Sports for the last four years, Novak Djokovic should, according to the New York Post, sign with IMG, which has long been in charge of the communication of Roger Federer. "
It's time to change
," according to him. Clever, as at IMG, the Serbian player will join Kate Upton.
Djoko doesn't travel light
Most tennis players live in hotels. Ok… We guess that the staff of palaces around the world aren't necessarily big fans of Novak Djokovic.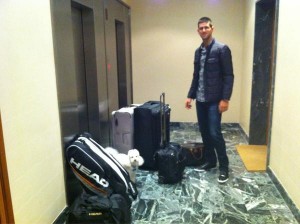 Meanwhile, in the rest of the world…
Federer received death threats
A week under close protection for Roger Federer. Competing in Shanghai, a prestigious and important tournament in the race to the London Masters, the Swiss received death threats on October 5. On the Chinese site Baidu.com, a blogger named "
Blue Cat Polytheistic Religion Founder 07
", said he wanted to "
kill Federer."
Why? "
To exterminate tennis
." A threat taken so seriously by the Chinese authorities that they put Federer under police escort. It's true he'd been busy, posting a picture of Federer kneeling on a tennis court alomg with an executioner holding an axe. The miracles of Photoshop...
David Ferrer and the other wall
Facing David Ferrer is a nightmare for every tennis player, Rafael Nadal aside. Like a wall, the Spaniard returns everything and returns well. On this trip to the Shanghai tournament, the Spaniard was offered a short tour of the area. On the menu, visit the other wall, made of stone this time, the Wall of China. Enjoy the tour, David.
Mahesh Bhupati is more into TV
Considering how long he's been part of the tour, it's no surprise that Indian Mahesh Bhupati is a little tired of tourism. He prefers to stay in his hotel room. A stroke of luck that a Chinese channel was broadcasting the number one sport in his country and heart: cricket. "
I watched hours and hours of cricket here in China."
Couch potato.
Becker, number 1 supporter of Europe
Boris Becker is one of the many tennis players who love golf. Last week, the German was in for a treat. Europe won the Ryder Cup after an incredible run and a fantastic recovery. His compatriot Martin Kraymer offered one of the decisive points to the Old world. "
Martin Kraymer, baby
" posted Boris Boom-Boom Becker on Twitter, before finishing with a very philosophical: "
Never say never
."
Raonic, a thought for the night owls
Winner of a completely crazy match against Andy Murray in Tokyo (6-3/6-7/7-6), the Canadian Milos Raonic thanked his fans for staying so long in the stadium or in front of their TV. Despite a good shower and his kind words, the player ranked fifteenth in the world lost out in the final to Kei Nishikori of Japan.
By Swann Borsellino