While professionals were racking up the games during the second week of the U.S. Open, elsewhere, some went sky-diving; others danced to LMFAO, wore sexy outfits and ate chips with garlic mayo.   The...
While professionals were racking up the games during the second week of the U.S. Open, elsewhere, some went sky-diving; others danced to LMFAO, wore sexy outfits and ate chips with garlic mayo.
The picture
In the US, the Serbian community has more than 600,000 citizens. Unsurprisingly, most of them live in New York. So when their champion, Novak Djokovic, is vying to retain his title at the U.S. Open, his fans are everywhere, as are posters claiming their love for "Nolé". Even in the city, you have to love the great Novak.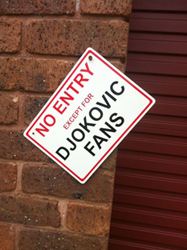 The video
Victoria Azarenka is fan of LMFAO. Recently, the player and Redfoo, the hairiest member of the band, came together at a press conference. So when the Belarusian saw off of Maria Sharapova in the semi-finals of the U.S. Open, she improvised a few steps of "shuffle", the trademark dance of LMFAO. An interest that some may deem vested, as Redfoo is currently promoting his new tennis clothing line…
http://youtu.be/6kRdzNxVRDA
The tweet
Sorana Cirstea is a young Romanian player who didn't last long at Flushing Meadows, defeated in the second round by the modest Anna Tatishvili. Regardless, the 22 year-old got a unique feeling by parachute-jumping for the first time in her life and posted the picture to her Twitter: "Best experience of my life -SKYDIVING!!!! X", she said. Now she just has to pass beyond the second round of a Grand Slam…
https://twitter.com/sorana_cirstea/status/244334514866880513/photo/1
The commercial
What does Rafael Nadal do in his free time? He plays poker. Well, at least he features in a commercial for a famous online poker website. It shows the left-hander wandering the streets of Barcelona, his smartphone in hand and a cheering crowd around him. Otherwise, when will you play tennis again, Rafa?
http://youtu.be/micaro1V6Wg
Serena Williams, very hot on David Letterman
David Letterman is a legend in New York. It takes a lot for him to lose his composure. However, the presence of Serena Williams on his show during the U.S. Open shook the famous host of the David Letterman Late Show. The reason? The really sexy red dress of the American player. Her arrival on the set didn't leave the presenter indifferent. For proof, this very hot dialogue: Letterman: "Wow, you look great!" Serena: "Thank you. I saw that your eyes almost pop out there." Letterman: "And this is not the only thing that... um, you didn't hear that." Yeah, he was into it, David.
http://youtu.be/gnmU6iBngks
Who eat what?
Not being able to live a classic couple's life, tennis players remain Epicureans. They like good things. Including good food. This is why the website foodandwine.com proposed to a dozen players to give their favourite recipe during the two weeks of the U.S. Open. So, we learned that Venus Williams loves cheesecakes, Kim Clijsters fries with garlic mayo, Robin Söderling Swedish meatballs and Roger Federer fondue. Foodies aren't they?
http://www.foodandwine.com/slideshows/dishes-for-a-tennis-watching-party/1
The Rubber Ducky's saga
You've guessed it; the weather has messed up the 2012 edition of the U.S. Open. Regardless, the Americans found plenty to do during when the weather took a turn for the worse. Thus, a small yellow plastic duck, called Rubber Ducky, wearing a cap, a racquet and a U.S. Open tee shirt was lugged around Flushing Meadows. There's even a slideshow available to follow the duck's adventures.
http://www.usopen.org/en_US/news/galleries/2012-09-04/201209041346790578811.html?promo=home
The numbers
Andy Roddick bade farewell to his career as a professional player at the U.S. Open. Moved, the American may retire however peacefully. Indeed, he retires with a beautiful ranking, as his performance here saw him enter the top 10 list of players who have won the most prize-money during their career, with more than $20 million. How is your retirement going, Andy?
Here is the famous ranking:
1. Federer, Roger $72,918,077 2. Nadal, Rafael $50,061,827 3. Sampras, Pete $43,280,489 4. Djokovic, Novak $38,120,025 5. Agassi, Andre $31,152,975 6. Becker, Boris $25,080,956 7. Kafelnikov, Yevgeny $23,883,797 8. Murray, Andy $21,473,551 9. Lendl, Ivan $21,262,417 10. Andy Roddick $20,637,390 11. Edberg, Stefan $20,630,941
U.S. Open, Hollywood style
Adam Sandler and Kevin James are used to movie sets as opposed to tennis sets. However, for a very special doubles encounter, the two actors joined John McEnroe and Jim Courier for an exhibition match. Needless to say, it quickly went very messy at the Arthur Ashe Stadium. But, well, we went there to have fun. And we did.
http://youtu.be/Iaj-VnLCGXA
By Mathieu Faure