Grigor Dimitrov has been around a while on the tour and he continues to produce the goods on court writes Craig Gabriel.
Grigor Dimitrov has been around a while. He has had his ups and his downs on the tour. He has won big titles, and he has experienced dry spells. He is in his 30's now but there is still plenty of tennis left in him. He has been ranked as high as three in the world and now he is rallying back and is inside the top 20.
The Bulgarian remains passionate about his tennis and is not prepared to stop, nor should he. Grigor is still matching it with most players on the tour and if the likes of Andy Murray, Stan Wawrinka can play well into their 30's after coming back from debilitating injuries, then so can Dimitrov.
A perfect example of his continued drive is his win over Carlos Alcaraz that put him into the quarterfinals at the Rolex Shanghai Masters. He remains so competitive on court.
"I can rate it up there, for sure. I think, given all the circumstances throughout the year and how everything has unfolded for me at certain tournaments, I definitely rate this win up there.," Dimitrov said.
"But, yeah, I just don't want to like, overthink it to that extent. I feel like also I've done quite a bit of work as well and I think, you know, that match is also a little big reminder for me that I feel like I'm in a good path."
When it comes to nice guys in tennis, Grigor Dimitrov would have to rank among the top in the sport. There is a ready smile, and he is approachable and to see him playing some great tennis is more than welcoming especially his classic one handed backhand which ranks among the best of more recent times.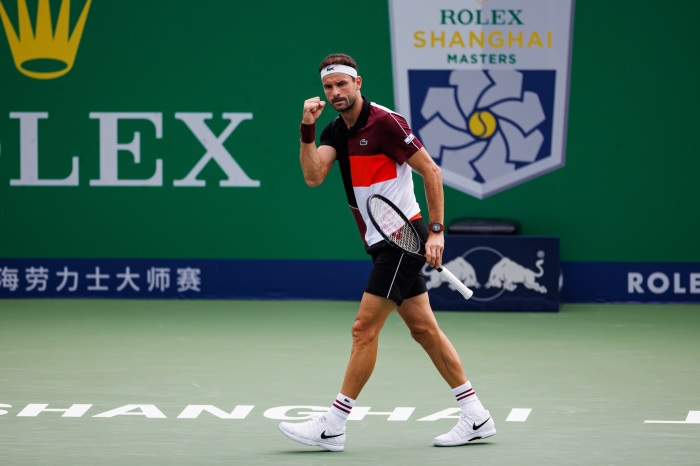 It is great to see the Bulgarian, the greatest male from Bulgaria, having such a consistent season and that was his overall goal. He says he has dealt with a fair number of changes on and off the court and that it was only a matter of time before he began to build up a good base again. That had a greater impact for him than the actual results. 
"Little by little I was able to have a few good rounds here and there," Dimitrov said during the Rolex Shanghai Masters. "I got to a final again, which was also very big for me, but I always want more from myself, I expect more from myself in any given tournament."
"So, yeah, I think at the moment, if the body feels good and I'm doing the right things, things can go even further."
That sort of mental approach shows that Dimitrov still has the motivation and the other players like having him around because he is just so nice and down to earth.
"I think even in the past couple of years, in a way I really have, nothing to prove to anybody other than myself," he said. "I think this is, I feel like this is my time, the time for me. Like, I'm very grateful to my family, to my close friends, to all my sponsors, everyone that has been in my team and still are still around. 
"I'm very thankful and I feel like whatever I have achieved is also because of them. Now, I think I feel like I can grab the fruits sort of on my own (laughing). Like, those last fruits are mine, so let me just get them. But anyway, all in all, I'm just, how can I say? I'm just grateful that I'm able to come out there every day, compete, win matches, and then who knows."
Grigor is in an unique situation in tennis; it is like he is straddling generations of the sport. He was the re in the Roger Federer era and he is now experiencing the Carlos Alcaraz era.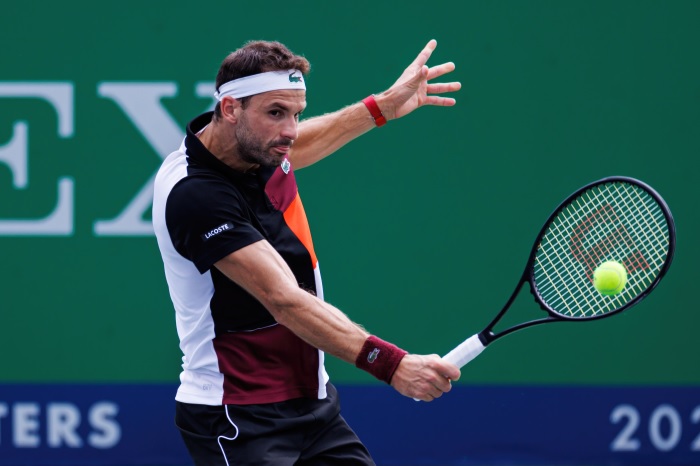 "Absolutely. I mean, that goes without saying. Yeah, absolutely. Lately, I've been having a lot of those conversations, actually with some of the generation just behind me, the guys around 25, 26, they have been asking a lot of different questions to have my opinion on things," Dimitrov said. 
"It's very interesting for me, and I think one day further down the line I think, when I'm completely out of the game, I think it's going to be very interesting for me to look back and I would love to see how everything is going to unfold. I don't know, who knows. Maybe, I don't know if I'm going to be in tennis after that anyway, but it's very interesting for me to see in a way three eras that I've played with, and even players from way before that towards the end of their career."
"So, I'm very, I think, as you said, I'm in a unique position, and very fortunate position to be able to compete with each one of them."
As was mentioned earlier, he is very approachable and any young player seeking some element of guidance about living on the t our, Gregor is there to talk. He makes it clear that he is very open, and he is very honest and there to answer the best he can.
"Tennis is the type of sport where whatever you put in, you get out of it, eventually, maybe not right away," he said. "I always, I think one of my most important things is always, go at it, give a hundred percent and you never know how the cards will unfold, but at least when you look back, you'll be so proud of yourself … our sport is difficult enough."
One piece of advice he may provide is to write down three things you are grateful for. He may have not been as diligent as he once was with that, but he still has the journals where those notes were recorded.
"I think the stage where I'm at in my career, I think with each year that has gone by I'm more appreciative of, in a way, anything that I get, not only to do, but to live," he said. "I think on being able to come to practice every day for over 20 days, it means something to me."
"I don't think every player can do that because when you wake up you have a little bit of pain here and there and you have to sometimes tone it down a little bit with practice. You have to do a lot of different things just to accommodate your body."
"Yeah, when I've been able to go full out for so many straight days, I'm just thankful that my health and my body is keeping up."
Time maybe ticking as it does for everyone but with Grigor Dimitrov it certainly looks pretty good on his wrist as he partners a boutique new brand.
More information about
Players
Tournament