For the second time in her career Ajla Tomljanovic has been through tough injury times before, but this time the ever delightful Australian wondered about her future, writes Craig Gabriel.
At the start of the 2023 tennis season Ajla Tomljanovic was on a high with her tennis. She was coming off an incredible 2022 and she was hitting a career high with her ranking. There was so much to look ahead to and there was excitement around her and Australian tennis circles. 
The thinking was that Ajla would pick up where Ash Barty left off and the way she played last year that was realistic.
She finished the year with the Billie Jean King Cup helping to take Australia to the final but then things started to unravel. She withdrew from the Australian season due to a knee injury. The injury lay off was starting to stretch out. Tournaments were being cancelled on her schedule. 
The knee was not responding to treatment, and it eventually led to cartilage surgery as Tomljanovic's time away eventually stretched out till August and the US Open, ten months after her last tournament.
The Open was really the first time she felt comfortable in herself to get on the court. Her ranking had blown out to 130 but there was no issue about getting direct into the US Open. Playing competitive tennis brought the self-belief and satisfaction back into her body.

"I feel like I am in a really good place and I sometimes overlook it because now there is so much focus on how I'm hitting the ball, my body, how I'm playing points so I've said to my team that we need to acknowledge that the knee is doing really well so I'm happy about that and that's the main concern," Tomljanovic said.
"In January I still wasn't aware what I actually had and how long it would take. Would I get surgery, would I just rehab it and I genuinely felt I could do the Aus Open till the very last moment, even now to wrap my head around it, I can't explain how hard it was (not to play). I went from probably the highest point in my career with how I was hitting the ball and with the overall feeling on the court and entering matches and believing in myself, to not playing for nine, ten months; it felt the most unfair thing.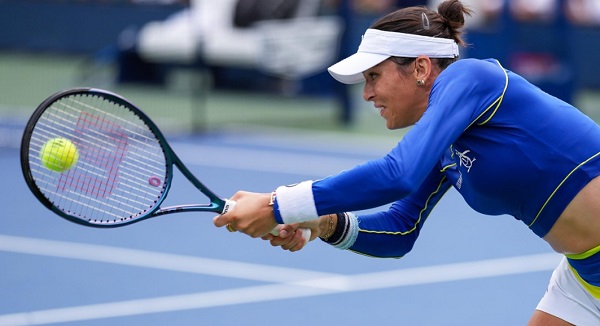 "Of course, it's not as there are many crazy, bad things happening around the world to people. I don't even want to pretend about this being so awful but to me it felt like the greatest thing in my life was taken away at that moment and I almost couldn't accept it, so I buried my head into rehab and just got on with getting well. Every time I didn't hit the mark of not playing French, not playing Wimby, it definitely stung, bad."
Tomljanovic who is a sheer delight, explained she only felt totally comfortable two weeks before the Open began. It's been a nightmare, a lot of pain post-surgery and people telling her it's normal; she knew she had to go through it but at the same time be smart. 
"I had a set back because I pushed too hard at one stage, it wasn't okay, but it happens because you have to find that edge of putting too much work in and the load but still not having it backfire," Tomljanovic. "We had that happen once, but we got straight back into it. But yeah, it was about two weeks ago (before the US Open) that I felt I could put in a practice with my mind going away from my knee and that felt incredible."
Fortunately, she was told the injury was not career ending and that was fantastic, but she was not prepared for how long the road could and would be and along that road she definitely felt like there was no light at the end of the tunnel because she had no experience with the knee. 
"I'm not 20 anymore so for the first time it went through my mind," she said. "Even when I had the shoulder thing it never went through my mind that this could potentially be something I might never come back from."
Her biggest concern was if she could get back to her level and it's still a question mark to some degree, but she had to start at some point. Even if the US Open might have been too early, which turned out not to be the case, it was okay. 

"I had to get my feet wet," Ajla said. "My main goal is to get ready for January 2024 and give it a crack and be at my best. Being back competing is a thrill."
She spent much of her rehab in Los Angeles and during that time also bought a house in Miami. Her family gave her all the support that was needed and that mechanism was added to with her Australian team mates like Daria Saville and Storm Hunter and legendary Chrissie Evert who she is very close to. She relished the fact that she was with people who didn't care about her as a tennis player but as a person and a friend and Ajla the daughter and the sister.
"When things like this happen, you really see who is in your corner," she said, knowing there are plenty there.