In Australia they refer to people who struggle as "battlers" and in tennis there would be plenty of players trying to make ends meet in a competitive environment. Introducing one of those battlers who hangs on to dreams and beliefs. Meet Kimberly Birrell writes Craig Gabriel.
The names, the stars, the constant winners are the ones people are always hearing, seeing and being fascinated by in the world of tennis but there are all those players just getting through, trying to follow a dream, who make up the vast majority.
There is hardly a year that goes by during the Australian Open without a human-interest story and yet again it is the case. This time it is Kimberly Birrell from the sunshine state of Queensland who has captured much interest. Who you may ask, well she is a 24-year-old tennis player who came close to giving the game away when injuries took their toll, still Kimberly Birrell remains positive in her beliefs.
She upset the 31st seed Kaia Kanepi in the first round. "Not many people can wake up and live their dream," Birrell said with a smile as radiant as the sun. Here is someone who has been through so much but continues to believe an ultimate breakthrough will come. 
For her it's been a long time between the extraordinary it's-all-worth-it highs; on calculation it amounted to 1,462 days from the last time she won a match at a major to her present result – both times at the Australian Open; in 2019 she made the third round. With the earnings from the last time, she bought a car, a KIA, which also happens to be the major sponsor at the Australian Open.
Birrell who is 24 was preparing to play the arduous qualifying rounds in an effort to make the main draw. Her mother had flown in the night before to support her and was followed by the rest of the immediate family when news came that Venus Williams, who had a wild card, had withdrawn. Tennis Australia gave Kim the vacated wild card.
"I was pretty happy (and) I was not expecting it at all," Birrell said. "I cried like a baby, and it was such a nice moment. I had just got off of the court practicing; my brother and my mum and my dad were all there with me when I got told. Yeah, that was a really special moment because they've been through it all with me ... the highs, the lows. Yeah, I'm glad I got to share it with them."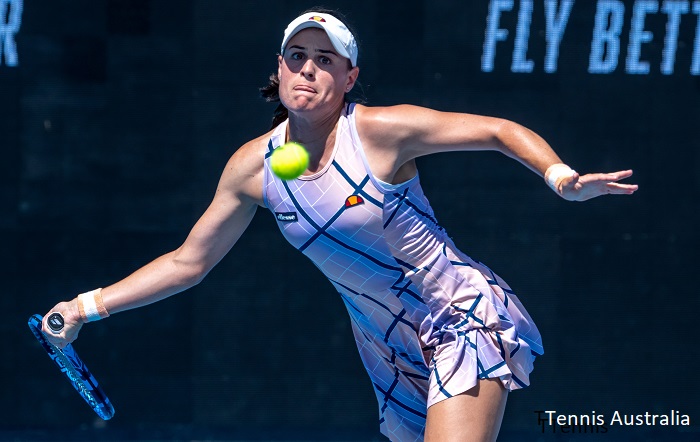 It really has been a struggle with injuries, and she was not able to play as a result her ranking had dropped past 740. She worked her butt off with rehab in an effort to get back on court but there were plenty of times when giving it all away crossed her mind. She explained that rehab is really tough over 18 months no matter how resilient you might be. She is so happy that she kept her dream alive.
"I guess I've always been an ambitious person, so I guess I had to really think at the end of 2021, whether I thought I could get back on the court, but I just wasn't sure how well I could play with not being able to serve at 100%. That was what I was really struggling with," she explained. "I had to think really hard about whether it would be worth it playing and knowing that I wouldn't be at my best. 
"My mum is a schoolteacher, so she always pushed my brother and I to be educated and never stop learning. So, I study communications at Griffith University. And I have put that on pause a couple of times, but when I've been injured, it's been really great to have something else to think about.
"I've been lucky enough to do quite a bit of work with TA and the women in sport, Women and Girls in tennis space, and that's something I really love. During the times when I was off court and not able to play, that really kept me going. And knowing that I have something to fall back on is a good feeling."
Irrespective of what happens (at time of writing) she is guaranteed of earning more than $158,000. It may not be significant for one of the big guns but for someone like Birrell it is a huge amount; it's a cushion.
On top of that she will pass her career high ranking of 154 set in May, 2019.
"To play a Grand Slam and make this kind of money, like, I really grinded last year playing a lot of ITFs in Tunisia and all over the world. I loved it, but it was a stress that I hadn't felt for a long time just constantly being in a deficit every week," Birrell said.
"It's tricky and I'm super aware of all the sacrifices that my family have made and my boyfriend have made. We're both living at home with my mum and dad, so I guess I have had, like, the savings to be able to move out, but to not know what's next when you have experienced injuries and to also want to have the money saved up to also reinvest into myself and be able to have a coach on the road with me and things like that.
"Yeah, to know that I have a little bit more for the rest of this year is awesome. And hopefully the other goals that I have outside of tennis also get achieved."
More information about
Players
Tournament