He is a young British tennis player on the rise and that means he will be under heavy scrutiny from his home nation, but the 40-something ranked player is taking things in his stride.
Jack Draper flew business class for the first time when he travelled to Australia for the start of the 2023 tennis season. The 17-hour flight was appreciated all the more and it was a whole new experience for the 21-year-old British player. This year will be his first genuine full year on the tour, and he is like a sponge absorbing all that is around him as he learns about what life as a professional tennis player is all about.
There has been a lot of talk about Jack Draper and the ability and potential he has. He is a big guy who stands 1.93cm with the wingspan of an albatross. Some of that potential showed on the North American hardcourts where he reached the quarters in Canada and the third round of the US Open. He considers some of what is said but he is also smart enough to take things in his stride.
"You've got to put some of it to one side but I'm also a human being and I do think about these things," Draper said. "It's a compliment to get people's praise and stuff but at the same time I know I've only been on tour for six months and I'm going to have to do a lot of learning, play against a lot of tough players and learn some tough lessons. All these situations are helping me to become a better player.
"My main goal at the end of the day is to be a consistent player and be one of the best in the world. I try to guard the noise and just focus on that."
Draper is a physically big guy and he has certainly got a level head on his shoulders, and he does not come across as having a big head with the attention that he has received. There are players who are easily carried away with the praise which can create a perception if being full of it. Draper is not like that.
He always wanted to be a top player and he was exposed to that environment at an earlier age. He knows in order to get there he knows there will be the pressures and expectations from the British media and public. He feels that's all fine and in a way helps him become a better player and person.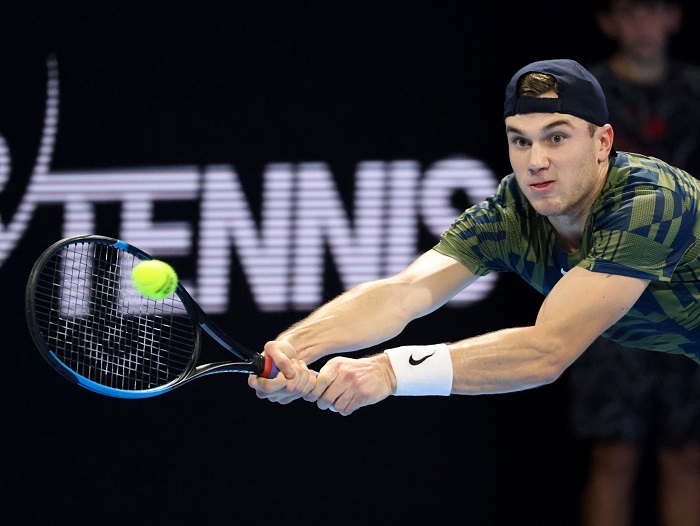 There is no doubt he puts in the hard work. Preparing for 2023 he spent two weeks at the National Tennis Centre in London, spent two weeks at the IMG Academy in Florida and played the Battle of the Brits. Some of his work was reduced because he became sick, but he believes he got good amount of work done which will help him this year.
"My goals the last few years have been to be injury free, that's always been my biggest one; when I'm on the court I do have the ability to play good tennis if I'm there consistently," Draper said. "The second one is to just become a better player and be on that journey to reach my potential or whatever that is. I think if I'm able to put in the hard work and work things out and learn the lessons on the court, then that's going to give me the best opportunity to rise up the rankings."
While he doesn't mind setting ranking goals for certain periods, he also feels that could add a bit of additional pressure. What he is focused on doing is "playing top 20 tennis, whether I finish ranked 20 in the world or 50, If I'm playing top 20 tennis, in the end I'm going to higher and higher ranked".
He is certainly not blasé about what he is doing. Draper is lapping up the experiences travelling the world and appreciating so many other people on the same journey he has embarked on. They are all trying to realise dreams and trying to excel in a really tough sport. There are challenges to deal with that "do really challenge you". The tough times make you tougher.
"I think you mature early which is one of the toughest things for me," he said, "but you also have to have enjoyment and look at things in perspective and see how far I have come. You always are striving for more, but I suppose if I was to have a day off, I'll go out for a nice meal and be around people I'm with and reflect and have a good time."
For Jack Draper, the quality results at the business end of tournaments are going to be very frequent and those business class flights are likely to become the norm rather than the exception.
 
More information about
Player
Tournaments