Caroline Garcia was beaming from ear to ear as she held the trophy for the biggest tournament win of her career. Craig Gabriel writes that one aspect has essentially turned her career.
It was eleven years ago that Andy Murray first watched Caroline Garcia play and on watching her tennis he declared that she was a future world No.1; he was so impressed with her game and flair on the court.
The French player has had her ups and downs. She did exceptionally well on the doubles court in particular with Kiki Mladenovic but then there was a falling out when Garcia felt she needed a break from playing Fed Cup (now the Billie Jean King Cup). The decision did not go down well with the federation, her fellow French players and the French fans. But Caro Garcia weathered the storm.
In 2017 she made it to the top 10 for the first time but then the lows began and at the end of 2021 she was in the mid-70s. However, once more things have turned around for her and especially so since the middle of this season and it started with winning her second Roland Garros doubles title with her former partner Kiki Mladenovic.
She went on to win the singles at Bad Homberg, Warsaw and Cincinnati on three different surfaces and she was being regarded as the best player in the world at the time. Cincy was her biggest career singles title and her social media profile pic had her with the trophy from there. That will all surely change with what she achieved a few days ago in Texas.
Caroline Garcia's victory at the WTA Finals was not expected when you consider the way Iga Swiatek has played this year winning eight events, but she turned things upside down and inside out with the tennis she produced in Fort Worth. After the four majors the year-end championship would be the biggest title in women's tennis.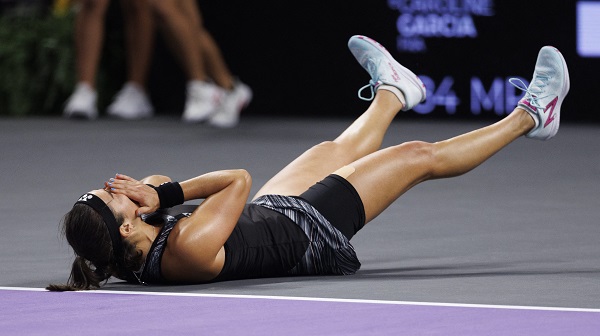 This 29-year-old was floating on cloud nine after beating Aryna Sabalenka who you would never risk betting your house on.
The joy and happiness of winning such a big event is so tough to measure and especially so if you have not won something like this before. She explained reaching the semis of the US Open in September put her in a good mindset for the championships, in that she understood what was needed.
She explained that a huge factor for her in changing fortunes is to play with an element of quiet. She was notorious for talking and mumbling to herself and she feels the work she has done on the mental side of her game; to not get worked up when things are not going right, is what has made a huge difference on court.
"It's definitely one of the big points I have made some improvement during the year," Garcia said. "It's like sometimes, obviously things, I mean, you're emotional or things doesn't go your way right away. I mean, sometimes there is a big fight. So you have to find your way through it. And that was the biggest, one of the biggest points I improved. 
"It was pretty obvious every time when I was starting to talk and complain and say ridiculous things on court, it was not really going my way. I was losing a lot of energy. I was losing focus. And every single time when things were not easy or not going my way, but I was able to stay quiet, to don't say a word and really focus on the next point, I made some, some great comebacks in some matches. 
"One of the most important things was probably to have the good mindset to stay calm and to be ready to jump on every opportunity. And I can do that only if I'm calm and focused.
"It brings me more confidence and more calm."
For Caroline Garcia it is now time to relax and reflect on what has been a hugely successful season, which she will do in Bali, and to admire the trophy that will no doubt be placed in a prominent place at home. She can then frequently look at it in an effort to maintain those confidence levels going into 2023, and her first event, the United Cup in Australia.
And quite possibly Andy Murray will be right on the money with his prediction a decade or so ago.
More information about
Players