It was 29 years ago (30 April 1993) that Monica Seles was stabbed while playing a match in Hamburg. The incident rocked the sport's world and much has been written about what happened and she spoke openly about it in her first autobiography. Craig Gabriel caught up with Monica at the recent BNP Paribas Open and chatted of lighter moments.
When you were playing did you ever keep a notepad and keep notes about players?
MS: Absolutely. I don't think I was the only player that did that, but I think it was really helpful. You always want to try and figure out what that little edge is.
Who did you have the most notes on?
MS: A couple of players, a few of them, like Martina Hingis who would just mix things up. But Martina was just, besides a few shots, for me the most unpredictable because she was like a chess player, always thinking, always adjusting to you. She was probably one of my least favourites to play. All these new notes would come in after a match with her.
Your intensity was always admired. Was this something that came naturally to you because you have that fire and competitive nature all the time or did you have to work on that?
MS: I was watching Rafa and I filmed a bit because I wanted to show some of the younger players the kind of work and focus he has even on the practice court because what you practice translates to how you play in a match especially during the big points but also that focus.
Does that have to be worked on over and over again?
MS: Yes, I believe so. It has to start in practice. Every time you're on the tennis court there needs to be a purpose for it.
Were you like that? I remember your dad, one of the great dads in tennis, on court with you; how much would he be telling you that sort of thing on court?
MS: Watching someone like Nadal practice, it's very similar to what I did, hitting balls over and over and trying to perfect a shot so it becomes automatic. You can get tight, I did, but your mind takes over automatically. My dad always believed every time you stepped on court you were there with purpose and if he felt I wasn't, he was very aware of my emotions, and I'm very thankful for that. he would say Monica you're just not here today, let's stop playing tennis.  I think when parents come to me for advice, I try to make sure they get that. Everyone is different. It's not an easy sport, it's stressful and you're alone out there on the court so it's important to instil those skills so kids can manage it themselves.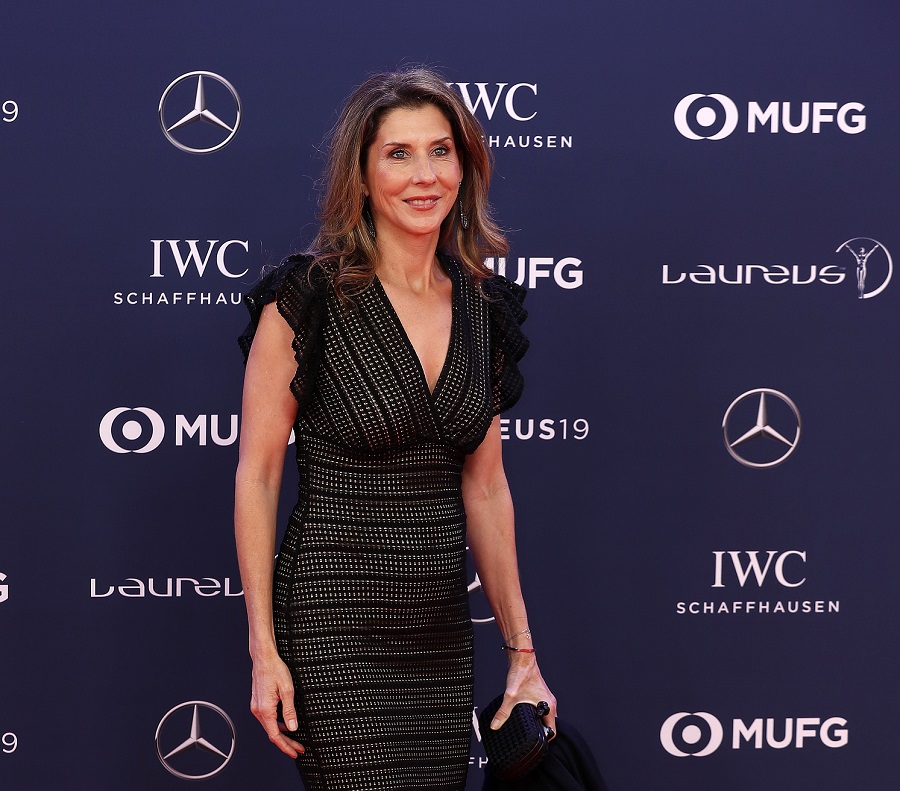 How much you play now?
MS: I still play for fun, I play terribly. You wouldn't want to see me. The movement is just not there I need timing as I always hit the ball early. It goes back to my dad; he built such a positive relationship with the sport for me, so I never hated the sport after I retired. I love to play as long as my body lets me play which hopefully is for a very, very long time. I will play socially because I truly enjoy hitting that little yellow fuzzy ball. It's that simple.
You were so competitive, it's tough when you stop playing and be able to translate that into your daily life. How have you been able to keep that competitive drive?
MS: On court I was very competitive. Of course, I was quite quiet and liked my own peacefulness so for me the transition in a weird way wasn't difficult at all. The stress of the sport, the travelling and my body just gave up and I realised I can't do this anymore. I found other things I loved but I didn't want the same single focus. I made the adjustment but having my family and friends that didn't play the sport was really huge for the perspective. I advise youngsters you win; you lose but it shouldn't affect you as an individual.
What is a typical Monica Seles day like these days?
MS: It's all over the place which I'm very happy about. Being a tennis player you've always got a gypsy person in you and from that point it's totally different. Few things I try to make sure I do every single day, there's some form of movement, for me it's walking, family, work, I do that, and the rest is if I go to new places, I try to do one thing I've not done before. Always trying to challenge the brain and physically.
You've written a lot of books. When you did your autobiography, did you find it a cathartic process?
MS: The first one in 1995 after my stabbing I did very much, because it helped me process what happened to me. When I did the second one it was the first time I spoke openly about my mental health struggles. Now as a professional athlete it's okay to speak out. When I was playing it was not something I could open up about. It's a great feeling when people come up and say thank you for talking about your own eating issues how you dealt with it and knowing there is light there. You can't compare it to tennis victories but in life I felt good to get out there and help people and myself.
You came through in such an incredible era for women's tennis Gaby (Sabatini), Steffi (Graf), Martina (Navratilova) and Chrissie (Evert) were still around, (Martina) Hingis, Arantxa (Sanchez-Vicario), so would you like to live it all again and do it now?
MS: I would love to play it now. Are you kidding me? To have all these amenities the players now have; warmup areas, the gym, the recovery room, also the prizemoney is much bigger allowing you to able to afford a lot more care for your body so that's why you see the stars staying much longer in the sport. The season is shorter and it's much more orientated to the players' well-being. The sport is slowly evolving so absolutely I would like to play now. If my body will allow it, I'd do come back.
I always like to ask champions where they have all their trophies like the majors.
MS: For me, when I retired and learned I'd be inducted into the International Tennis Hall of Fame in Newport I donated all my trophies for one simple reason, I wanted kids to go through the Tennis Hall of Fame to see my trophies and hopefully get inspired. They're there to be shared.