Ash Barty is a legend. She has always done things her way and in her time so it shouldn't come as a surprise the way and the timing in which she announced her retirement. Craig Gabriel has known her since she was 15.
To say Ash Barty took the tennis world by surprise and left players and people in the sport in a state of shock with her retirement announcement would be an understatement. 
To go out on top having just won a major, the Australian Open, and continue to solidify her position as No.1 in the world, has made her decision all the more incredible. Some may say it's a brave decision but for Ash Barty it's got nothing to do with bravery but everything to do with her heart and emotions.
"There's no right way, there's no wrong way, it's my way," she said, "(but) I'll be retiring from tennis. It's hard to say but I am so happy, and I am so ready, and I know in my heart and for me as a person this is right. I'm so grateful for all that tennis has given me; all of my dreams plus more. I know the time is right for me to step away and chase other dreams and the time is right to put the racquets down."
She'd been thinking of it a long time, there have been pivotal moments and Wimbledon was the biggest one. You work so hard for one goal, and she's has shared that with so many. To win Wimbledon, it was the one true dream she had in tennis, but there was still one part that was not done and then, as she said, "came the Australian Open challenge".
For her that was the perfect way to celebrate her journey, a journey in tennis that will actually cease the day after the Miami Open ends. Ash has requested her name be removed from the rankings so there will be a new name at the top of the list.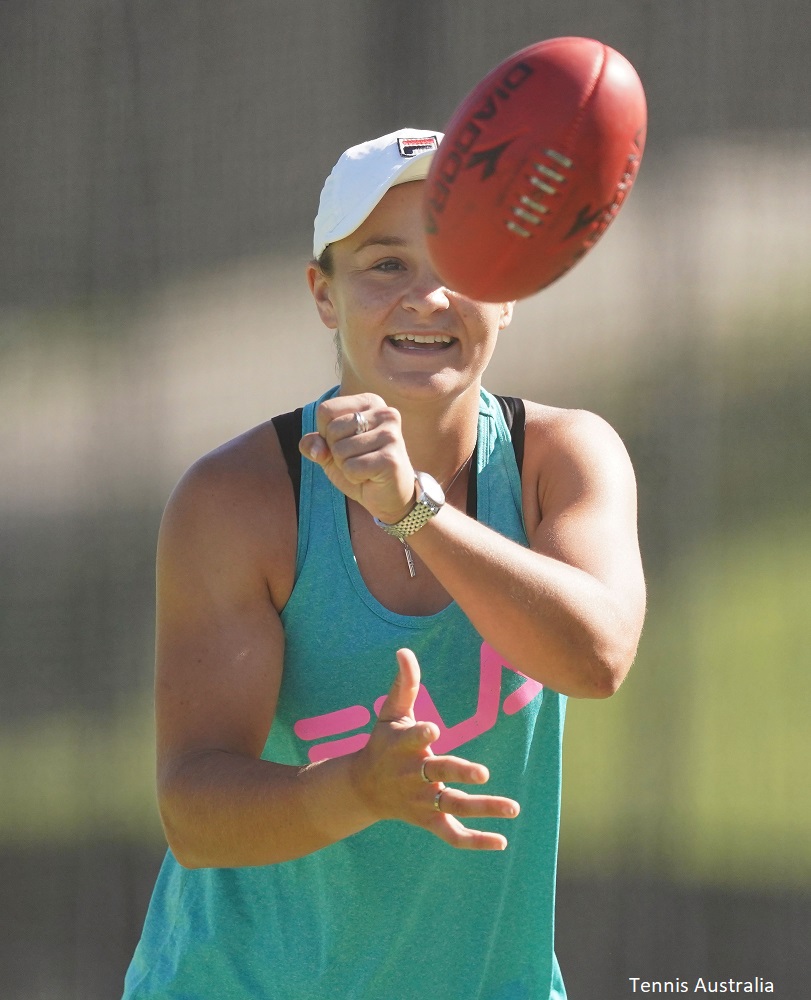 Her happiness isn't dependant on her results and success for her was having given it everything she had. She feels "fulfilled and happy". Her family is paramount to her, her parents, her siblings and their children, something she wants of her own very much and now there is even more time to play golf or throw an  Aussie Rules football.
She no longer has the physical drive and the emotional want to keep going and she says she is "spent". There is no more left to give; physically no more to give and to her that spells "success".
"Ash Barty the person has so many dreams to chase that don't necessarily involve travelling the world being away from my family and being away from my home, where I grew up. I will never ever stop loving tennis. It was a hard decision, but it was right," Ash said.
The players have been reacting to the news. Some say they don't understand it but at the same time congratulate her and universally acknowledge the lovely, humble, down to earth person she is who was remarkable to watch and to play. 
Ash Barty is a rare person who has not had a bad word said about her. The Australian Prime Minister Scott Morrison paid tribute to her as well. She been an inspiration to all young people and in particular to indigenous youngsters.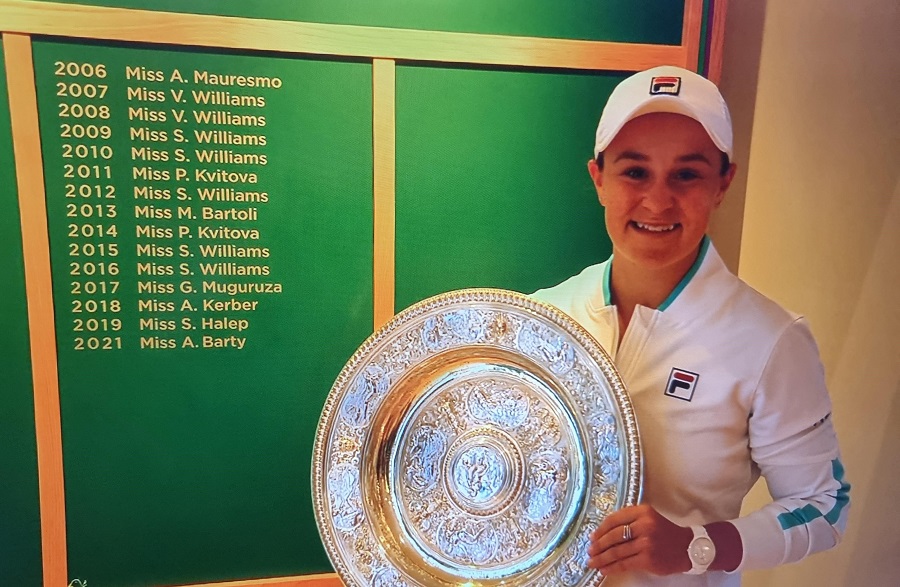 "I was crying for a long time," Iga Swiatek, who won the BNP Paribas Open and moved up to No.2 in the rankings, said. "There was lot of confusion in me, for sure. But also, like, sadness because when I always think of the player that is really complete in terms of physicality, mentality, tennis-wise, I always thought of Ash.
"I always looked up to her. I still do. It would be really nice also to be able to compete against her for next few years and actually try to play better and better, to be able to beat her slice. Yeah, I mean, we're going to miss her, for sure."
Another with tears was Simona Halep as she paid tribute on Twitter: "My friend I will miss you on tour. You were different and special, and we shared some amazing moments. What's next for you? Grand slam champion in golf? Be happy and enjoy your life to the max xo Simo."
Emma Raducanu said that Barty was always lovely and approachable, and she even taught the British player to kick an Aussie Rules football while Danielle Collins who Barty beat in the Australian Open final suggested it was "pretty cool to retire at 25".
It was in 2011 that I met Ash Barty officially for the first time. It was junior Wimbledon and she was 15 years old. There had been talk of this very talented young girl from Queensland but it was not till The Championships that year did people start to take notice. She was small in stature and oh so shy.
She went on the win the title, the only junior major she won, defeating Irina Khromacheva 7-5, 7-6 and a couple of us in the Australian media wanted to speak with her. The youngster all but hid, she was so shy. All this attention had come out of the blue and something she was not used to. When we did speak with her it was tough to get much out of her but for Australia it was a big deal.
Ash Barty went on the tour a couple of years after and with her close friend Casey Dellacqua by her side. They enjoyed success on the doubles court while Barty was beginning to make in-roads on the singles. Then her tennis came to a screeching halt. She had had enough, and she walked away. At the time it seemed like retirement and not just a sabbatical. She went and played cricket and did very well but after talking with Dellacqua sometime in 2016 she realised her love of tennis was still there.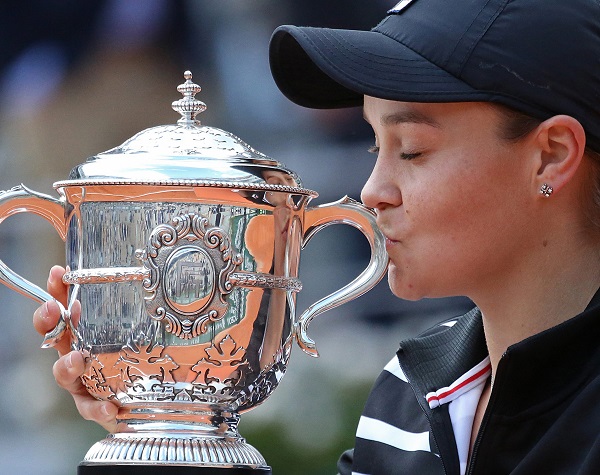 Ash Barty returned, and the rest is history. From no ranking she started to work her way back, doing well at small events, bringing her ranking down, gradually getting the recognition. She was maturing and while still a bit shy Barty was handling the attention way better second time around.
Roland Garros 2019 became her first major title. Wimbledon 2021 her second, Australian Open 2022 her third. She reached No1 for the first time in June 2019 and at the time of her retirement announcement was fourth on the all-time list for consecutive weeks at No.1. She won the year-end championships and finished year-end No.1 three times. She had become a superstar.
At the age of 25 she made the dramatic announcement that the time was right to call it quits. Tennis has farewelled a legend on court and an incredible individual off court. Ash Barty is starting a new chapter; working with indigenous children, a wedding this year and children of her own to come. Good luck to her.