Carla Suarez Navarro has played against her toughest opponent and won her best match and tennis is celebrating with her.
The first week of Roland Garros has been dominated by mental health. It is a very important matter, and it certainly has been exposed with the sport and brought to the forefront. I wrote about my own, thankfully brief, experiences with it, the depression I felt last year as events closed. It hit home when Wimbledon announced its cancellation.
It is a debilitating situation; being caught up a maelstrom and not being able to get out. I was very fortunate. But if there was one player who really would have endured issues of mental health, it would have to be Carla Suarez Navarro.
The 32-year-old has been on a journey, a journey she never could have imagined at such a young age and one she wished never started. CSN last played a tennis tournament in Doha in February 2020, before the pandemic really hit.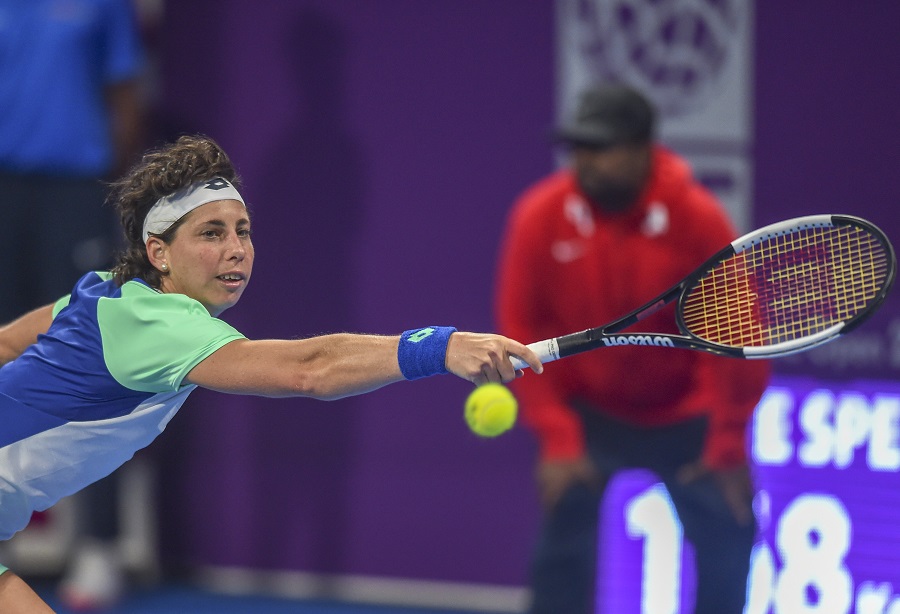 However, Carla's issue was not coronavirus. For her personally it was way bigger. She had been diagnosed with Hodgkin's Lymphoma. There was so much shock when she made the announcement on social media. Here was this incredibly popular, softly spoken person, who played terrific tennis and possessed one of the most glorious single-handed backhand, and she had been served a double fault.
The chemotherapy treatment is complicated and would have gone for months and dealing with those immediate side effects would have been so stressful.
The tennis community rallied around with messages of goodwill, love and prayers flooded in as she started the treatments. The mental stress and anguish would have been beyond belief. Her personal nature helped see her through and the strength in her diminutive frame is incredible.
Carla Suarez Navarro won her most important match … her life.
On 1st June 2021, Suarez Navarro who reached a career high ranking of six, played her first match since that Doha event and it was at the tournament she loved the most, Roland Garros where the red clay stuck to her shoes and socks but it is where she feels at home. This was the start of a farewell tour that will end at the US Open.
"Yes, was a long time, really tough moments. Tough months. But, well, every time I had on my mind that I want to be here, I want to come back. Roland Garros is one of my favourite tournaments, so I have really clear that my first tournament will be this one," she said. "Well, then I tried to prepare myself for my best tennis that I can, but I'm really proud, too, of myself and really happy to have the chance to play here one last time."
She played Sloane Stephens in the first round and came oh so close to winning as she served for the match at 5-4 in the final set. It would have been tough on Sloane as well knowing the situation across the net so for the American to stay mentally focused and pull out the win was definitely creditable.
Many would have been satisfied to have just been on court after going through what she did but the Spaniard's competitive drive made her see things another way. She was there to win not just bid farewell.
"At the beginning of the match I was really nervous. I feel a lot on my serve. But then I feel good. I really enjoy. I have a little bit of crowd, and I really enjoy. But then I was so sad when they have to leave (curfew restrictions meant the fans were ushered out)," Suarez Navarro said.
"Well, it was difficult. I think about that yesterday when I was fourth match in that court, sometimes it can happen. But, well, after the match, I'm not happy with the result, you know. I have 5-4, my serve, and then tiebreak to close the match. But, well, maybe with the time I see this different but now I'm not too happy. I was here to win that match."
She first played at Roland Garros in 2008 and twice reached the quarterfinals and it was the first major she played advancing through the qualifying to play Amelie Mauresmo on Court Philippe Chatrier.
"I have really good memories from here and that's why I wanted to be here for the last time, I didn't want to miss Roland Garros," Carla Suarez Navarro said.