Simona Halep and Novak Djokovic have claimed the respective singles titles at the Internazionali BNL d'Italia.
Simona Halep had been dreaming of winning the title in Rome, the Internazionali BNL d'Italia. The dream turned into reality for her. And while she won her first title in Rome, Novak Djokovic held the men's trophy aloft for the fifth time from ten finals and five years after he last won it.
The women's final last barely half an hour as Miss Halep accounted for Karolina Pliskova who retired with the score standing at 6-0, 2-1 to the Romanian. Miss Pliskova was not able to continue due to a left thigh injury. Mr. Djokovic meantime survived a slow start that had him down 0-3 with a double break before he rebounded to win 7-5, 6-3 in the nick of time as rain started falling during the presentation ceremony.
"Yeah, finally I won it," Simona Halep said, her face beaming. "I love this tournament, and every year actually I played really well. Not last year, but the year before. I played really well. I had two finals. The start of my going up in the ranking was here in 2013. So, I really dreamed to have this title. I'm really, really happy that it happened today.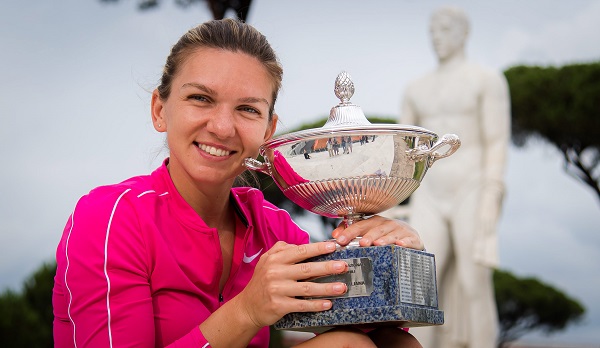 "I played so many matches here in many years, since 2013, and I really wish that I will have it home. I'm happy. I love to play in Roma. I love to play on these courts. I'm happy to have it, and I just want to smile now. I really enjoy it."
For Simona this is her third singles title of 2020 and goes along with those she won at Dubai and Prague and her win-loss record in finals is now 22-17. It proved to be third time lucky for her in Rome having been a finalist to Elina Svitolina in 2017 and 2018.
Miss. Halep has now won nine clay court titles in her career; the only active players ahead of her are Serena Williams with 13 and Venus Williams also on nine. It was a pretty smooth run to the title for the Romanian who dropped just one set, which was against Garbine Muguruza in the semis and the finals win puts her on a 14-match win streak, her longest since 2015.
"Of course it's not the end of the tournament that we wish for, but I felt amazing in the first set, and I was very confident that even if we would kept playing, I had the chance to win the match," she said. "Of course, it's bad for her. I feel sorry, because an injury is an injury and is never easy. But, no, doesn't change with anything. This trophy, it's mine now."
Pliskova believes (and hopes) the injury will not be an issue going into Roland Garros and feels she will have enough time to recover.
This was an important week for Novak Djokovic not just because he won another title, but it allowed him to put the shock and eh fiasco of the US Open behind him. It gave him his 36th ATP Masters 1000 putting him in the lead with that category of event and it was twelve years after he won his first title at the Internazionali BNL d'Italia.
"I think I had a really good week. I don't think I played my best tennis, to be honest," he said. "I don't want to sound arrogant here. I'm of course very, very satisfied and pleased and happy to win a title. I know that I still have couple of gears, and hopefully I'll be able to raise that level for French, because that's going to be necessary if I want to go deep in the tournament.
"But, the positive thing is I thought I served very well throughout the tournament and I found my, let's say, A game when it was most needed in the decisive moments. When I kind of really needed to find a best game, I did."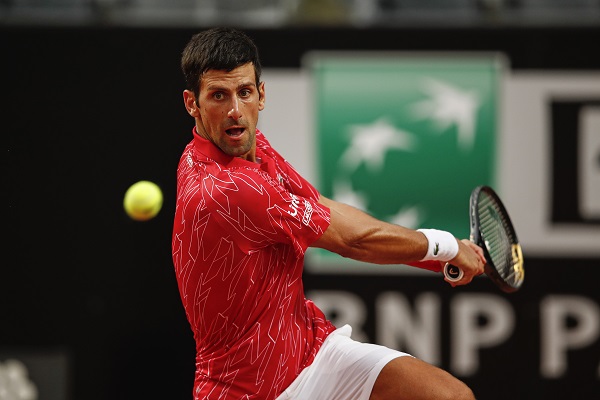 It was a great week for Diego Schwartzman, first beating Rafa Nadal for the first time in ten meetings and then reaching his first Masters 1000 final. Certainly, he had his chances in the final but when it mattered Djokovic was just too good.
"I think today I played a great match in the baseline and I did many good things. The first set, maybe the start of the second, I was on control - not control of the match, but doing what I want to do on court, playing aggressive, playing solid with good movements," he said. "But I think the serve, the conditions today, almost raining, was not helping me to do good serves.
"Then he start to play a little bit better. But then I had the chance again with the breakpoint. And the start of the second was the same, break up. I had the chances like I had the chances like when I played against Rafa. But today was that kind of days that you don't take the chances, and at the end, you know, Novak is Novak. The last three, four games he played unbelievable."
Djokovic remains at No.1 and now passes his hero Pete Sampras with 287 weeks putting him second only to Roger Federer on 310 weeks. A record he has made very clear that he is chasing.