Simona Halep and Stefanos Tsitsipas claim title wins in Dubai and Marseille respectively.
SIMO WINS NO.20
When Simona Halep reached the final in Dubai her comment was that "it is always a privilege to play the last match of the week". When she won the title, her second in Dubai and first since 2015, her comment was she was "pretty dead".
That's not surprising as it was a gruelling and exciting match against Elena Rybakina that ended 3-6, 6-3, 7-6(5). It was quite a challenging week of the likable Romanian who came back from match point down against Ons Jabeur en route to the final and with this championship she has now claimed 20 career titles from 37 finals. This was also Miss. Halep's first title since last year's Wimbledon crown.
"I gave everything I had," Miss Halep said. "Now, actually I'm pretty dead."
She rallied from 1-3 in the final set and this final marked the third successive match where she came back from a set down in Dubai. It's no doubt she was glowing when she held the silver trophy that is a replica of a traditional coffee pot that is seen all around the Gulf States.
"I may have been a bit nervous, (but) I just kept trying to fight for every ball (and) I'm really proud of this week, I think I gave my best," she said. "She's a talented player. She's young and has many more years ahead of her."
Rybakina will move to a career high ranking of 17 from 19; it's been a huge ranking surge for the Kazakh player who this time last year was just inside the top 200. She also leads the tour with 19 match wins so far this year. This was her fourth final form five tournaments this season having so far won the title in Hobart just before the Australian Open.
TSITSI WINS NO.5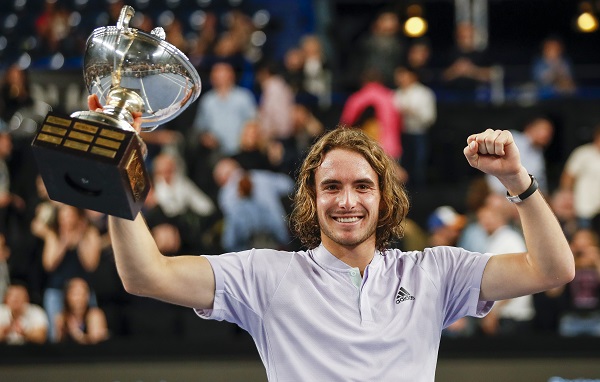 Stefanos Tsitsipas achieved a first for his career, he successfully defending a title. Now, for the second year running the Greek was awarded the gifts of winning Marseille in back-to-back years, defeating Felix Auger-Aliassime, who was playing his second in as many weeks, 6-3, 6-4. It is also the second year in a row that Stef has won the title without dropping a set and the first to win this event in consecutive years since Thomas Enqvist in 1998.
"I am really happy that I get to break records and be part of some records; it's what keeps me going in the sport," Tsitsipas said of his eight-match win streak in the French city. "It makes me hungry for more, in general. I want to go out there and break records and do things that others haven't done yet. That's what defines my personality.
"I am proud of the fact that mentally I didn't even crack, not once. That was really good. Although I got broken, I wouldn't say that that was a mental lapse. Personally, I am very happy with my mental state throughout the whole match."
For Tsitsipas, who has now won five of the ten finals he has played, this was his first final of the year and first since winning the ATP Finals in London last November while Auger-Aliassime who was runner-up in Rotterdam to Gael Monfils, was naturally down-cast at missing out on a first career title again.
"I feel disappointed," the Canadian said. "You never like losing finals, but now it has been five, so it is in my mind. It is tough, but I think it is just going to make me a better player. It is going to build my character and I am going to overcome this challenge one day. I'll keep working towards that goal. I am working to win bigger tournaments and to achieve even better things, so I am not going to stop here."