Novak Djokovic won his eighth Australian Open in five sets, defeating Dominic Thiem in a near four hour battle.
Novak Djokovic's drive for history and his drive for perfection is far from slowing down. His victory at the Australian Open over a courageous Dominic Thiem is part of his future plan to make sure he stands above all else in the annals of tennis history.
For a while it appeared that things may have come unstuck and even by his own admission, he thought there was a period in the final that he may just lose. Thiem pushed his to one minute under four hours of play and stayed with Djokovic till the last point which the Austrian sent out. Djokovic was victorious 6-4, 4-6, 2-6, 6-3, 6-4.
"I am grateful to have an opportunity to win another Australian Open trophy," Djokovic said. "Obviously at this stage of my career, Grand Slams are the ones I value the most. They are the ones I prioritize. Before the season starts I try to set my form, shape for these events where I can be at my prime tennis, mental and physical abilities.
"There are a lot of stats that obviously I am proud of, but they can't dictate my career. I mean, of course there's a lot of history on the line.
"I do have professional goals. Grand Slams are one of the main reasons why I am still competing and still playing full season, trying to obviously get the historic No. 1. That's the other big goal. I put myself in this position that is really good at the moment. I'm super happy with the way I started the season. It kind of sets the tone for the rest of the year.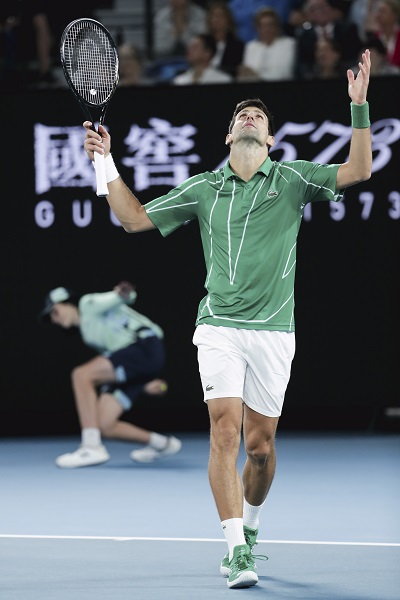 "I've had that privilege to win this big tournament for eight times. To start off the season with a Grand Slam win significantly boosts your confidence and your expectations are quite high for the rest of the season. But whatever happens, this season is already successful."
The Serb described this final, compared to a year ago when he destroyed Rafa Nadal, as "turbulent". It started well when he broke serve right away and even though Thiem got back into the set Djokovic did break once more to claim the sent when the Austrian double faulted.
The double faults were contagious. Garbine Muguruza had done it the day before when she faced championship point. At the start of the second set in the men's final Djokovic double faulted to lose serve. That gave Thiem the opening and he played superbly to win the second and third sets. Djokovic was not happy with two time warnings and while passing the chair umpire, tapped him on the show. That was against protocol and he was lucky not to get a warning.
In the fourth set he regained his energy as Thiem was starting to feel the effects of some of his long matches. He still gave it all he had but there was a bit less sting.
"What happened tonight, I mean, if I could say anything, I would just say that maybe I could have converted the breakpoint in the fourth set where I could have the lead 2-1," Thiem said. "Then I think he had some issues in the second set. He recovered very well. He played really good after in set three and four.
"Of course, there were some small mistakes here and there, but they're happening. At the end was a super close five-setter. I don't really regret anything. The finals tonight was a great match. It was very small details which were deciding. Then also the way I kept my level, the way I kept my tension over all the two weeks.
"I didn't have easy matches, especially from the quarters on. Beating Rafa in over four hours, then two days later going back out again against Sascha. Unbelievably intense, close match. Then two days later going out again against Novak, who won the most titles here and again played on a very high level.
"I'm very aware and sure now that I can play on a very high level for a full Grand Slam. Didn't have any drops. That doesn't make me proud, but it makes me very confident for the next big tournaments which are coming up."
In the fifth Djokovic got the early break and kept the advantage that took him through to victory when Thiem sent a return out.
There were so many milestones with the result. It allowed Djokovic to regain the world No.1 ranking, it is his eighth Australian Open putting him alongside Rafa Nadal for the French and Roger Federer for Wimbledon. There are the only three to have won eight or more titles at the same major. And he has won his 17th major placing him two behind Nadal and three behind Federer who holds the record for most majors.
"I probably won't be able to comprehend the achievements I had in my career, especially Grand Slams, until I retire from tennis," he said. "The intensity of the tennis season, especially if you're committed to play full season, which I am for many years already, it doesn't allow you to kind of reflect and enjoy the success of a Grand Slam trophy. Already in a few weeks' time I'll be playing a tournament somewhere else in a different part of the world.
"I don't take it for granted, don't get me wrong. I'm super happy and grateful and blessed. At the same time, I probably won't be able to go through all different emotions until I have some time and I relax myself with my family. Looking at the horizon, we can dig deep in the emotions."