American Sofia Kenin was seeded 14 at the Australian Open and she is in the final.
There is no two ways about it. If one was asked to come up with a single word to describe Sofia Kenin, it would have to be "feisty". She is every bit that - energetic, aggressive, spirited, lively, gutsy. She strides around the court like she owns it and she can be in your face. She is 21 but comes across as a precocious child wanting her way and along the path is dad, Alexander.
That spirit and personality has got her on a rather lofty ride being in her first final at the majors and in getting there breaking Australia's collective heart as she defeated Ash Barty 7-6, 7-5 to reach the final of the Australian Open. This Australian Open is the first time she has gone past the last 16 at a major.
On one day she beat the world No.1, broke into the top ten for the first time and reached the final of the Australian Open. When I spoke to her she did not even know she had entered the top ten and for at least the 351st time that afternoon her face lit up with a mega smile. I asked her to rank those three things in order of important for her.
"Oh wow. I don't know," Miss Kenin said, while admitting to pinching herself for what she has achieved. "I guess one would be reaching the Australian Open final two would be beating world No.1 and three would be the ranking. I'm not playing for the ranking is the way I see it."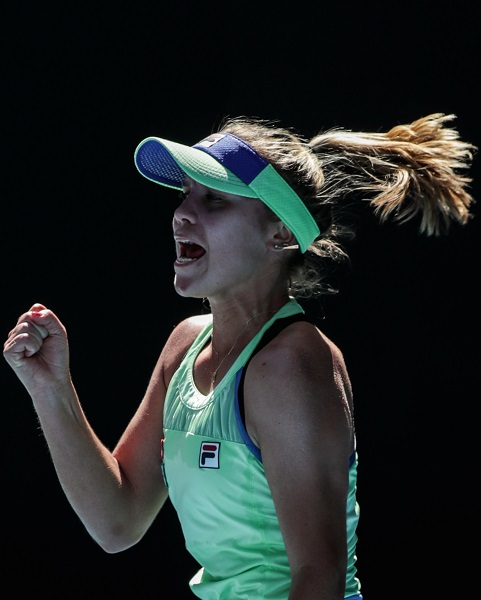 She has always been very self-assured. You find that with players who have come out of the strict Eastern European nations and grown up in the west in places like the USA. Certainly, it is there with Kenin and you might also include someone like Maria Sharapova. Is it an element of nervousness of thinking they won't fit in, so they show that element of feistiness? Maybe. I don't know but it is noticeable.
This spirited attitude or maybe it is better calling it confidence, has always been with her. There is a video doing the rounds on social media at the moment that is a flash back to when she was about eight. It's become known as the Andy Roddick videos. She was asked how she would handle his serve which was incredibly powerful. She gave a detailed comment on what she would do.
She was laughing about it as she thought back then interrupted herself: "By the way he tweeted something about me. He said congratulations and stuff so … Thank you Andy."
Sofia, who is also known as Sonia, Kenin says she has dreamt of such things happening to her and she visualised getting into the Australian Open final. It is a "pinch me" moment but taken by surprise? Nah!
"I'm not shocked. It's a dream come true for me. I've always dreamed about this," she said. "Of course, I believed in myself. I was playing, I knew I was in the semi-final. It was just great. I'm so happy I was able to share the court with Ash (Barty).
"Yeah, after the match, of course it's pretty emotional. It's the finals. It's something different. It's surreal. Yeah, so grateful for it. I mean, I always believed I can. Of course, I didn't have a book. I didn't know exactly when. I feel like at this young age, I think it's incredible.
"Not everyone gets to live this moment, live this dream. I'm just really grateful for it. I've worked so hard. I've put all the efforts into my practices, into my fitness. All the efforts I've been doing, it's got me here. It's just paying off and it's like a dream come true for me."
She would have enjoyed the semis result for the hours after the big win but soon that is put to one side and it's back to business going into one of the biggest finals in the world of sport.
Across the net will be Garbine Muguruza who has been on her own journey back which is a major positive for women's tennis. Her style and poise and presence on the court is a pleasure to see.
"I've played Garbine in Beijing. It was a tough match. She's playing some really good tennis right now. She's had some great wins. She's not easy. She's really aggressive."