Daniil Medvedev is the player of the moment. The Russian won the Rolex Shanghai Masters.
He is being regarded as the best player in the world at the moment. Daniil Medvedev is on fire with his tennis. He was the Rolex Shanghai Masters for the first-time defeating Alexander Zverev also for the first time 6-4, 6-1, finishing the match with a resounding ace.
The facts don't lie: this year he has 59 match wins, 45 hard court wins, 22 Masters 1000 wins and it was his ninth final of the year of which the last six were consecutive. The last time Daniil Medvedev failed to reach a final was Wimbledon. En route to the title he did not drop a set.
Talk about being invincible.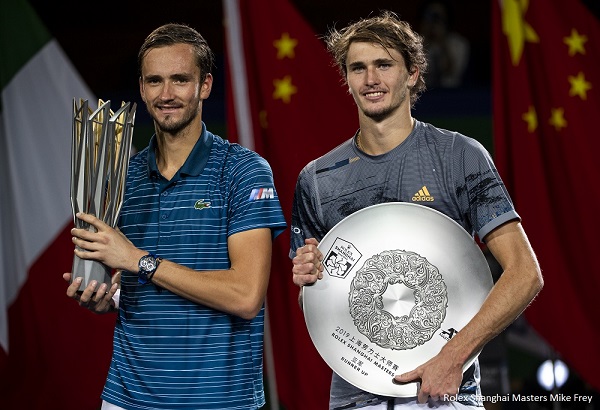 "I can say that, well, here I looked invincible this week since I'm the winner," Mr. Medvedev said. "Because, as I say, I don't like to talk about future, because you never know what's future got for you. That's why my answer stays the same.
"Okay, this week, yes, I probably was invincible, but for the next upcoming weeks, I'm not sure. And even this week there were some matches that I could have definitely, let's say, lose a set and we don't know how it would have gone.
"But I'm here as a winner, so happy about it."
This result was the first time Medvedev has defeated the German. Interestingly this is the first time since Hamburg, May 1993 that a German and a Russian had met in the final of a 1000. The last time it was Michael Stich against Andrei Chesnokov and it was Stich who won.
Sascha Zverev is full of praise for his opposition.
"Look, he's a different player now. You can't compare," He said. "But I talked to my dad about it and obviously my coaching staff and everybody, and to beat these kind of players, you have to have a lot of confidence.
"You know, to beat someone like him or to beat someone like Novak, you have to be playing good for a longer period of time and not just for one week, because a big difference was at 4-All when it gets tight, he does a few first serves and he's through the game. 4-5, 30-All, I do two double faults. And that's the big difference.
"I feel like I'm playing well. I feel like I'm on a very good path again. But obviously I have to be on this path for a longer period of time, I think.
"But making finals of a Masters is huge for me right now, and I'm very happy about that."
This marked the first time since Bercy 2009 that both finalist have been 23 and under and what has been on display during the week was the fact that the young guns have played with great maturity and four of them were in the semis a the expense of Roger Federer and Novak Djokovic.
Everyone can see he is a better player than even a few months ago and he says it is because everything has come together and during eh American hard-court season "something clicked in my game". He was understanding his own game.
It is amazing what some belief will do and how far confidence will take you. Daniil Medvedev is a perfect example. About 14 months ago he was in the 60's, 70's and now he is No.4 with a very good chance to be year-end No.3 and maybe next year an assault on No.1.
"I always say that my first goal is to win every match I play, and that's how I can actually become No. 1 if you win a lot of matches in a row just like I did," Mr. Medvedev said.
"But to be honest with you, when you asked this question right now, I kind of thought, yeah, I don't have that much points to defend till I would say USA next year. But I'm going to try my best to show great results as I did here, and if something like this is going to happen, it's just a big bonus."