Russian Daniil Medvedev and American Madison Keys claim career biggest titles in Cincinnati.
Daniil Medvedev and Madison Keys are both on a high after both won the biggest titles of their careers.
There is no doubt that Daniil Medvedev is one of the star players of 2019. The Russian won his first ATP Masters 1000. The 23-year-old Muscovite who resides in Monte Carlo, was playing his third final in as many weeks and this time it turned out to be third time lucky.
"I have to say even if I wouldn't have finished with the trophy, they were amazing (weeks) and the best in my life," Mr. Medvedev said. "But of course, I think with the trophy is better. Especially if I would have lost three finals in a row, I would have not doubted myself but, like, started asking myself how is it possible, three finals, lost all of them? What should I do differently in the final?
"(Now) I don't have to ask myself these questions because, well, I won the final. Yeah, it's been the best weeks in my life. I mean, as I say, mentality was the best in my life. My serve was the best in my life. My tennis was really consistent. I didn't have one bad match. I'm just extremely happy. And hopefully I can continue this way well through all my career but hopefully at least next few weeks."
Mr. Medvedev, who upset world No.1 and defending champion Novak Djokovic in the semis, defeated David Goffin 7-6, 6-4 to win the title in Cincinnati but because he was so tired physically and mentally that his post-match celebration was pretty muted.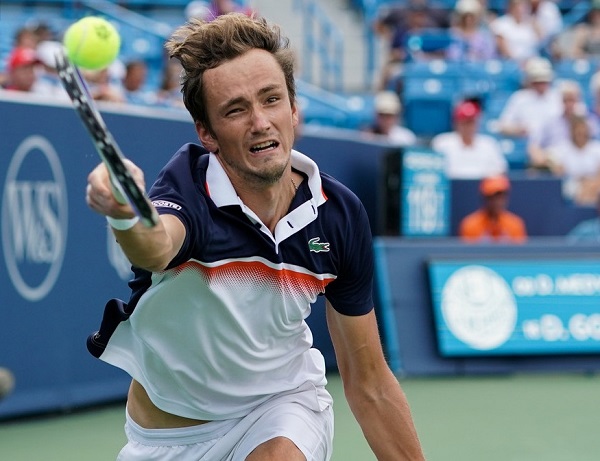 "That's exactly (right)," he said smiling. "If you would have asked me before the tournament how would I celebrate, I'd probably say, Yeah, I'm going to fall on the court, I'm gonna start screaming and jumping and then raising my hands up.
"I was so exhausted during all the match, to be honest. And especially 5 3, I started cramping everywhere. Of course, I tried to not show it. This last game, 15 40, I cramp everywhere. I say, Okay, if it's 5 All, what do I do?
"And I make four amazing serves. And when I make the last one, I'm like, Wow, it's finished. And I had no, zero force inside of me to do anything. It is how it is."
While Miss Keys is very happy to say the least defeating Svetlana Kuznetsova 7-5, 7-6 to win Cincinnati, Miss Kuznetsova would be just as happy with her effort because she got to play in Cincy after visa issues prevented her from defending her Washington title.
"Yeah, it's obviously the biggest title I have ever won, and, I mean, it was a tough draw from the very start," Miss Keys said, with this result putting her back in the top ten. "I played some really, really great players from round one until the final. Yeah, I definitely think I played some of my best tennis consistently this week."
Miss Keys rallied back form 3-5 in both sets with solid focused tennis on the really important games and was able to make the Russian play a lot of balls and she luckily figured out a way to level up the scoreline and then then go on to win the title.
The American's serve was a big factor; she has one of the biggest serves in women's tennis but in this final it was also clicking when at all the right times – she powered down 13 aces.
The way she put it was that her serve worked incredibly well "especially in certain pockets" and she was doing a good job at moving forward and kind of trying to neutralise some of her opponent's "deep, heavy, spinny shots". She said: "I was able to get out in front in the point and play a little bit more offense."
Miss Keys had a 3-0 record against Miss Kuznetsova but despite knowing that her strengths and her weaknesses were not going to be different she did not think back to the previous encounters and regarded this as a completely new ball game.
"I think I was just really calm," she said. "I just let myself go out there and play, however I could play that day. I kind of dropped the expectations on myself a little bit. I'm obviously really happy and really proud of myself. It's definitely more of a building block. I want to do well in New York, and I want to have a good end of the season, so taking a lot of positives from this week. Just trying to reel it in a little bit."