Nick Kyrgios claimed his second title of the year and said it was the best week of his professional life.
CAPITAL GAIN
Nick Kyrgios declared it to be "the best week of my life". He won the title in Washington which is his sixth career title and the second this year for him. The Australian defeated Daniil Medvedev in a final where neither player faced a break point and just one point separated them at the end, 72 to 71.
In about an hour and a half Kyrgios beat the Russian 7-6, 7-6 and it is the second time this year he has upended Medvedev who led 5-2 in the first set breaker before Kyrgios squeezed it out 8/6. In the second set tiebreak Kyrgios served back-to-back aces, his 18th and 19th, on the last two points for victory.
Once again, he delighted the crowd by asking a person in the front row where he should serve on the championship point, just as he did in the quarterfinal and then the semi-final against Stefanos Tsitsipas.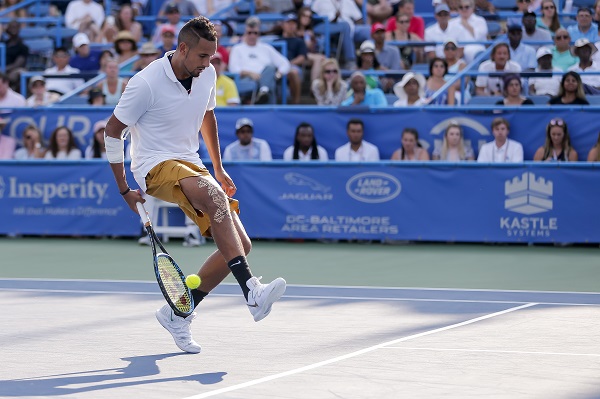 "This has honestly been one of my favourite weeks of my life. I've made massive strides," Kyrgios said. "I started becoming friends with the smoothie guy, he knew what smoothie I wanted. I was playing ping pong with some kids before I'm playing. You guys were amazing. It was honestly a week to remember.
"I've had people behind me, backing me, and they never lost faith in me even when I lost faith in myself. This week means a lot. It's great to get the win, but I've proved to myself and the people backing me that I can still produce at the highest level."
The final had all the entertainment a Nick Kyrgios match can muster up despite being in discomfort during part of the first set. The right side of his back was spasming and he needed the physio to perform some magic. The win sees him return to the top 30, at 27 which should assure him of a US Open seeding. At for Medvedev, he will be a career high ranking of nine.
He certainly had Kyrgios genuinely amused during his presentation speech: "We all know how well Nick can play when he wants to. This week he wanted to play, and he was tough," Medvedev said.
The two could very well met again in the second round in Montreal.
KITZBUHEL AND LOS CABOS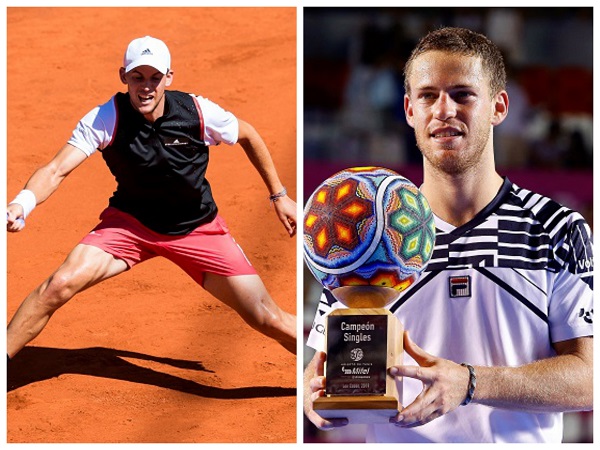 Dominic Thiem became the second Austrian and the first since the nation's greatest player Thomas Muster, to win the title in Kitzbuhel and for the world No.4 it was a massive boost of excitement. He defeated Albert Ramos-Vinolas on the clay 7-6, 6-1 and it was his first title in Austria, coming five years after originally reaching the final.
"It is already one of my most beautiful moments ever in my tennis career," Thiem said. "It was one of the most emotional moments because I have a special connection with Kitzbühel. I was here for the first time when I was six on this huge centre court. I was watching the tournament many times. I got my first wild card here and now to finish the tournament as the champion is incredible. I reached one big childhood goal today."
Diego Schwartzman won his first title of the year, his first on hardcourts and the third title of his career when he defeated Taylor Fritz in the Los Cabos final 7-6, 6-3.
"This feels really great because I'll take a lot of confidence with me for the next tournaments," said Schwartzman. "It was really important for me to come here and win big matches against the big guys. The title is like the cherry on top for me."
SAN JOSE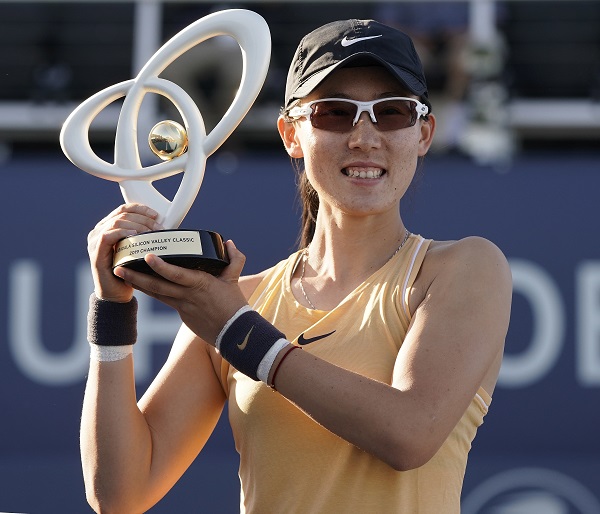 Zheng Saisai captured the event in Silicon Valley by beating second sed Aryna Sabalenka 6-3, 7-6. It was a big week for the Chinese player who beat three seeds from the four players she faced. She accounted for 8th seed Danielle Collins, then 4th seed Amanda Anisimova followed by 7th seed Maria Sakkari who had stopped Elina Svitolina, and finally 2nd seeded Sabalenka.