Rafa Nadal wins his 9th in Rome while Karolina Pliskova claims her first.
Rolf Nadal's Karolina Pliskova unexpectedly wins in the Eternal City for the first time will remain special.
Apart from a second set hiccup, Nadal's victory over Novak Djokovic was an incredibly important one. The Spaniard went into the Internazionali BNL of Italia at the Foro Italico. When he played Djokovic there appeared to be an extreme bit of determination in his book-ended the final with clear domination, beating the Serb 6-0, 4-6, 6-1. Nadal was close to winning when he had a break in the second half.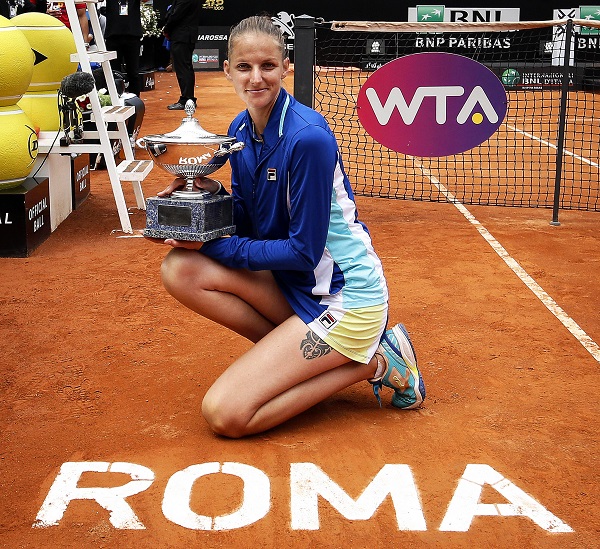 Pliskova pretty much surprised with the reality of Jo Konta 6-3, 6-4 for the women's championship. Konta has been a favorite on the surface, having reached the final in Rabat.
For Nadal this is his ninth title in Rome, and he is still ahead of Djokovic once again in Masters 1000 crowns to 34.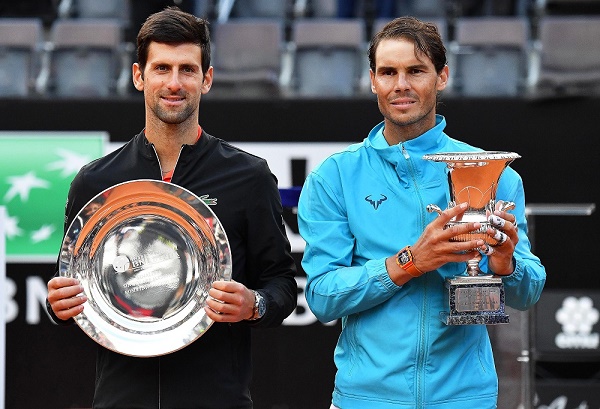 Nadal was thrilled with the "great match in general terms". It marked the fourth time this tournament that he had a 6-0 set and he described that as a "fantastic level of tennis". He missed out on capitalization on opportunities to win the second set but admitted to having a few nerves. Nadal said the beginning of the decider was incredibly important.
"The level of tennis has been high," Nadal said. "Have been a great game in all aspects. So happy for that. What means clustering MOST to me is this trophy. Rome is one of the MOST significant tournaments of the year. Part of the history of our sport. To be reliable to win here is the main thing, then we can talk about the first title of the year.
"For me, the MOST significant thing is to feel good and to feel healthy, with the energy That I need. If That Happens, I'm going to fight for titles Sooner Or Later. During the weeks, last couples of weeks, every and we are here with this great victory.
This was the 54th match between Rafa and Novak with Djokovic still leading the series 28-26.
The scheduling may have an effect on Djokovic. He finished the day before he was playing match points to beat Juan Martin Del Potro, but he said he was happy to take the final in the deciding set, despite it being one-sided.
"The first set where I was blown away from the court," he said. " Actually, first probably three, two games of the third set are quite close." Maybe that's where
I had a slight chance to make the moment I had from winning the second set.
"Yeah, I was just running out of fuel a little bit today. Just kind of missed That half a step, Especially on the backhand side. He used it very well. He's been playing some terrific tennis Throughout The Entire weekend. He was just too strong today.
"It is what it is (but) the schedule Can Be Improved, in my opinion. You start asking yourself, how are They Making the schedule. Look, again, it has-been like that for singles at least for a while. I accept it. I respect whatever I have in front of me. I thought it was a great weekend, I was Considering one shot away hjälper Against the quarterfinals Potro. to get to the final is really a great result. "
Pliskova said "it feels great, especially, nobody really gets lucky for this tournament", even herself.
She said: "Before the tournament, I Was not super confident, not thinking about the final at all. I was just happy with every match qui I played. So, it's a little bit like a miracle for me Because clay, this tournament, since I did not play well here, and it's always tough I played some good clay shorts girls Of course, super happy. "
Pliskova felt the much slower conditions would have been better than the clay season.
"When I'm winning, everything just going easy, I'm playing without thinking, which is the best" Pliskova added. "Yeah, so I'm coming to this tournament just to get a couple of matches I'm not so lucky for me Yeah, it's a miracle for me that this happen . "