Ash Barty and Roger Federer are the singles champs at the Miami Open played at the Hard Rock Stadium
Ashleigh Barty can play any sport. She is an all-rounder, thankfully for tennis she steered her way to this sport. The 22-year-old Aussie has now won the biggest title of her career, the Miami Open and along with that, set a few milestones.
Barty defeated Karolina Pliskova 7-6, 6-3. She is the only Australian, male or female, to reach the Miami final – the tournament dates back to 1985.
The win sends Miss Barty into the top ten for the very first time, she will be ranked nine. She is the first Australian woman to be ranked that high since Sam Stosur in May 2013. With her Miami victory she has won 17 of her 20 matches played and she says Wimbledon last year was like a turning point for her. This was her 101st career win at a tour level.
"It's been an amazing fortnight of tennis. It really has," Miss Barty said. "I think it's pretty cool to have played such a good match (in the final), obviously in a big situation and a big match. Certainly proud of myself and happy the way that my team and I have been able to get through these two weeks.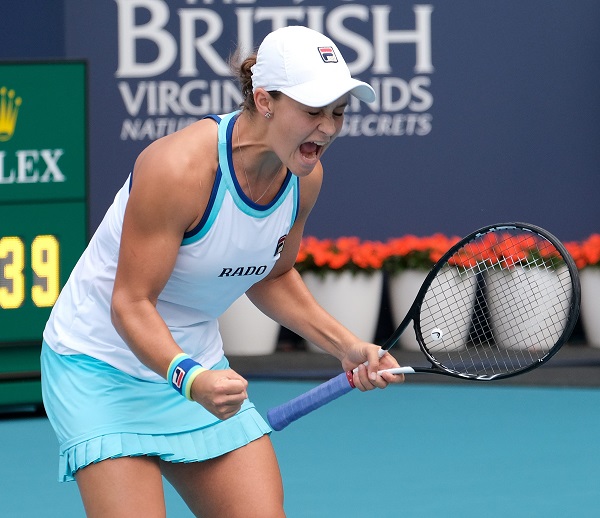 "It was going to be a match of small opportunities. I think I was able to claw my way back into the first set and take an opportunity when I got it in the tiebreak. I think it was important for me to try and get that first set. I think that first set today was going to be massive. I was able to get a bit of a roll on in the second early and keep the foot down."
So far this season on the women's tour all 14 tournaments played have resulted in 14 different winners; Ash Barty being the last one.
It's been a journey for the Australian who remains so down to earth and humble, one of the nicest people you could meet. She left the game for a while and took up cricket but about two years started a return to tennis and the journey has been terrific. She felt if she had not taken that sabbatical, she probably would not have returned to tennis.
"I think I had a new perspective," she said. "Obviously, I'm very appreciative of what I have and the people that give their time and their energy towards me and trying to help me become the very best that I can be. I'm extremely grateful for those that are around me and very lucky to have such a genuine group of people.
"I think the time that I was away, I certainly, you know, grew to love the sport more, having not been involved in it."
With her Miami win she had won 17 of her 20 matches played and she says Wimbledon last year was like a turning point for her.
FEDERER WAS HARD ROCK TO CRACK FOR ISNER
Roger Federer won his fourth Miami Open and the first at the Hard Rock Stadium the event's new facility in area known as Miami Gardens. It was a master class from the Swiss who defeated John Isner 6-1, 6-4 and in doing so took his head-to-head tall against Mr. Isner to 6-4.
"Yeah, I mean, it's nice, you know. I'm happy I chose to come back this year," Mr. Federer said. "It's easy just to say, Well, last year didn't work out, so I won't come back this year, and as I'm playing the clay, maybe add rather another clay court event.
"I mean, the first one was tight. John told me he was watching, and he said, Whew, I wasn't sure you were going to make it there. I told him the same. The margins are so slim sometimes that it could have slipped, as well.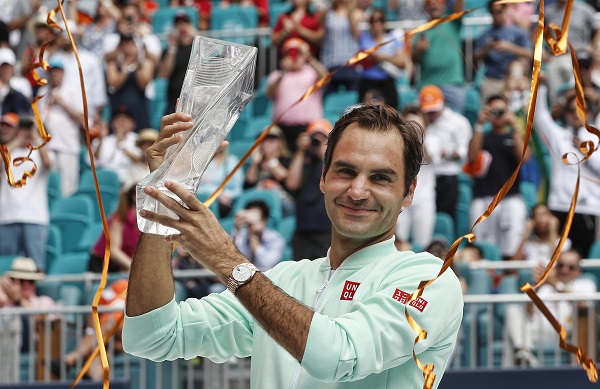 "So of course you feel fortunate when you come all the way to the end of the event and you can sit here with the trophy. It's definitely a moment you appreciate a lot, because you know it could have turned out very different."
It was the first time that two former champions were playing the Miami Open final since Novak Djokovic defeated Andy Murray in 2015. It was also the oldest combined age at a Miami Open final – Roger is 37 and John is 33.
"This one just feel like also I didn't expect it, to be honest," Mr. Federer added. "Because I knew the problems of the year I had last year, that I went through a similar situation with, you know, losing in a very close finals in Indian Wells and coming here again and seeing what could happen. New venue, didn't know what to expect there. I mean, almost losing against Albot in the first round here.
"These Masters 1000s are hard to win. They are really a test for me, especially later in my career. So I know these guys don't come around very often, so when they do, it's a bit of a surprise for me. That's why this one feels really cool in many ways."
Mr. Isner came into the final on an eleven match Miami winning streak and he had not lost a set to the final, but he ran into a red-hot Federer. However, as the match progressed Isner was being trouble by a foot injury and he started hobbling.
"I knew at 3-4, whatever, I knew I wasn't going to win," Mr. Isner said. "I can tell you that much. Which is a weird feeling, you know, being on serve in the finals of a match and knowing that I wasn't going to win.
"Look, Roger was too good. In the first five games, I was fine. Nothing was bothering me. He was all over me. Then, you know, this weird pain on the top of my foot, we'll see what is. I'm hoping it's nothing, but we'll see."
For Federer this was his 101st career title and 28th Masters 1000 from a record 50 final. Now he will head to the clay season for the first time in a couple of years.