Bianca Andreescu, in her first full year on the tour and Dominic Thiem have taken out the titles at the BNP Paribas Open.
She is only 18 and she has become the youngest woman to win the BNP Paribas Open since Serena Williams in 1999 which was two years before Bianca Andreescu was even born. She is floating on cloud nine. Bibi, as she is nicknamed, is also the first woman wild card to win the tournament which outstrips anything that she has achieved by a country mile.
The Canadian teenager, who reached her first carer final in Auckland just before the Australian Open two months ago, is a breath of fresh. In a little more than two hours she survived a minor bout of cramps to come back and defeated Angie Kerber 6-4, 3-6, 6-4 and in doing so earned more than $US1.3million.
Among the well-wishers was Canadian Prime Minister Justin Trudeau.
Her performance showed such maturity. She came back from a break down in the final set, going from 2-3 to 5-3 and served for the title. Miss. Kerber, the Wimbledon wasn't going to let things go without a fight; she saved three championship points and broke serve only to have her won serve broken by Andreescu for the title.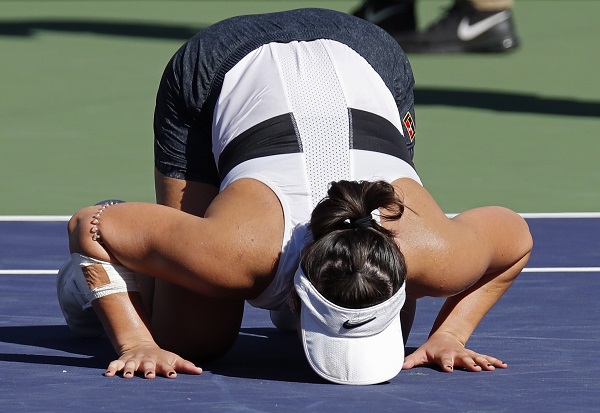 "A year ago, during this period, I had been struggling a lot with my tennis and with my body, too," Miss. Andreescu said. "So, it's crazy what a year can do. I was playing 25Ks in Japan, and now I'm the … can I say the F word? No, I can't. I'm the effing champion of Indian Wells. It's crazy. Crazy is the word of the tournament for me. Just crazy."
Andreescu is a star in the making and while she cannot be expected to win every tournament she enters, you get the impression there is much more in store. Maybe she could take off like Naomi Osaka, last year's champion who went n to win two majors and reach No.1. When that was put to Miss. Andreescu, she responded laughing: "No pressure."
She has the ability to go very far. At the end of 2018 she was ranked 178, coming out of the BNP Paribas Open, she's top 25. We've been given a sneak peak
THIEMING WITH EXCITEMENT AND PRIDE

Dominic Thiem achieved a couple of things in the final at Indian Wells. He won the biggest title of his career, the BNP Paribas Open and defeated Roger Federer 3-6, 6-3, 7-5 on hardcourt for the very first time. The 25-year-old Austrian will also move his world ranking into top five status.
"It feels just unreal what happened in this ten days during the tournament," Mr. Thiem said. "I came from a really bad form in all categories, and now I'm the champion of Indian Wells. It feels not real at all. It was a great week, and I think also a very good final today. Just amazing that I got here, my first really big title."
Mr. Thiem became the 19th different singles champion of 19 tour level events thus far in 2019 and became the seventh player to win his first Masters 1000 title over the last 15 series events.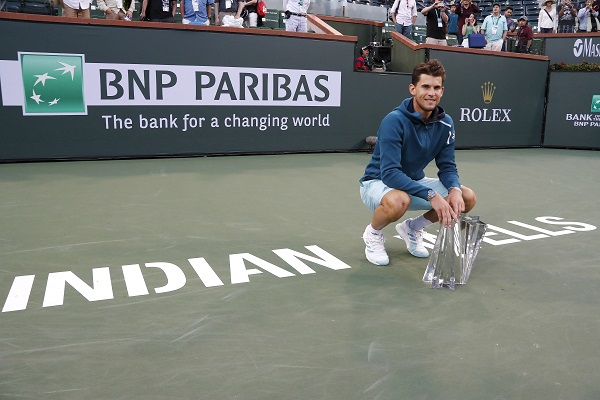 Mr. Federer who won his 100th career title a couple of weeks before Indian Wells, was disappointed at losing but appeared not to take it to heart.
The win by Mr. Thiem catapults him further into favouritism as the clay season approaches. He has already had a taste of being in the final of a major, last year's Roland Garros and with like this behind him, his confidence will be very high.