We have a look at the Wimbledon women's final with Serena Williams taking on Angie Kerber for the second time in a final at the AELTC.
She is only just back and already Serena Williams is on the cusp of equating tennis history. When she plays Angie Kerber for the Venus Rosewater Dish, the trophy presented to the Wimbledon Ladies Champion, she will be playing to not only win an eighth title from the finals on the Center Court, but also to equal the all-time record of 24 majors held by Margaret Court.
"To be perfectly honest, I have not thought about this tournament. Not even once actually. In fact, I've probably forgotten about it, yeah, "Serena said on reaching her 30th final at the majors. "I think that's a good thing because you know, I was so much pressure on myself when I was trying to get to 18, then the rest, it was so much.
"But, I have not said it in the past couple years, I do not want to limit myself. I think that's what I was doing in the past, I was limiting myself. It's just a number. I want to get a good start, I'm still starting - I still have a match, so I'm not even there yet. "
And cheering her on, from the Royal Box no less, Meghan Markle, the new Duchess of Sussex and Catherine, the Duchess of Cambridge, who will be returning with Prince William.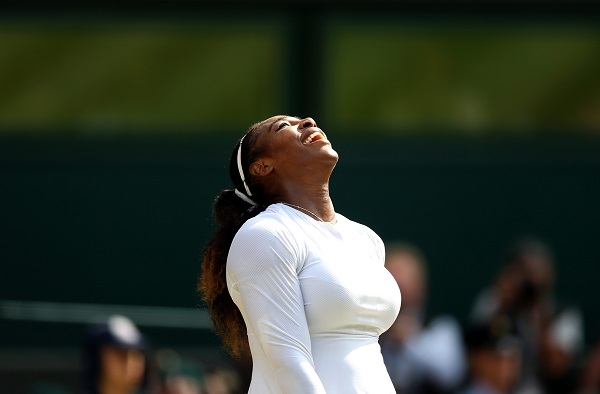 For Miss Kerber the support might not be that lofty, but she will expect nothing less of herself than to play the type of tennis that took her to No.1 in 2016. That was an amazing year as she won the Australian Open beating Miss Williams, reached the Wimbledon final and then won the US Open. The year after was pretty much a disaster as she struggled to reproduced anything remotely similar in results but in 20178 she appears to have turned the corner once again.
"A lot of experience that I had. I think, yeah, with 2016, all the success, 2017 with a few up and downs, to coming back this year, I think learned so many things also about me, about how I am," Miss Kerber said. "I think, yeah, the last years, not only 2016 and '17, also the years before, give me a lot of experience to being there where I am right now, and to know, yeah, what is really important in the life, what not, and what you have to focusing on.
"I think I cannot compare, like, this year with 2016 or '17. I'm really proud to being back in the Wimbledon final after especially last year where things weren't like I was supposed, like, expecting actually. To being here again, that was, yeah, a goal when I start this year, you know, to playing good in majors, in the Grand Slams, and to reaching the finals again. It's a great feeling. It's still one more match to go. But, yeah, I think for me it's great."
Going into the final, Miss Williams has a 6-2 record on the German, who is the first German woman since Stephanie Graf to reach multiple Wimbledon finals. The only other German woman since Miss Graf to reach this final was Sabine Lisicki.
"I feel like she's been playing really well," Miss Williams said. "A lot of people haven't been, I don't think in beginning of the tournament, looking at her. I think grass is her best surface. She plays so well here. She knows how to play on this court. She does it well.
"It's her second final in three years; that's wildly impressive. Believe me, I know she wants to go out there and win. So do I. I think it will be just like the last final, it will be a really good final. Hopefully it will be a good result."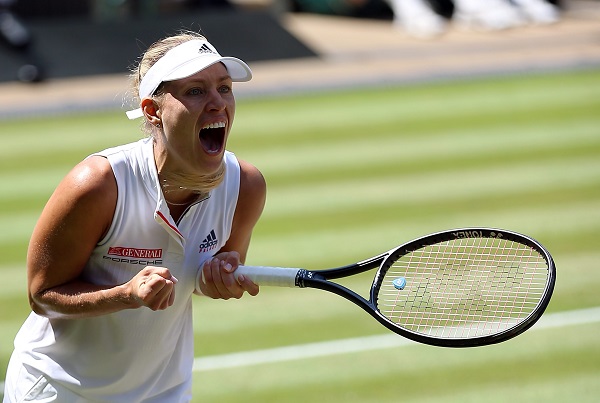 There is certainly mutual respect between the two ladies.
"I see a champion, that's for sure," Miss Kerber said of Miss Williams. "Serena is one of the best players in the world. I mean, we had so many great matches in the last years. To seeing her back, it's great. I know that she is always pushing you to the limits to play your best tennis. This is the only chance to beat her."
Angie is hoping not to consider most of the previous matches they have played and to start afresh; its from zero all over again and while grass is the German's best surface, she also knows that Serena has a soft spot for it as well having won the title seven times
However for Serena the road to get to this point over the last ten months since the birth of her baby Alexis Olympia has been extraordinary and how it didn't break her is remarkable. She's obviously not breakable.
"It's no secret I had a super tough delivery. I lost count after, like, oven surgeries because I was in so many surgeries. It was just every day routine, I had to have a new surgery, "Miss Williams said.
"Because of all the blood issues I have, I was really touch-and-go for a minute. I'm glad no one told me at the time (what) I was going through. Yeah, it was tough. There was a time I could barely walk to my mailbox.
"A lot of people were saying, Oh, she should be in the end. For me it was such a pleasure, you know, I was going through so much stuff. "
With both her and Miss Kerber past the age of 30, this final Wimbledon will be the first 30-something women's final at the All England Lawn Tennis Club since 1977 when Virginia Wade beat Betty Stove.