Serena Williams says she has to be greater to be the greatest.
Serena Williams is great. There is no two ways about it. She has proven it time and again.
Pretty much every player at the very elite level of tennis has a drive and determination because without that you won't make. The competition is stiff, and no one is going to give an inch.
I used to work for Serena, for a number of years, so I would see her relatively close up. This woman is incredible, when the "game face" comes on, every other player around her needs to take a step back and watch because her competitive juices are beyond belief.
Sometimes she seems to step out of her own physical being and even refers to herself in the third person.
Serena is remarkable in sport, not just women's tennis. Pretty much any athlete should be using the manual according to Serena.
In the Round of 16 she should have been playing Madison Keys according to the seedings but Keys lost to Evgeniya Rodina in what is an all-mothers match on the Centre Court.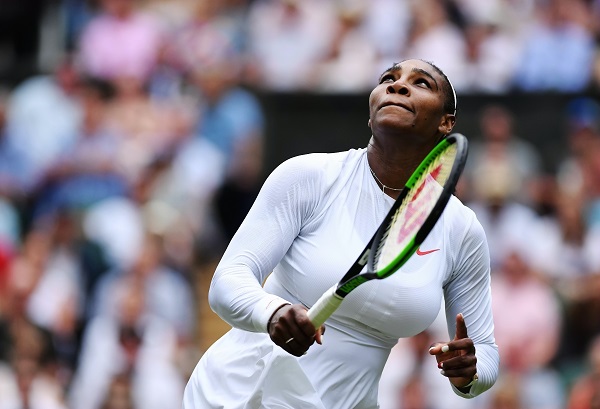 Miss. Keys was leading 5-2 in the first set but admitted to losing concentration when her mind jumped ahead to the prospect of playing the still new Mrs Ohanian. Miss Keys began to think how much more she would have to raise her game playing Serena instead of thinking what more she should do to close out the match she was in.
"I'm glad someone admitted that. Of course, Madison does. She's just so smart and so on it," Miss. Williams said. "But, yeah, every single match I play, whether I'm coming back from a baby or surgery, it doesn't matter, these young ladies, they bring a game that I've never seen before.
"It's interesting because I don't even scout as much because when I watch them play, it's a totally different game than when they play me. That's what makes me great: I always play everyone at their greatest, so I have to be greater."
The follow up point made to Serena was that it "must suck being you"; in other words you can never let a guard down.
"At first it did," she said. "But I like it because, you know, it kind of backfires because everyone comes out and they play me so hard. Now my level is so much higher because of it, from years and years of being played like that.
"So it's, like, you know what, my level, if it wasn't high, I wouldn't be who I am. So, I had to raise my level to unknown because they're playing me at a level that's unknown.
"Yeah, so now I'm used to it."
It must be remarkable being Serena Williams.