American Danielle Collins made a splash in the last three months but little is known of her.
When the 2018 weason of women's tennis started, an American player named Danielle Collins was ranked 167. Hardly any attention was paid to her. She had been through the American college system and at the age of 24 many probably considered the scope of making significant inroads may have past her.
But what was overlooked was the fact that Ms. Collins is a bit of a street fighter and in the last three or so months that ranking of hers was boosted to 53. Suddenly those with an interest in American women's tennis outside the Williams sisters, Sloane Stephens, Madison Keys and Coco Vandeweghe, began to take notice.
She won the Newport 125K Series event and made the quarters of the Indian Wells 125K Series event and all that helped get her into the BNP Paribas Open at Indian Wells where she reached the last 16, beating Keys en route. She then won seven matches from qualifying to reach the semis at the Miami Open beating Vandeweghe, Monica Puig and Venus Williams. Outstanding when you remember it takes seven matches to win one of the four majors.
Since the start of April, Ms. Collins has made another step forward; she reached the quarters of Monterrey and with that her ranking will crack the top 50 for the first time, 45.
So, who is Danielle Collins?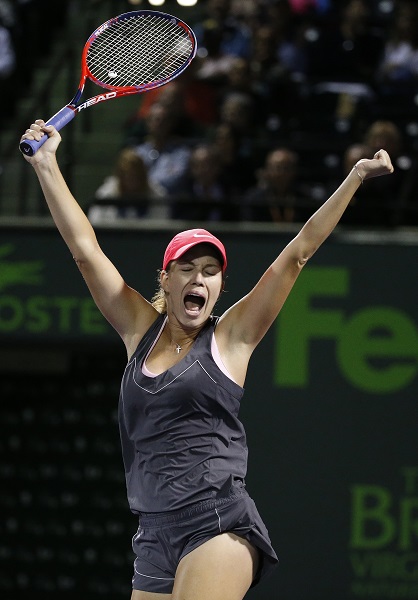 Ms. Collins' background is certainly not white collar. No doors were opened for her, she was very much a legacy of public parks tennis development. None of the fancy clubs or tennis academies for the better part of her developing years. She identified with Serena and Venus who had a similar tough, dare it be said, underprivileged up-bringing.
"I think all young American girls idolize and look up to Venus and Serena," Ms. Collins said. "You know, growing up I watched so many of their matches, and I could really relate to them, just their upbringing.
"I didn't have an easy upbringing. I didn't come from a super-wealthy family, and I wasn't at the country club every day playing in the little tennis camps with the other little kids. A lot of times I was at public courts playing against adults and asking people to play with me. You know, my upbringing was just a little bit different.
"I think they kind of went through the same thing, and so that really resonates with me a lot."
It was not till she was 15 that she caught the attention of a prominent coach, it happened to be Nick Bollettieri. He believed in her and saw the talent, so Ms. Collins was given the opportunity to train at his academy. But it was growing up on those public park courts that really shaped her and that street-fighter attitude.
"I think it gives me a different perspective," she said. "I'm just, like, so grateful every time I go out on the court and get to play another tennis match, because I know it could be so much different.
"And, you know, I think when you're little and you're having to go up to people and say, Hey, will you hit some balls with me, or, Will you play a practice match with me, it makes you be a little adult in some ways. It makes you grow up.
"I think even at a young age I was pretty mature. When I go out here I'm always looking for different resources. The WTA has lots of resources. The USTA has lots of resources. IMG. I mean, there is plenty of resources. You just have to kind of utilize that to the fullest, and I think that's the biggest thing that I have learned."
Ms. Collins won the NCAA title and at college undertook a media course which covered a wide range of topics from foreign affairs classes to politics classes to law. She explained that going to college was always going to be her route. Academic aspects were paid for, she was part of a team, she wanted a degree and she never had second thoughts of not seeing it through.
For some players the college route is exactly the right course of action to take because it allows them to mature. Players like John Isner and Kevin Anderson benefitted greatly; they've received a grounding.
"I'm kind of all business," Ms. Collins said. "I'm looking forward to what's in the future, and I just try to be in the moment and not think about the future too much, not think about the past too much. I'm sure it will be more attention than maybe I have had in the past, but definitely up for it."
But, if there was a down-side to her breakout, it is probably she can't engage anymore in one of her hobbies, fishing.