Serena Williams has played her first official match by playing doubles in the Fed Cup by BNP Paribas.
There was some criticism on how Serena Williams played in her first official match in over a year. She and Venus teamed up in the dead doubles rubber of the Fed Cup by BNP Paribas between the USA and Netherlands. They lost the doubles, but the result did not matter. It would not have mattered if she had won or drawn the match.
The fact is she has played an official match. That's all that matters.
The only other match she had played since winning last year's Australian Open was an exhibition match in Abu Dhabi which she lost to Jelena Ostapenko.
Her desire to return yet again is what should be praised, not the fact that she may not have been en song with some of her returns, or anything like that. She was playing a match that had no bearing on an overall outcome and the mere fact that she played such a match should be applauded.
"It was really special to be back out here with Venus and we're so happy that Team USA won. I'm really happy to be here and that we advanced to the next round," Serena said.
What has possibly been missed in all this that Serena, and Venus, have provided strong indications that there are no thoughts of retirement. They are signalling that they have intentions to play the Olympics in Tokyo in 2020 because a qualifying requisite is that one has to make themselves available to play Fed Cup by BNP Paribas or Davis Cup by BNP Paribas as the case may be.
By contrast Tomas Berdych has made it clear that he is not after a place at the Olympics because he issued a statement calling time on his Davis Cup career.
For Serena, playing this Fed Cup match provides her with a very good indication of her progress as she prepares to play her first singles tournament in 14 months, when she plays the BNP Paribas Open in Indian Wells. That will be followed up by playing the Miami Open.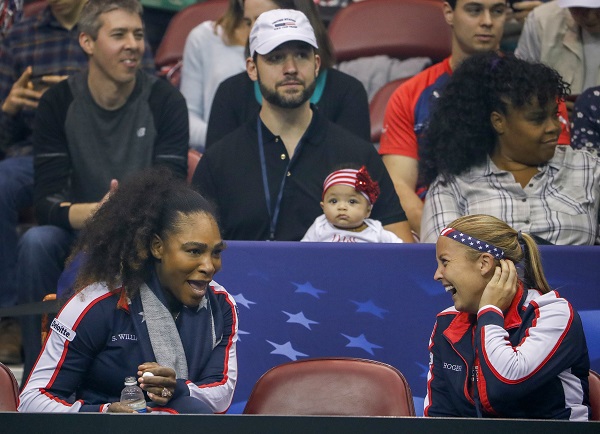 Her schedule will see fewer events played with concentration on the big events. Playing the type of schedule she did even two or three years ago is excessively demanding and would be totally unfair on her as a wife and mother. Five month old daughter Alexis Olympia watched her mother play the doubles.
Defending champion nation USA will travel to France for the semis 21-22 April.