Simona Halep was left very disappointed after the French Open but the Romanian is determined to rise above that.
Simona Halep says she is still sad with how the French Open ended for her; getting so close to the trophy but for the second time coming up short and then watching Jelena Ostapenko lift the Coupe Suzanne Lenglen. However, her speech at the presentation ceremony was one of the best ever and it is one the WTA should have recorded and play back to every young player starting on tour. That speech made Halep a champion.
She took a full week off after Roland Garros, spent time with family and went to Greece to get over the disappointment, but now she is ready to take up the challenge again and give Wimbledon a major crack.
"I still have, before going to sleep, some thoughts about that final, but it's good and keeps me, like, on the toes, how you say it," Halep said reflecting back. "The only one, very tough thought, is set two, 3-0 that I couldn't take that game. I had so many break points. Now I'm thinking that I should have hit that ball, the return, the second serve, and just go for it. But I didn't. So that one is killing me, actually.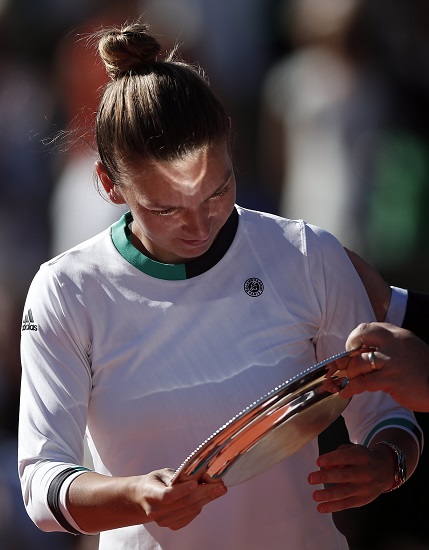 "Yeah, I can say I'm affected because I was very, very close this time. Also in the third set. But I think that she played really well after that. She didn't miss anymore, and she hit it very strong. I think I did it well, but those returns I should have gone for it. This is the only one regret, let's say."
Grass is not her best surface but she has been to the quarters once, last year. She says her return is going to be very important because an opponent's serve is difficult to counteract on the slick surface. She says she has to be fast, which she normally is, but that return has to be quick, there is to time to think on grass like there is on clay.
"I have just to block a little bit the balls and to stay there aggressive (and) when I say 'aggressive,' close to the line and just push back the opponents," Halep explained.
And now that she has close the gap for being No.1, she wants it all the more and even when it was brought to her attention that Angie Kerber and Andy Murray may have found the extra pressure of being No.1 slightly awkward to deal with.
"I'm close but still far. So I have just to take match by match and to do everything I can to be No. 1. It's going to be a big thing for me. Yeah, I want. And I want to face that challenge," she said smiling.
"Now, in this moment, I say that there is no reason to have pressure, because you reach your goal and then you have to relax and to play better. But you never know. I have no idea, so first I have to get there, and then I will tell you."