Jelena Ostapenko as become the first unseeded woman in the Open-era to win the French Open and the first Latvian to win a major.
Simona Halep said she "felt like a spectator" frequently as she felt her dream of winning the French Open in her second visit to the final began to evaporate. Jelena Ostapenko created history for herself while removing Halep's shot at the record books as well as the world No.1 ranking.
What Ostapenko achieved on a warm sunny afternoon was quite superb. Winning the French Open two days after her 20th birthday is quite some belated present to oneself. In one hour 59 minutes she had won the title 4-6, 6-4, 6-3, twice coming back from service breaks down.
Her aggression and dynamism has to be admired. Her strong mind and maturity are far more developed than what her age would indicate.
"I knew I'm already in the final and I'm playing such a great player as Simona," she said. "And I was losing 6-4, 3-0, and then in my mind I was just, I'm just going to enjoy the match, and I will try to fight until the last point. And then I stayed aggressive and the match turned my way."
How did she find the inner strength to turn that second set around? Few have gifts like that in the women's game. People like Chris Evert, Martina Hingis, Serena Williams, Steffi Graf and Monica Seles were blessed in using strong mental skills.
From 0-3 she won four straight games and six of seven as she levelled the second set. Once again Ostapenko fell behind but even though Halep had the advantage, it appeared she was not comfortable and one got the feeling that Ostapenko would make another surge.
She did and won five consecutive games as she drilled the ball down the line for a winner on championship point; it was her 54th winner in the match which tallied up to 299 winners for the tournament. On match point she said to herself that she was just going to go for it and hit the winner. The crowd went berserk with their cheering and applause.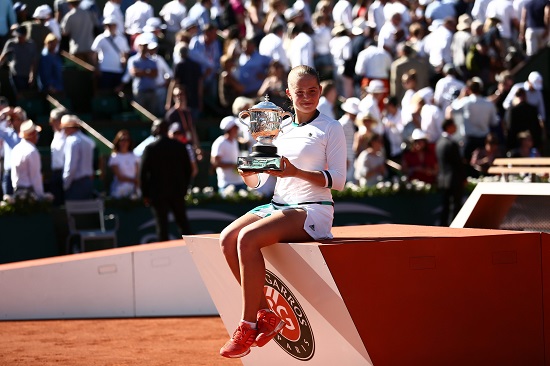 She is so powerful off both wings which is amazing because she is so lithe. She shows no fear on the court. The returns she played were like guided missiles and while her backhand is her favourite shot, her forehand should be registered as a lethal weapon.
Incredibly this was her very first title and she is the first one to do that in 20 years and gives a link to former men's champion Gustavo "Guga" Kuerten. It was on 8th June, 1997 that he won his first French Open and it was his debut career title. That day Jelena Ostapenko was born.
"I think it kind of maybe lucky … lucky number or something," Ostapenko said smiling.
She added: "I'm really happy to win here. I think I'm still - I still cannot believe it, because it was my dream and now it came true. I think I'm going to only understand that in maybe couple of days or couple of weeks."
Now the issue is that people will think she should be winning everything she plays because she won the French Open. It does not work that way. If there is the criticism of her if she loses a few matches or doesn't win Wimbledon, then that would be out of line. She has to be given time. Players way older than her and with immense experience have been though negative results. That does not make her a one hit wonder.