Ons Jabeur is from Tunisia and ranked 114 in women's tennis, at the French Open she scored a upset.
Negativity and criticism have been frequent visitors to the Arab world and Islam in recent times but every once in a while there is a feel good story that needs to be cheered about and publicised. At the French Open late in the afternoon as the sun was setting a 22 year old from Tunisia, a nation that has experienced its fair share of political problems, was celebrating as tear drops trickled and then dropped on the red clay court.
Like a light bulb switched on, Ons Jabeur, ranked 114 in the world and who came into Roland Garros as a "lucky loser" scored the biggest win of her life when she beat sixth seed and world No.7 Dominika Cibulkova, a player with vast experience, a finalist at a major and last year's winner of the BNP Paribas WTA Finals in Singapore.
The 6-4, 6-3 win was obviously very good but it is the background of Jabeur that is fascinating. An Arab woman was in the third round at Roland Garros.
"I'm really happy; it's the second time for me to be here," Jabeur said. "I did everything to continue my path. I played really good from the beginning of the year, and I don't see why I should not continue doing my best. I have been working very hard, and it's time to make the work on the court and prove that I can be one of the best."
She has been provided an opportunity in substantial part by the ITF which provided her a grant under the Grand Slam Development Fund. It is an endowment to support tennis in developing or underprivileged nations to assist young players with potential to progress their skills. So many players have been assisted with the program over the years, players who have gone on to carve professional playing careers in world tennis.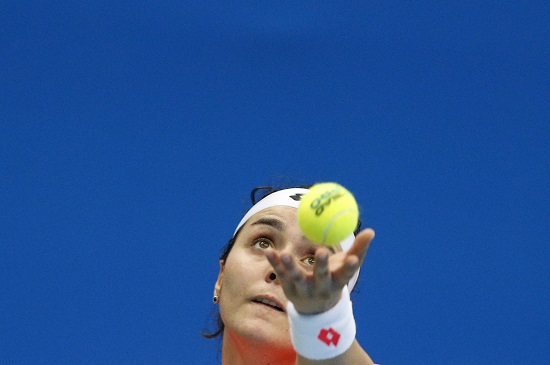 "It changed everything," she said. "First I don't have to think about the money, I don't have to think about anything. I just have to focus on tennis, on how I play on court. I would like to thank the ITF for this opportunity that they gave me.
"I'm really honoured to have this, and as you see, it's helping me a lot, from the beginning of the year, so I'm playing no pressure with the how to pay the staff and how to pay the everything. For me, it's unbelievably helpful. I hope if anyone can get it next year, it will be really helpful for them."
Jabeur is playing the French Open during Ramadan and is observing the strict rules of her faith. Ramadan is the ninth month of the Islamic calendar and is observed by Muslims worldwide as a month of fasting to commemorate the first revelation of the Quran to Muhammad according to Islamic belief. This annual observance is regarded as one of the Five Pillars of Islam.
"It's hard to think about Ramadan. I mean, I cannot eat or drink, but just like after the month, when I have time, I'm just gonna, like, get back the taste that I ate, like, day by day," said Jabeur. "Obviously I cannot do 30 days in a row, but I just have to do it before the next Ramadan, for sure."
Jabeur was incredibly composed on court as she counteracted Cibulkova's experience. She played drop shots to perfection, it seems that is by far her favourite shot. The crowd surrounding the court, Court Suzanne Lenglen, were in her court. Jabeur had done well as a junior but her small nation also has strong historical ties to France and to her it was "really special … so I feel like home".
"It's an honour to represent the Arab world here in Roland Garros in France. When I win I represent the Arab world; when I lose, I try to be just Ons Jabeur," she added smiling and with a glint in her eye.
"We are a small country. The Arab world is like, when you do something good, you're from Tunisia, and from Morocco, other Arab country, they get interested in you. For me, it's not only about Tunisia anymore, and it's all about the Arab country, African continent. It's amazing, because I feel like my country is getting bigger and bigger."
There were tears on the court when she was interviewed by Marion Bartoli because it began to hit home on what she was doing. It is so rare for an Arab woman to be in such a wonderful position.
"It's an honour to be here. It was a dream, a dream I had a long, long time ago," Jabeur said, "but the tournament is not yet over for me. I will do my best to continue and to shine as much as I can on the court.
"Frankly, I would like to give hope to all of these youngsters who'd like to turn pro, and more specifically the Tunisians who are dreaming of Roland Garros. It's not impossible. Work hard, and then the results will come."
This is one small step to opening eyes in the west and the Middle East, women for there are capable of anything and must be afforded all possible opportunities.