Dominika Cibulkova won the BNP Paribas WTA Championships as a debutante.
The first time is always the best time and you never forget your first time and for the "pocket rocket" from Slovakia, Dominika Cibulkova that has everything to do with winning the BNP Paribas WTA Championships for the first time in her debut appearance.
The pint sized dynamo who has been a finalist at the Australian Open (2014) before scored the most important and biggest win of her career by beating world No.1 Angie Kerber in the final in Singapore 6-3, 6-4 in one hour 16 minutes. She denied the German from finishing the year on an even greater high, a year that has seen her win two majors an Olympic silver medal and be the year-end No.1 for the first time.
Going into the final the two women were locked at 4-4 in their head-to-head. The win saw Cibulkova turn the tables on Kerber from the round robin matches and by far it is the biggest prize won by a woman from Slovakia.
"I'm still not realizing that pretty much," she said. "I think I put out all my emotions of joy after the match point. It was unbelievable. Then I was waiting during the ceremony and until now I'm like, Okay, is this really happening?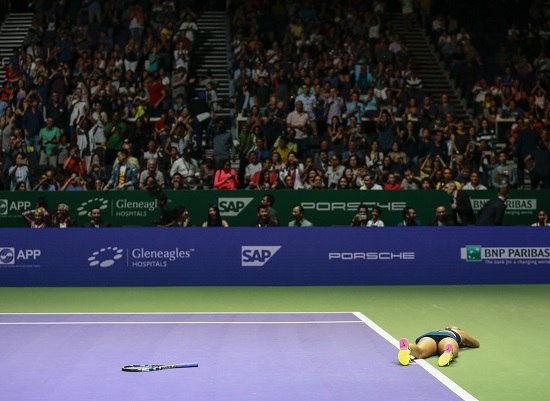 "So I cannot describe with words how I feel. I think I need few days to realize what I did. It's really big for me and also for my country. It just means really everything."
Incredibly Cibulkova made the elimination semis after winning just one of her three round robin matches. The only match she won at that stage was against Simona Halep and then she defeated Svetlana Kuznetsova, the last qualifier for the final eight, in the semis. Cibulkova, who moves up to No.5 in the rankings, played with immense consistency.
"Yeah, that was the most important thing," Cibulkova said. "You know, actually this is -- it's not strange. I cannot find the right word in English to say that, but in the first match I played against Angelique, you know, that first match gave me confidence that I can beat her.
"My game is good enough to beat world No. 1. This was what -- with these thoughts I was going into this final and I was feeling it from the first point until the last point.
"Yeah, only the first match point -- first two match points I realized what the situation is, but after that I just had one goal. I knew I can do it. I was playing this year quite few times good tennis like this, but I couldn't wish to do it any other match than this that match, finals of the WTA Finals."
Kerber meanwhile it was obviously a downer. She said: "For sure I'm a little bit disappointed after the loss. But for sure I give everything. I mean, it was a tough year with a lot of matches, so I give everything on court today, the rest energy I had left. Of course when I'm looking back it's one of my best years. I think when I will go home now I will just think about the best moments and the positive emotions."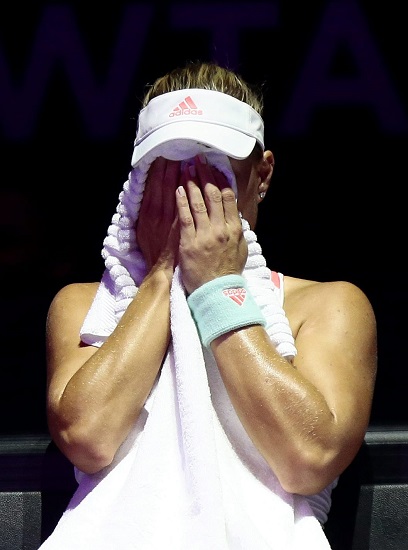 But still she has experienced an amazing year.
"You know, of course it's not too bad," Kerber said. "Yeah, I'm looking forward to next year for sure. I mean, it will be I think a different next year for me, really special one, with new experience. But I'm also looking forward to playing again against Serena, and, yeah, against all the other tough, yeah, opponents."
It was Cibulkova's longest season ever but she said she was not complaining. During the year she was even married so she has really packed in quite a bit and now it is time for her to take time off and that will happen in The Maldives after a fleeting visit back home to show off the silverware.