Novak Djokovic has claimed the missing link to his collection of majors ... the French Open.
Tennis over the decades has seen amazing players, players who are quite superb in what they achieve but every once in a while the sport is privileged to see greatness. A player who is destined to rewrite records or to make history. Tennis has seen it most recently with the likes of Roger Federer and Rafa Nadal and now Novak Djokovic is turning things upside down.
The world No.1 won his first French Open and in doing do has completed his set of the four majors – Australian Open, French Open, Wimbledon and the US Open. He has become only the eighth man in history to achieve that.
Within the last decade he is the third one to do that, Federer and Nadal preceded him and by his own admission it was because of them that Djokovic is the player he has become.
Djokovic defeated Andy Murray to win Roland Garros in three hours three minutes 3-6, 6-1, 6-2, 6-4. It was a fantastic performance in a match that turned from the first game of the second set when Djokovic saved a break point. From then on there was virtually no stopping him as he closed it on his third match point; a tense rally ended when Murray netted a backhand and Djokovic's dream had become reality as he fell to the court.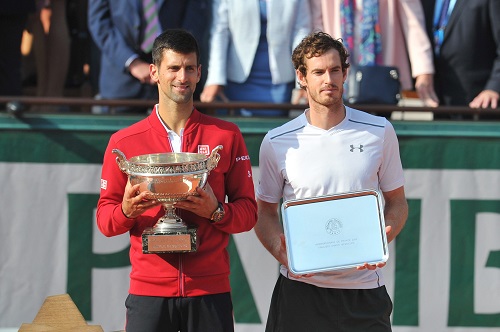 For almost the entire two weeks Roland Garros was plagued with bad weather but when the trophy presentation was about to happen, almost on cue the sun came out and Novak basked in that as well as his achievement.
He now has twelve majors, two behind Nadal and Pete Sampras and he is five behind Federer.
"A lot has been going on in my mind ever since I arrived in Paris, but I felt like this year when I arrived that it's really different from any other year," Djokovic said. "Obviously, as any other year, I was hoping that this is the year. I entered the court quite prepared. I started well first game, and then I dropped four games. (But from the start of the second) tt was flawless tennis. I really felt like I played on a high quality and putting a lot of pressure on Andy's serves and just trying to hang in there."
He knew he had to give everything but at 5-2 in the final set when he served for the title human emotions surfaced. Nerves. He dropped serve and then Murray held. He had one more chance to serve it out. This time there was no mistake. On match point three a tense rally ensued with the final ending when Murray sent a backhand into the net.
Djokovic collapsed on his back then after wishing Murray he used his racquet to draw a huge heart on the court, a la Gustavo Kuerten who had given him permission to do it. The Brazilian watched from the President's Box beaming.
Djokovic said: "In the last point I don't even remember what happened. It was really one of those things - moments where you just try to be there. It's like my spirit has left my body and I was just observing my body, fight the last three, four exchanges, going left to right and hoping that Andy will make a mistake, which has happened. And, yeah, a thrilling moment. One of the most beautiful I have had in my career."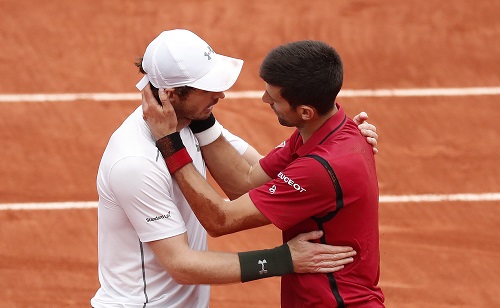 He became only the third man in history to hold all four majors at the one time something only Don Budge and Rod Laver did before.
"It's incredibly flattering to know that Rod Laver is the last one that managed to do that," Djokovic said. "There is not many words that can describe it. It's one of the ultimate challenges that you have as a tennis player. I'm very proud, very thrilled, obviously. You know, but it's hard for me to reflect on what has happened before and what's gonna happen after. I mean, I'm just so overwhelmed with having this trophy next to me that I'm just trying to enjoy this moment."
That sort of achievement was not lost on Murray who told the crowd they had witnessed something rare and special but added being across the net in the situation "sucks".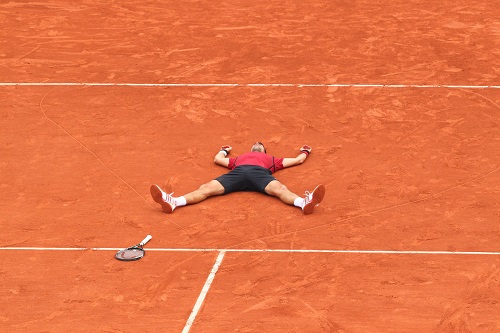 "Obviously the guys I have been around the last few years have made things difficult for me," Murray said. "I have been close-ish to winning all of the slams now and unfortunately all of them have done it instead. But I guess I've got a few more years to try and do that. I think when I finish I will be more proud of my achievements maybe. None of the big events I have won have I done it without beating one of those guys or a couple of them. Maybe when I finish playing my achievements will mean a little bit more.
With the pressure of winning the French Open now off his shoulders anything is feasible for Djokovic. He is halfway to the calendar year Grand Slam which was last done in men's tennis by Laver in 1969 and who knows, maybe Nole will also emulate Steffi Graf's achievement in 1988 and win the "Golden Slam" – the four majors and the Olympic gold medal.