It is tough to gauge Serena Williams's form going into Paris.
Only once before in the last decade or so has Serena Williams gone into playing the Internazionali BNL d'Italia in Rome having not won a title; that was in 2011and that year she did not play an event before Eastbourne on the grass anyway.
This year Williams has not won a title before Rome - she lost the Australian Open final to Angie Kerber, she lost the BNP Paribas Open final to Victoria Azarenka and she lost to Svetlana Kuznetsova at the Miami Open.
The Internazionali BNL d'Italia is only her fourth event of the year and her first on clay. It's the fewest number of events she has played up to the specific week in the calendar since 2010, putting aside 2011.
With just a couple of weeks to go before she starts the defence of her third French Open title, the question is where is Williams, who has never lost a final out of the three she has played at Roland Garros, placed with form.
It is so tough to say really because when it comes to her, a lead-up form guide means diddly squat. It is Serena Williams after all - she can have an awful run but end up winning a major or she can have an amazing run and possibly lose. She certainly was not expected to lose the Aussie Open final nor last year's US Open semi-final.
Rome is her first event since losing in the last 16 to Kuznetsova in Miami but she admits to being positive with the way she played her opening match. Told you it is tough to get a form level with her.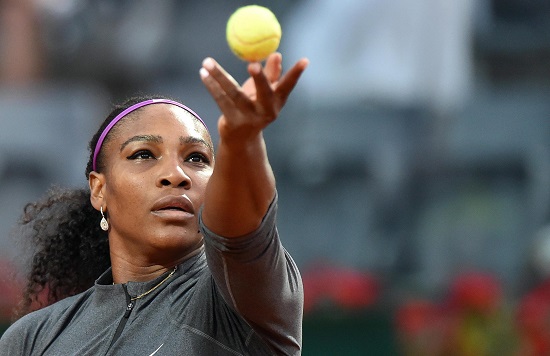 "To be honest I was really happy with my level. I think I was really consistent. I think I was mentally consistent. I started out fast. Those are some of the things I wanted to work on. Yeah, I was really happy about that," Williams, who pulled out of Madrid with illness, said.
"I love the clay, and it just really felt good out there. I felt good. I felt really good. I was really concerned how it would be just running and moving and recovering. But it was fun."
For what it's worth going the years she won the French Open her results were all over the place - 2002 she won Rome and made the final in Berlin, in 2013 she won Rome and Madrid and last year she did not win a clay title.
So come Roland Garros, eyes will certainly be focused on her and how the draw pans out. On the other hand, to heck with all that, it's Serena Williams and she will probably win it again. Losing New York and Melbourne, the two most recent majors, will only strengthen her resolve to make amends.