Petra Kvitova and Aga Radwanska will square off for the ninth time when they play the final of the BNP Paribas WTA Finals in Singapore.
In one sense the two finalists for the BNP Paribas WTA Finals are a bit unexpected with Petra Kvitova to play Agnieszka Radwanska as both players had issues this year with their tennis.
Kvitova needed time off because she had sort of lost a bit of interest and was tired while Radwanska's tennis had seen a slide in form and she recently made it clear in her mind the tennis calendar should end after the completion of the US Open. She might have different thoughts about that now.
Kvitova stunned Maria Sharapova 6-3, 7-6 in what should be a preview match to the up-coming final of the Fed Cup by BNP Paribas in Prague, while Radwanska was taken to the brink by popular Garbiñe Muguruza in a nail-biter 6-7, 6-3, 7-5.
Ironically the two women who qualified with perfect 3-0 records in the round-robin series were the ones to lose in the semis.
Kvitova has narrowed her record with Sharapova to 4-6 now. This was their first meeting since last year's BNP Paribas WTA Finals and even then it was Kvitova who scored the win, just as she did in her memorable 2011 Wimbledon final. The Czech can also thank her close friend Lucie Safarova for helping her through to the semis as she also did the "right things" with the round-robin aspect to get Kvitova over the line and into the elimination semis.
"It's very weird, I have to say" Kvitova, the 2011year-end champion said. "Yesterday I was talking about my season, and it's still not over yet. But I'm happy for that for sure. I mean, I couldn't really believe that I going to play semi-final; now I'm the final, which is very interesting. I'm really looking forward. I think Aga was kind of in the same situation, so it's going to be interesting."
Radwanska's tennis in 2015 has not been all that flash, her ranking slipped to 15 in August, and her qualification into the tournament was very recent so for her to plough through the field and reach the final is commendable.
"I was just so happy to get through that match," Radwanska said of her emotional win. "Like I was saying before, I didn't really expect to be in the semis after the first losses and now it's the final. So that was really big match. Well, a lot of emotion during that match I think all three hours. I'm just so relieved that it's over and I could win that match."
On the stats side of things, one aspect will be new. Never before at the women's season-ending championship has there been a winner who went 1-2 in the round-robin, this year there will be one as both Kvitova and Radwanska has 1-2 records from the round-robin phase.
Going into the final Kvitva has a 6-2 record over Radwanska. Their last meeting was in the quarters of New Haven and the Czech won while the last tm that Radwanska stopped Kvitova was at this event twelve months ago. In fact this will be their fifth meeting at the year-end tournament and the record is 2-2.
"She' a difficult opponent, for sure. She's very smart," Kvitova said. "I think she has a lot of variety on the court. She getting so many balls, so sometimes it feels that she's a never ending story on the court.
"So it's really about (being) patient and still be kind of sharp, but playing a lot of shots and rallies. It's difficult. But last match of the season for her, for me, even if I'm not counting with the Fed Cup, so both of us will leave everything out there tomorrow."
As for Radwanska, she said middle of the year she could not have imagined being in this position, especially when she crashed out of the French Open at the first hurdle. Her run on the Asian swing is what helped her to get back up and qualify for Singapore. What's that again on what she was saying about the season ending at the US Open?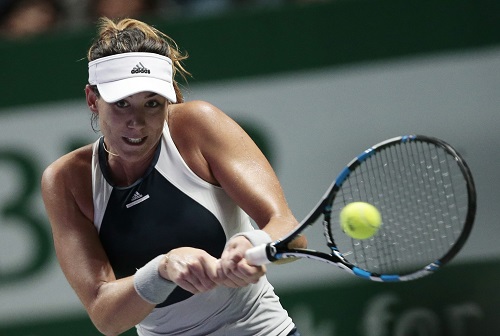 "This is my first final, so I'm just extremely happy to reach that final. I guess Asia swing until the end was very good for me. I'm just very happy to keep my tennis on the same level until the end," she said.
"We (Kvitova) play pretty much on every Championship in the group, so for the first time we going to play if the final. We're not going to play in the group. It's always great matches against her. Like I'm saying, for me doesn't really matter. Really I have nothing to lose. I just hope I can play the same great tennis I was playing today."
Nothing to lose? How about the fact that the BNP Paribas WTA Finals are on the line?