Andy Murray breaks the drought and scores victory over Novak Djokovic.
It has taken two years one month and nine days but Andy Murray finally ended the drought against Novak Djokovic. For the first time since the historic 2013 Wimbledon final Andy Murray has defeated Novak Djokovic and it was a thrilling match to boot. Murray captured his third Rogers Cup and his second in Montreal (the event alternates between Montreal and Toronto) in exactly three hours, 6-4, 4-6, 6-3.
Adding to the happiness for Murray was the fact that his coach Amelie Mauresmo gave birth to her first baby, a boy, the same day.
"I don't know much detail but we just saw a picture of her and the baby this morning when we got up," Murray said. "But, yeah, I haven't spoken to her or anything since then. I'd imagine she's quite tired. Probably me and my tennis are the last thing on her mind just now, which is totally understandable. But, yeah, glad she's okay and everything went well."
This marked he first final in Canada between the top two men's seeds since 2004 and the last time it had happened in Montreal, specifically, since 1995. For Murray it is his second ATP Masters 1000 title in 2015 having beaten Rafa Nadal in the Madrid final and while the head-to-head gap between Djokovic and Murray is still wide, it has now been shortened a bit to 19-9.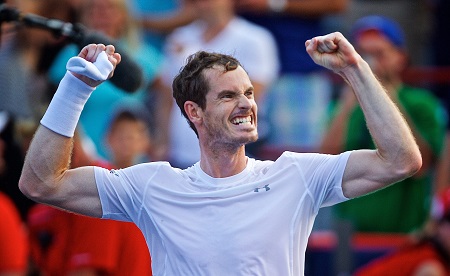 The win would certainly be a relief for Murray because it had been 771 days since he had beaten Djokovic and going forward getting the monkey off his back has to be a confidence booster.
"This year I've lost some tough ones to him," he said. "Last year for me, I wasn't able to compete with the top players. I was coming back from back surgery. I wasn't able to. This year I feel like I've been able to. I've had some close matches and some tough losses like the Miami final, the Australian Open, the French Open.
"So, yeah, to win this one was nice, especially the way the match was as well. It would have been easy for me to let that one slip away. But I fought well and stayed calm in the important moments of the third set."
Murray, who will move to the No.2 ranking by virtue of reaching the final, said it was tough to pinpoint where the match went in his favour because "at different times both of us were dictating the points" but the fifth game of the third set was definitely crucial as Murray save a host of break points. Had he lost serve there, the final could have been a different story.
"I did come up and play aggressively when I needed to," Murray said. "I would say the margins were so fine. I think there were only six or seven points over three hours. It's not exactly loads to pick from there, but I felt like I played as aggressively as I could today. That helped."
Djokovic said Murray was a deserved winner on the day and such a match would only help the rivalry they have built up over the last few years. He said what made the difference in this match was Murray's serve and that for the first set and a half it gave him the advantage while at the same time his own serve let him down
"Not taking anything away from him, from his victory, he deserved it," Djokovic said. "He stepped in, played some great shots. Most of all the moments when he needed to, he served very, very well. Breakpoints that one game, when I had I think four, five opportunities to break back, he just came up always with big serves, so I couldn't do much.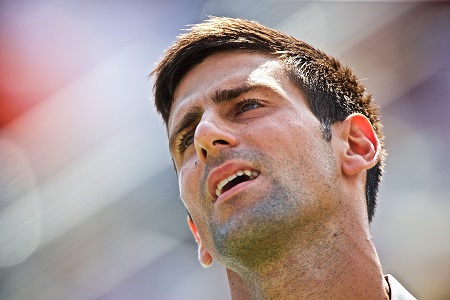 "But it was a great week all in all for me. I didn't know what to expect obviously coming in, first hard court tournament. I know people always expect me to do well, but I try to be modest with my expectations and just kind of see how each day goes. When I reflect on the week, of course it's positive."
Djokovic was stopped short of equalling his Masters win-streak record of 31 which he set in 2011. That year it was also Murray who ended the streak.
With two of the "Big Four" in the Montreal final there was a guarantee that 45 of the last 49 ATP Masters 1000's would see a Big Four winner. The last time an ATP Masters 1000 did not feature a Big Four winner was the BNP Paribas Masters in Bercy, 2011, when Robin Soderling defeated Gael Monfils.
The doubles title was captured by Bob and Mike Bryan, it was their 109th title as a team, as they defeated Daniel Nestor and Edouard Roger-Vasselin 7-6, 3-6, 10/6. They equal Jimmy Connors' hauls for most titles in a specific discipline – he won 109 singles titles.