Stan Wawrinka captures his second major and beats Novak Djokovic in a stunning French Open final.
It was a final to be long remembered not only for the dramatic tennis and extraordinary shot making and breathtaking rallies but also for what might have been and what was.
Stan Wawrinka and Novak Djokovic played the French Open final and gave all those who watched the three hours and 12 minutes a display of tennis that will live long in the memory.
Two months ago Wawrinka did not think that his life could turn around so quickly having been through a publicised split with his wife that left him naturally feeling quite low, while for the last 12 months Djokovic has been dreaming of capturing the one event to elude him. That one event the French Open, would give him a career Grand Slam and it would allow him equal bragging rights with his two contemporaries, Roger Federer and Rafa Nadal.
Wawrinka scored the most amazing victory of his career, even more so than when he won his first major at the Australian Open in 2014, as he captured his second major with the Roland Garros title. He defeated Djokovic 4-6, 6-4, 6-3, 6-4 and while "Stan the Man" hit that high, tears welled up in Djokovic's eyes. His dream had been dashed again and with it possibly his best shot at winning the French Open.
"I played the match of my life. For me this one is really special for sure playing Novak here in final, the No. 1 player. He won almost everything since beginning of the year," Wawrinka said. "And especially the way I played and the way I finished the match, the way I was focused all the match, the way I changed the momentum. I'm still surprised the way I played, because I think I played amazing today. I was really nervous, but I didn't really choke. I was always going for my shot, always going for the right play. I'm really happy with the trophy tonight.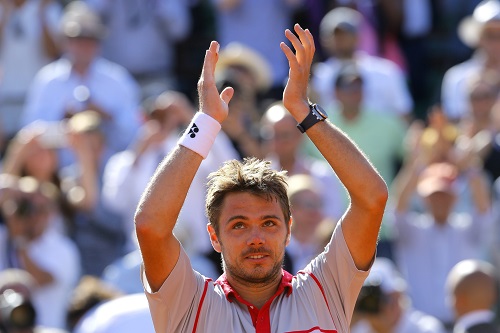 "It is amazing, for sure. I still have problem to really realize that I won the French Open, because it's always the same after winning big title. You are a little bit lost in your mind. It's great feeling, but in the same time you need to realize what I did. I'm proud of winning against Novak. He's such a tough player to play, especially in final. I have a lot of respect to him and his team. He's a great friend.
"I know he's looking for that title. I hope he will get it one day because he deserve one. Again, for me it was amazing feeling to play against him and to win today."
Interestingly this is the second time the No.1 and No.8 seeds have met in the final of a major; both times Wawrinka has been No.8 and both times he's won, the last occasion was the 2014 Australian Open against Nadal.
These two men produced rallies that were truly mesmerizing and those rallies happened from the very first game of the match. The ball was being hit with tremendous ferocity as they moved each other from side to side. Such points were stand-up-and-cheer points. Two entertainers in their prime.
The blistering groundstrokes from the baseline were peppered with the most wonderful drop shotting – such amazing touch from both sides of the net.
Djokovic said Wawrinka was the better player in the second set, and the third, but in the fourth the world No.1 opened up a 3-0 lead. Wawrinka came back to level but in the eighth game Djokovic had another chance; the Swiss faced three break points; he was 0/40 and most felt Djokovic was about the strike. Wawrinka held his nerve and levelled at 4-4 and then played a stunning game to break. He was serving for the championship.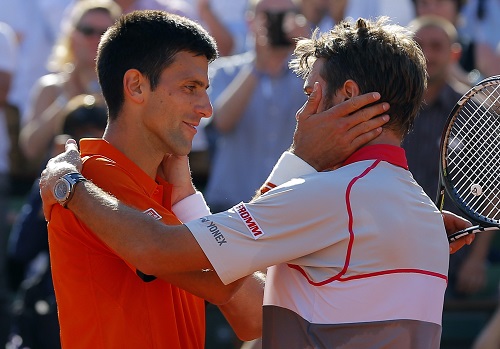 It was a tense service game. He thought he had won it with an ace but it was just out but then he got to finish it with his signature stroke, a glorious backhand down the line winner and he threw his racquet in the air.
Such was the standard if this match that past players were Tweeting about the amazing level.
Djokovic's big task is recovering from this. It probably has not become an obsession yet to win the French but it could be heading in that direction. When he lost the second set the frustration showed with a racquet being smashed and getting a warning for racquet abuse, and as things were slipping away, the nerves did come into play.
"There are two players who want to win this trophy, not just me," he said. "People tend to create more of a story where it's just me. It feels like I'm the only player who wants to win this trophy and nobody wants to win it as much as I do; this is completely untrue. Every single player who is here, especially the top players, want to win this trophy as much as I do.
"I went out on the court knowing I'm close, but across the net I had also a player that wanted to win and he had a match to lose. He was, you know, playing very well. He deserved to win. That's all can I say."
Wawrinka's coach Magnus Norman held his head in his hands and was beaming with pride – he felt he had won the title as well. 15 years ago he was runner-up on the very same court to Gustavo Kuerten who ironically was the one who presented the trophy to Wawrinka.
"It is certainly one of the best matches of my career, if not the best," Wawrinka said.
The win snapped Djokovic's 28 match win streak and Wawrinka became the first 30 something men's winner since Andres Gomez in 1990 and he is only the fifth player over 30 in the open-era to win the French Open.