Rafa Nadal is suffering from his worst form slump on clay. Will he recover for the French Open?
For the first time in a decade Rafael Nadal will go into the French Open without having won a clay court title in Europe. It has been his most frustrating European clay season ever. In fact he has won just one title on the red dirt in 2015, Buenos Aires, while in Europe he has reached just one final, the ATP Masters 1000 in Madrid. Buenos Aires remains his only clay title since last year's French Open.
He has dropped to his lowest ranking in a decade, seven, and will go into Roland Garros no better than seven in the seedings. That in itself could open a can of worms because it would mean he could face tougher players sooner.
Nadal's 7-6, 6-2 loss to Stan Wawrinka in the quarters of the Internazionali BNL d'Italia, a tournament the Spaniard has won seven times, was only the second time he has lost to the Swiss in 14 matches. This was their first meeting since losing to Wawrinka at last year's Australian Open final.
Nadal led 6/2 in the first set tiebreaker but Wawrinka saved four set points before winning the battle in two hours five minutes. It was the first time Wawrinka had won back-to-back matches since Rotterdam in February.
Still, Nadal seems to be a bit defiant with his attitude about his form. He has suggested there was not "enough luck" with him and the night conditions did not favour him.
"In some moments, he played aggressive; he hit amazing shots in a lot of moments," Nadal said. "He was on fire for a moment; lots of amazing shots. I congratulate him. I lost in the quarter-finals, but I had two weeks in a row playing well."
Nadal's win-loss record in 2015 is 25-9 while his record on clay is 17-5 (.772) compared to his career clay record of 335-29 (.920). This year he has won just one out of six matches after losing the first set (.166) compared to his career stat of 89-114 (.438).
"The only thing that I am sure of is I'm going to try," Nadal said. "The goal in Paris will always be the same one. I feel I'm playing well. I am confident that if I am able to play without nerves – I didn't play with nerves today, I didn't play with nerves most of the time the last three weeks, and that's the most important thing for me - If I am able to control that, I don't know what's going to happen, but I'm going to fight for it."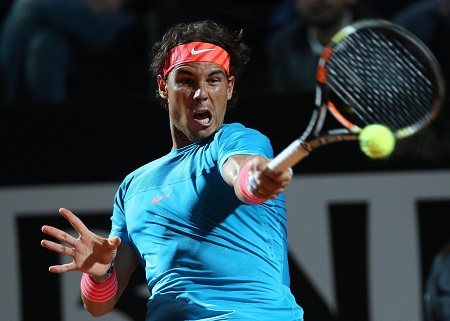 In the last decade Nadal has won at least one European clay title going into the French Open but on seven occasions he has won three European clay titles and in 2010 even swept the European BIG 4 – Monte Carlo, Madrid, Rome and then Roland Garros.
If he fails to win the French Open it will mark the first time in his career that he has not won a clay title in Europe. Sure, that could change after Wimbledon if he chooses to play Bastad or Umag or Hamburg or Gstaad or Kitzbuhel, but that's how things stand now.
"If I go to Roland Garros and I lose and I don't play well, life continues; it's not the end of the world," he said. "I won so many times there, it's normal that I could lose. Losing is part of life. I can be there, play bad and lose early, but I'm going to fight to change that and try to fight again to have a good tournament."
To all observers there is a feeling of concern about Nadal at the French Open, however when it comes to a major there is a mind shift, adding to that matches will be best of five sets and that will make a big difference for the man still regarded as the greatest clay court player ever. Not one of his peers will be seeing it any other way.