Novak Djokovic has captured the Monte Carlo Rolex Masters for the second time.
As you look across the Monte Carlo Country Club out to the Mediterranean Sea which lies in front or to the full Principality of Monaco to the right, it really is quite a magical sight. Novak Djokovic mastered that sight once again as he won his second Monte Carlo Rolex Masters and certainly was the prince of tides defeating Tomas Berdych 7-5, 4-6, 6-3 in two hours 43 minutes.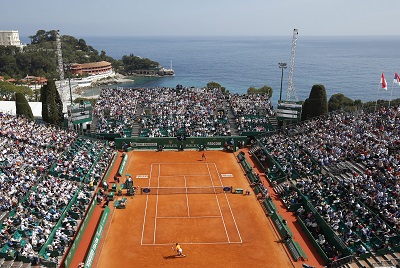 He has become the most dominant player since Roger Federer held the world No.1 ranking. The victory will give him a 5,000 point lead at the top of the world rankings which is quite an achievement and not for many months can things change for him. He has already passed Nadal for weeks at No.1 and while he has a long way to go in catching Federer's all time record of 302 weeks, Djokovic has certainly put himself on the road to breaking records.
"I thought I won this match with my heart and with battle," the 27 year old said. "That's how I feel like I won it. I don't think I've played on the level that I wish to play and that I have played throughout the whole week. But also credit to Tomas because he has played very aggressively, staying close to the line, pushing me back. So I had to defend a lot of times.
"It was a battle. I mean, set and 3 2, interruption, came back, had the breakpoint, he played some amazing shots. If I made the break there, maybe the match could be done in two sets.
"He had his chances as well. Third set started very well, 4 Love. I just lose that service game for no reason. After that, every single game went the distance. Deuce, advantage. It was a real fight. I was trying to mentally stay tough and fight my way through because I didn't feel the ball very well.
"Of course, obviously I was just trying to stay with the right intensity and focus for each point because obviously you get tense when you're not feeling so comfortable on the court, when you start missing, you kind of back up.
"I had to adjust my position and movement on the court several times. In the end I'm sitting here with this trophy that is very special to me, of course. This is what matters. Sometimes winning ugly is necessary. It's been a remarkable start of the season for me. Of course, couldn't ask for a better start of clay court season."
He has become the first man to win the first three ATP Masters 1000's of the season – he already had claimed the BNP Paribas Open in Indian Wells and the Miami Open. In fact he is also the first to win four straight ATP Masters 1000's for a second time having previously achieved that in 2013/14.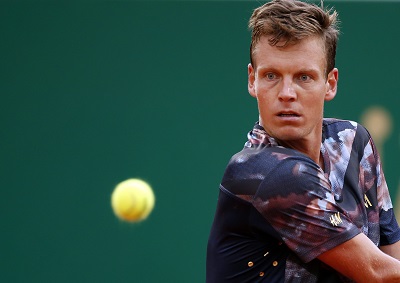 Berdych gave it everything he had. The Czech is one of the most consistent players this year. Only once has he failed to reach at least the semis of the seven events he has played so far and even then, at the BNP Paribas Open, Indian Wells, he still had a quality finish by reaching the quarters.
"By the result, I'm very disappointed, but by feeling, it's quite good. I'm fit. There is no issues with that, yeah, that's how it is," Berdych said. "I left him a big gap in the third set. That was the decider, definitely. It was really just about a couple of points that didn't go my way. He defend them very well. That's basically all what was the difference. I mean, I was making him run all the way through those three sets. Yeah, there was just a couple of things that didn't went as I would like to. That's makes the difference today."
The victory became Djokovic's 23rd at the level of a Masters 1000 which ties Federer; the only one ahead pf them is Nadal on 27. It was Djokovic's 52nd career title. He now has a stunning 32-0 win-loss record from the last six "big events" – the BNP Paribas Masters, Paris-Bercy, ATP World Tour Finals, London, Australian Open, BNP Paribas Open, Indian Wells, Miami Open and now the Monte Carlo Rolex Masters.
"Certain statistics and certain records and milestones that are a possibility for me, I am aware of," Djokovic said. "I think most of all you need a clear mind when you're on the court. So if you start thinking too much about the potential achievements, the possibility to mark your name in the history of the sport, you get distracted.
"I try to keep the same mindset and routine going. That's what helps me to be determined and focused only for the present moment and for the match that I'm playing and the challenge I have, to overcome it.
"But, of course, there's certain facts that I'm very much aware of. The fact that now I won (first) three Masters in a row that nobody ever has done that, of course I'm aware of that. That has given me, even this week, more motivation. I'm very, very proud of what I have achieved. It can only serve as an incentive, imperative for what's coming up.
"I'm 27. Obviously I'm experiencing the time of my life on the tennis court, and also private life is very good. Became a father, of course. I'm just trying to sometimes pinch myself and say, 'Where I am at this point in my life?' I'm very grateful for this, for everything that I got. That's the kind of philosophy."
Oh and let's not forget that during the week he was also presented with the Laureus World Sports Award.