Serena Williams will take on Carla Suarez Navarro for the Miami Open title; Williams is after an eighth title while Suarez Navarro is playing the biggest final of her career.
Carla Suarez Navarro is playing the best tennis of her career and she's in the biggest final of her career, the Miami Open, and she will crack the world's top ten for the first time when the new rankings are released next week. But, is all that going to be enough to topple the woman who is chasing a third consecutive and eighth title overall on Key Biscayne and who is the world number one and who has never lost to the Spaniard before?
The short answer is "no". Serena Williams will win the title hands down. Okay then, let's abandon the actual final match and hand the American the winner's cheque for over $900,000.
Fortunately it does not work like that even though Suarez Navarro has never won more than three games in a set against Williams in the four matches they have played. Among the eight sets that are now in the past, half were bagel sets … 6-0 sets.
Williams and Suarez Navarro last faced one another across a net was in the last 16 of Madrid in 2014 but it has been since then that the Spaniard has become more of a contender. There is no doubt she possesses a stunning single handed backhand and she is quick, quick like a jackrabbit around the court. Because she is small in stature her centre of gravity is low which allows her the speed she has.
"I was practicing really hard during the off season also every day during tournaments so, you know, more experience," Suarez Navarro said. "I know more all the players. I play a lot of important matches in big tournaments, so maybe that's why (I play better).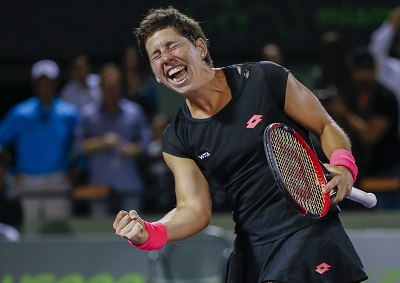 "I feel so happy (about top ten). It's so important for me. I was practicing and I was working during all this year with my team to a moment like this."
Certainly language is a difficult situation for Suarez Navarro but she is also a bit shy so rare is it that she is called in for media conferences with those who speak languages other than Spanish. Not much is known about her, or what she likes doing away from the courts.
"Well, I just want to sleep as long as I can" she said to the amusement of those in the room. "But nothing special. I like to read books or go to the cinema at home. Go back home sometimes is also good. I like it, but I don't have time to go home the times I want to go. But nothing special. I mean, I'm relax on court and also off court."
There will be no time for any siestas when Williams is across the net and the luck for Serena is that she played Simona Halep in the semis. Suarez Navarro plays a bit like the gritty and feisty Romanian who is a sheer delight to watch in action. She might be like her but Suarez Navarro is still a couple of notches lower.
"I will be ready for that; if I want to win, I have to step it up a notch," Williams said. "Yeah, I've had success, I've won four times (but) it's not like I've won 20 times. I think she's playing the best tennis she's played. I think she is just a better player. So I feel like going out there I too have to be a better player and to play the best that I can."
Of course Williams is the hot favourite but you just don't know what might happen. After all, Roger Federer had never lost to Tommy Robredo and he did at the US Open, who would have picked Rafa Nadal losing to Lukas Rosol at Wimbledon, but he did and Federer had not lost to Andreas Seppi before but certainly did at the Australian Open.
So you know what, anything can happen between Williams and Suarez Navarro.