Simona Halep and Novak Djokovic rule the courts at the Indian Wells Tennis Garden by winning the BNP Paribas Open.
Simona Halep and Novak Djokovic claimed the respective singles titles at the BNP Paribas Open in one of the world's most beautiful locations for a major tennis tournament, the Coachella Valley in the California desert. For Halep it was the biggest title of her career and for Djokovic the title was a milestone.
Playing Jelena Jankovic, it seemed that Halep would be hold the runner-up trophy as Jankovic was up a set and a break and then served for the title, which she had previously won in 2010. She was two points away but if Halep is not tenacious and a dogged fighter, she is nothing. She came back to win 2-6, 7-5, 6-4 in two hours 37 minutes.
The 23 year old Romanian had been very upset at losing to Ekaterina Makarova at this year's Australian Open and at that time promised herself that she will never give up in match. That promise was certainly upheld on the huge Stadium 1 court at the Indian Wells Tennis Garden. No matter how close Jankovic got to the crown, Halep was right there, working hard, overcoming the discomfort of a blistered big left toe and staying in contention.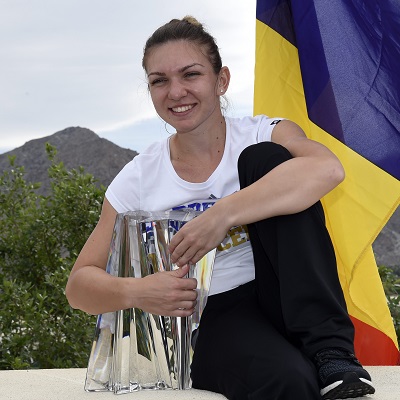 "I said many times I was very disappointed after that match," Halep said. "I said I will fight till the end always, and that was the last match where I didn't fight. So that made me more confident that I can more confident, more courage to go ahead and to take the chance every time during the matches. After that, I just wanted to play more aggressive, to stay concentrated, and to be focused for every ball. Here I did a great job, I think, and I can say that every match was really difficult. I lost many sets here."
She may have lost many sets but she certainly didn't lose two in any one match.
"First of all, I don't know how I won today because I didn't play my best," Halep said. "I didn't play like good tennis, but I just wanted to fight till the end because I think that is the most important thing for my style, for myself. So she played great tennis today. All the tournament she played amazing. She's amazing because she's running a lot and she has a lot of experience.
"But, you know, this tournament wasn't like I didn't play my best tennis, but every match was very important for me, for my mind, for my mentally. I just had the confidence that I have my chance here this tournament, and I just did everything to get it. I got it, and I'm really happy that I have another title."
The match was a rollercoaster and was riddled with service breaks; Halep said in women's tennis the serve really is not that important. Maybe so but it was becoming quite ridiculous how much both women struggled to hold serve. Jankovic was almost a basket case with her nerves and she admitted that could barely raise her arm when she was serving for the title in the second set.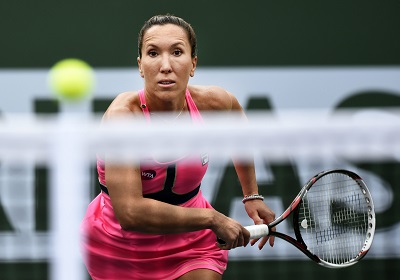 "I think we all get nervous," Jankovic said. "It's part of being a professional athlete. It's just a matter of how you control them. I kind of let those nerves take the best out of me. That shouldn't happen. But, you know, I just and I think overall it was a long two weeks. I was, you know, full of emotions. You know, like I was just overwhelmed, you know, and excited that I'm in the final and I put myself into a position to win.
"It's almost like a dream, you know, because I never thought I was going to be here in the beginning of the tournament. So it's been an amazing two weeks. Yes, of course I'm disappointed that I lost this final, because I really had a chance to win and hold that trophy. But I'm still proud of myself and my team how far I came. Yeah, how far I came into this tournament and what I have achieved."
If the women's final was riddled with errors and service breaks but still remained absorbing, the men's final was something special as Djokovic and Roger Federer battled for two hours 17 minutes with tennis that provided the huge crowd with a stunning spectacle, just as these two mega-stars of the game did last year at the BNP Paribas Open final.
For Djokovic the 6-3, 6-7, 6-2 victory set a milestone; it was his 50th career title which allowed him to pass his coach Boris Becker, it was his fourth title at Indian Wells and that equalled the record set by Federer and he is the first man since Federer nine years ago to win the title in back-to-back years.
"I've got to look forward to get to Miami and have a dinner with Boris; I think it's on him this time. I surpassed his 49th title, so that gives a little bit of special spice to this title," Djokovic said. "But, no, of course, joking aside, it's a great milestone. I don't take anything for granted. I don't take anything a guarantee or something that just came from the life.
"I mean, I believe that I have to earn everything that I do, and this title today, as well. I appreciate every moment that I spend on the court. Of course the milestone that I achieved today was a great motivation for me prior to this event. You know, I always try to look for additional motivation, because that's something that is necessary, especially if you're playing on the highest level."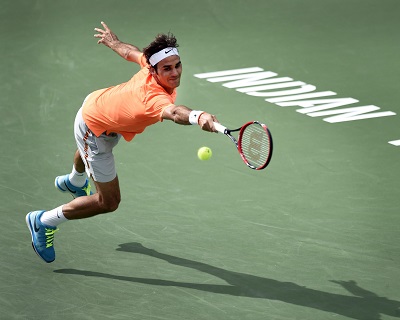 Djokovic seemed to be in touching distance of the trophy during the second set when he was up a break but incredibly Federer got a look-in and clawed back. The crowd was going insane with their support for the Swiss. Djokovic was faltering; double faults were creeping into his game and in the breaker he did it twice and Federer struck. If there had been a roof, it would have been blown off.
Djokovic managed to get an early break in the third and led 2-0 but Federer rallied back but in the fifth game he did the unthinkable after being up 40-15 on serve, he lost it, double faulting on break point.
"It was disappointing to sort of let it slip away, and next thing you know the match is over," Federer said. " Novak did well to obviously sustain the lead for most of the match; I think he found an extra gear in the end. It was tough, you know. You know, I enjoyed the match; it had a bit of everything. Controlled aggression was the key out there to try to play like that from the baseline."
As Federer said the match was over after that. For Djokovic it was an important win have lost to Federer the last two times they had played – at the Shanghai Rolex Masters last October and the recent event in Dubai.
"It's great that I managed to win this match in the big tournament and to win it in a way that I felt like I was the better player on the court," explained Djokovic. "That definitely will help. It's going to give me confidence, not just for future matches that I play against him, but just for Miami and the rest of the season."