Simona Halep will play Jelena Jankovic for the women's title at the BNP Paribas Open while Serena Williams nurses a knee injury.
Coincidence, irony, call it what you want but it certainly was a de ja vu moment when Serena Williams withdrew from her semifinal against Simona Halep at the BNP Paribas Open. In 2001 Williams and her sister Venus were due to play the semifinal at the Indian Wells Tennis Garden, on the very same court but Venus pulled out giving Serena a walkover into the final.
That was what caused all the controversy as Serena and her family were booed and jeered and became targets of racist taunts. It resulted in Serena boycotting the event for 14 years; till this year when she made a much heralded return. It was a return that flowed with emotion so to have her withdraw hours before playing Simona Halep with a knee injury, as was the case with Venus in 2001, was quite amazing.
Not for one minute should any suggestion be read that the injury is not real, it certainly is but it shows that fact can be stranger than fiction. You probably wouldn't read the same scenario in a novel.
"I don't make anything of it," Williams said. "I feel that was 14 years ago and this is now. I did the best that I could at this event, and I really am happy to have put a lot of that behind me. I feel like I'm so if I would have known I had to pull out I would have played anyway just to have an opportunity to be back at this tournament and to be able to play.
"Play in front of people I have never played before, kids that are nine, ten, eleven years old who has never had an opportunity to see me play. So I think I don't look at it like that. I try to look at in in a different light.
"I was really, really disappointed. I was really down. I was really sad. But then I thought, 'You know what, Serena? This is just an opportunity to be able to come back next year and be able to do better next year'. As you know me, I always want to do better and always want to be the best. So after looking at it kind of in that way, I thought this can, you know, hopefully propel me to just focus on getting better."
Well it opened the door for Halep, who was really wanting to play Williams having had the experience of soundly beating her in Singapore last year at the BNP Paribas WTA Championships, but instead she will take on Jelena Jankovic who finished strongly against Sabine Lisicki.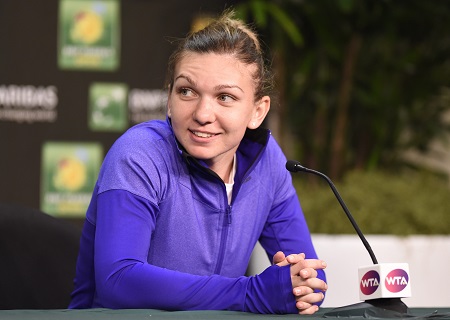 Going into the final Halep and Jankovic have met four times and Halep has won the last three. The only time Jankovic scored a win was in their first match which was at the 2010 US Open in the first round. That was the same year Jankovic won the BNP Paribas Open. Their most recent meeting was at the 2014 Australian Open. All four matches they have played have gone the distance.
"I know her, she's a tough player, tough opponent," Halep said. "I played many matches against her, and everyone was really difficult. I know I have to run a lot, to hit the balls strong, and to be aggressive, to stay focused for every ball, because she's fighting till the end. I feel ready to play against her. I feel ready to take my chance during the match. I feel that I can win this title, but I expect very tough match. The final is open. Everyone can win."
Not many would have suggested Jankovic would have made the final. Her tennis of late has been patchy and she was quick to agree: "I wouldn't pick myself, actually. I was like limping three days before the tournament started. I was actually in doubt if I can even play, if I'm able to if I'm going to be able to run and move. So, I mean, it was amazing."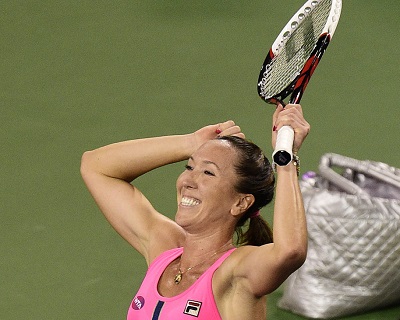 Considering their record it's obvious the solidity of Halep makes for very tough opposition for Jankovic.
"I have had in my draw some really hard hitters like Keys and Sabine, and then I have had players playing different styles of play in my previous rounds," Jankovic said. "I'm ready. I'm excited. I'm very excited to be in the finals overall. It's been an amazing two weeks for me and I couldn't ask for more. I cannot wait to play against Simona. I will just give my best to win my second title here in Indian Wells."